Yellowstone Season 5 Part 2: For Season 5, Yellowstone attempts something novel. This winter won't be like the previous two when we saw 10 episodes of cable's top drama before waiting almost a year for more. After Episode 8 aired on New Year's Day, Season 5 will be divided into two parts and take a significant pause.
It's not nearly as long as the regular season break, but it's also not just a few weeks off to let the Dutton family's civil war calm down following the events of the midseason finale.
Yellowstone Season 5 Part 2 Expected Release Date
Although a precise date has not yet been determined, Paramount Network has stated that the Duttons will return in the summer of 2023. Up until Season 4, the seasons of Yellowstone, which was initially a summer program, debuted in June. Perhaps this marks the popular series' return to form.
Yellowstone Season 5 Review
After four seasons of scheming, manipulating, and power struggles set against Montana's largely unspoiled beauty, John Dutton is now in charge, with Beth (Kelly Reilly) running the show in the background. In the Season 5 two-part premiere, his goals are made plain.
Despite John's new job, the ranch hands have not altered their ways, which results in some of the finest situations in these pilot episodes.
Yellowstone Season 5 Cast
In Season 5, the ranch is home to both old and new faces. Josh Lucas makes his first appearance as a young John Dutton since Season 3. Young Beth and Rip are played by Kyle Red Silverstein and Kylie Rogers, respectively.
Do check out more articles here:
With Mo Brings Plenty and Wendy Moniz elevated to series regulars as Thomas Rainwater's (Gil Birmingham) right-hand man Mo and governor-turned-senator Lynelle Perry, respectively, Jacki Weaver returns as the Duttons' newest business adversary, Market Equities CEO Caroline Warner.
Four new characters will also be arriving in Yellowstone. Rowdy is a young cowboy portrayed by Kai Caster. Abby is the name of the musician played by Lainey Wilson. Governor Dutton's new assistant Clara Brewer is represented by Lilli Kai. Additionally, Dawn Olivieri from 1883 joins the cast as Sarah Atwood, a newbie to Montana and "business shark" who has been attached to Jamie.
Forrie J. Smith, Denim Richards, Ian Bohen, Ryan Bingham, Jen Landon as Teeter—who has been elevated to series regular—and the entire bunkhouse are all returning.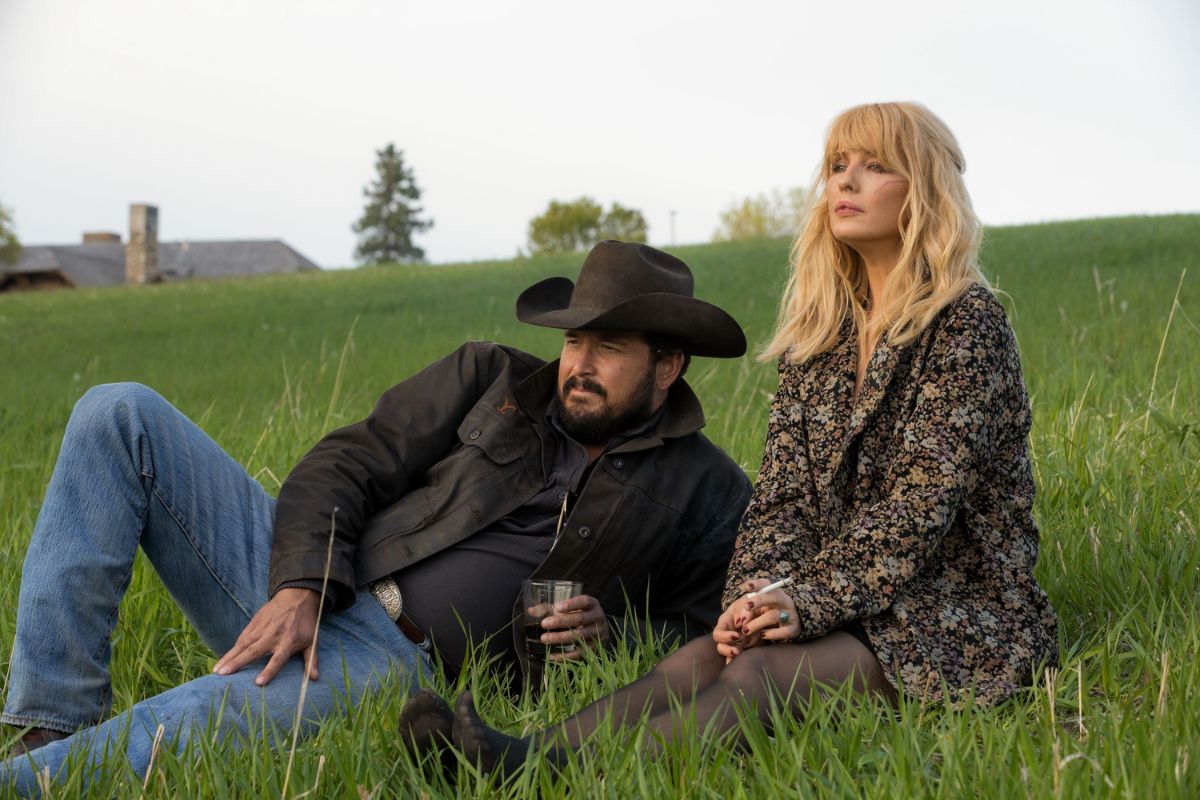 Before the start of the season, it was revealed that Kathryn Kelly, who plays Emily, Jimmy's fiancée, had been upgraded to series regular. She would be returning alongside Jefferson White, who plays Jimmy.
Since they have been residing and working at the Four Sixes Ranch, where it appears that the Yellowstone cowboys are taking the cattle to protect them from sickness, they haven't been seen throughout the first part of the season. Orli Gottesman's Halie, a young woman drawn to Carter and confident in herself, is also anticipated to appear more in the second part of the season.
According to the character description for Halie, "In Season 5, Halie becomes that person that offers Carter the chance to break out of his shell and to teach him not just about himself, but he finds himself always wanting to be around Halie." "When Halie appears, there is suddenly someone who can suit that shape and support him."
Main Cast Members
Kevin Costner as John Dutton
Kelly Reilly as Beth
Luke Grimes as Kayce
Wes Bentley as Jamie
Cole Hauser as Rip
Kelsey Asbille as Monica
Brecken Merrill as Tate
Finn Little as Carter
Gil Birmingham as Thomas Rainwater
Yellowstone Season 4 Recap
After the terrible events of the Season 4 finale, Yellowstone Season 5 picked up. Beth (Kelly Reilly), the ranch's true mastermind and adoptive brother of Jamie (Wes Bentley), had persuaded Jamie to kill his biological father, Garrett (Will Patton). Beth believed Garrett had it coming once it was discovered that he had ordered the attempted strikes on John, Beth, and Kayce (Luke Grimes) back in Season 3.
Share, visit, donate, get involved. Use your voices and your platforms and learn, get educated. Be the best allies you can be. Black Lives Matter and Indigenous Lives Matter too. @Yellowstone #YellowstoneTV https://t.co/mOdz2xw3Y5

— Yellowstone TV Fans (@YellowstoneFans) July 27, 2020
She also made sure to hold onto the proof to keep Jamie under control and out of the governor's campaign. As a result, their father is now the only Dutton running for office. In essence, it's Beth's world, and everyone else exists in it. She recently married Rip Wheeler (Cole Hauser) and witnessed her father's new, perplexing vegan special friend (Piper Perabo) being sent to prison.
Kayce has been on an arduous spiritual journey that gave him a glimpse of two paths, complicating Beth's ambition for world/Montana dominance. He informed Monica (Kelsey Asbille) that at least one of those options would be "the end of us." That cannot signify anything positive.
Yellowstone Season 5 Part 2 Teaser
Although there isn't any new material in the teaser, Paramount released one for the season's second half. It hasn't been filmed yet, which explains why. In mid-December, Piper Perabo admitted to TV Guide that she had no idea what would happen after episode eight, which means that filming for episode nine has not yet started.
Final Lines
Keep in touch with us so that we can provide you with further details about our website Leedaily.com