With the PFL Jake Paul is applying his skills to MMA. Paul has a multi-fight contract with the promotion and will fight in the Super Fight category, which features pay-per-view events. The YouTube star-turned-boxer, who plans to participate in boxing and MMA this year, has no opponents scheduled.
In an interview that broke the news on Thursday, Paul revealed that he had joined the PFL.
Paul later revealed the move in a video uploaded on his social media sites, saying, "This is about changing MMA, disrupting, innovating, and creating the next big league,"
"I've already disrupted boxing, and now it's time to disrupt MMA," Paul added. "I know this is such a tough sport, and it's not going to be easy, but if I could do it in boxing, I could do it in MMA."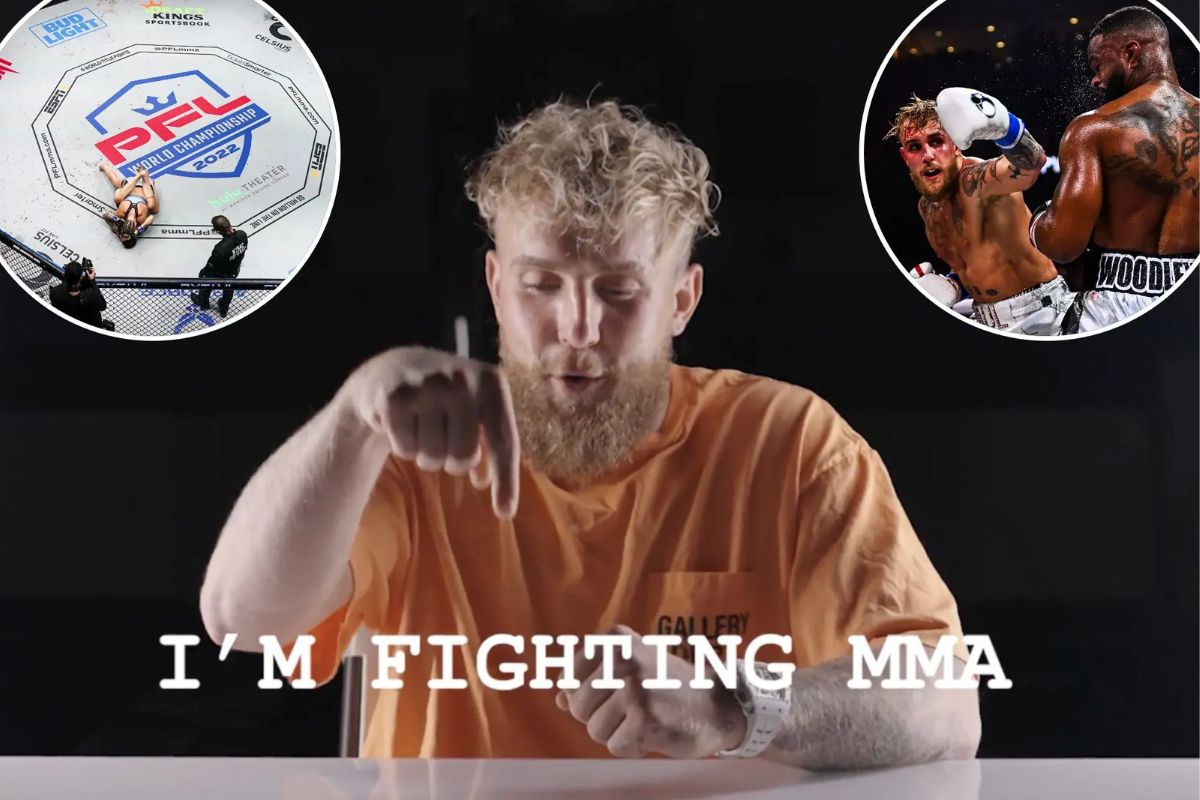 Paul's debut date has not been set in stone; PFL chairman Donn Davis told ESPN that it may not happen until the beginning of the following year.
"I think what's made Jake interesting to fans is that he works hard, and he doesn't underestimate what it takes," Davis said. "He knows he's not ready (for his MMA debut), but he's starting to train. I think it's going to be about one year from now, so in early 2024, you'll see him take on his first opponent. But the kind of opponents he is thinking of will shock the world regarding their status and name brand."
Do check out more related articles to Jake Paul
According to New York Times, a New York Times story, fights in the Super Fight division will be broadcast on ESPN and DAZN, with fighters likely to get at least 50% of the pay-per-view earnings. Paul has been a vocal supporter of fighter compensation, frequently criticizing Dana White and the UFC for not providing athletes a fair percentage of the organization's earnings and pay-per-view ticket sales.
Paul has hinted at forming a fighters union. He reportedly now owns ownership in the PFL with business partner Nakisa Bidarian, the former chief financial officer for the UFC. Paul will be blogging about the PFL on social media in his capacity as "Head of Fighter Advocacy," according to his official title.
Paul recently competed in an October boxing battle, winning by unanimous decision over UFC star Anderson Silva thanks to a knockdown in Round 8. The 25-year-old is a professional boxer with a 6-0 record.
Paul and Bidarian did not respond to MMA Junkie's request for additional comment regarding the PFL deal.
Jake Paul gets a multi-fight deal with the PFL MMA league
In 2023, Paul, the "Problem Child" former YouTube influencer-turned-boxer, will make his MMA debut after signing a multi-fight contract with the Professional Fighters League.
The matches will only be broadcast on pay-per-view in the PFL's brand-new Super Fight division. In the announcement, there was no mention of his MMA debut opponent. However, Paul claimed he gave former UFC champion Nate Diaz a two-fight contract.
"I'm so dedicated to this that I offered Nate Diaz a two-fight deal," Paul said. "First, we box. Then six months later, we fight MMA in the SmartCage."
Signed, Sealed, Delivered. Welcome to the Professional Fighters League @jakepaul pic.twitter.com/pgMDUprK6S

— PFL (@PFLMMA) January 5, 2023
The boxing match is unlikely to air on PFL because Paul already has a significant contract with Showtime Boxing. But even a single MMA match with Nate Diaz would probably generate millions of sales for PFL from followers of the sport.
Weekly fights from PFL MMA are broadcast on ESPN and ESPN+ all year. No schedule has been publicly released, but those fights will start when their new Challenger Series concludes in March. According to that timetable, Paul's first MMA match with PFL won't happen until at least the second quarter of 2023.
Do check out more articles here:
In an October interview, Paul stated that he intended to train with Khabib Nurmagomedov's illustrious trainer Javier Mendez. It's uncertain right now whether it will materialize or not.
He will reportedly take on an executive-level position with the firm as the "Head of Fighter Advocacy" and make his MMA debut. Paul claims that this position will focus on MMA wealth distribution and assisting athletes in creating their own distinctive personal brands.
Final Lines
If you share this absolute post with your friends, it will cause us to bring more amazing content for you. Plus if you have any exceptional conclusions related to this article, let us know in our comments below. We like to read your judgments and your decisions, and we will give you a complete report. Follow us on LeeDaily.com Thanks.