Cristiano Ronaldo left Manchester United in a big way last month, and he has since found himself a new team. Following the controversial interview with Piers Morgan in November, Ronaldo and United decided to end his contract mutually.
After failing to gain a transfer away from Old Trafford before the 2022–23 season, the 37-year-old unleashed a stinging attack on the club's lack of ambition, transfer policy, and United head coach Erik ten Hag.
Ronaldo has signed for Saudi Arabian team Al Nassr, who have reportedly made him the highest-paid footballer in history. It was implied during the interview that Ronaldo wanted to stay in Europe for the time being to play Champions League football again and increase his record of goals scored in the competition.
Contract with Ronaldo at Al Nassr
Ronaldo would formally join Al Nassr on January 1 after a post-World Cup vacation, according to the Spanish source Marca, which made the initial allegation on December 5.
As Ronaldo played for two and a half years before becoming an ambassador for Saudi Arabia as they wanted to host the 2030 World Cup, Marca then claimed on December 22 that the contract would extend until 2030. Thanks to the agreement, Fabrizio Romano added that Ronaldo would remain an Al Nassr player through 2025.
Since Ronaldo was a free agent and not subject to FIFA's transfer window regulations, Al Nassr is not obligated to pay a fee to United for him, even though his contract in England expired six months early.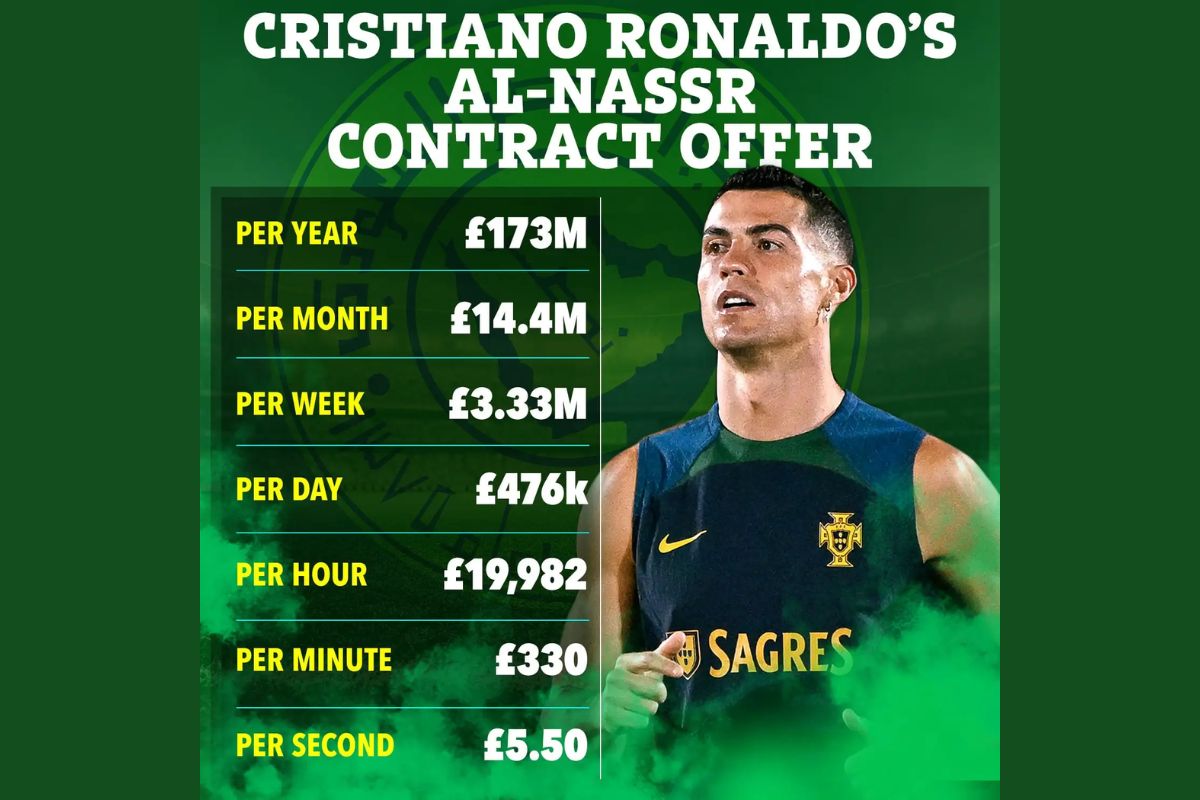 What is Al Nassr?
Rudi Garcia, a former manager of AS Roma and Lyon, is in charge of Al Nassr, one of the top domestic teams in Saudi Arabia. Al Nassr is headquartered in the capital city of Riyadh.
The club is Saudi Arabia's second-most successful team, with nine Saudi Pro League championships. Al Hilal, a rival, has 18. In the upcoming years, Al Nassr wants to raise its international reputation to rival Al Hilal domestically and participate in the AFC Champions League.
Do check out more articles here:
How much is Ronaldo's salary at Al Nassr?
According to a Marca report, Ronaldo would get a €100 million (£86.1 million/$105 million) signing-on fee from Al Nassr as the club negotiates a contract with the Saudi government.
Ronaldo will reportedly make close to €200 million (£172 million/$211 million) per year from his pay and commercial contract, making him the highest-paid football player in the world.
Free agent Cristiano Ronaldo will sign a 2.5-year contract with Saudi Arabian side Al Nassr in a deal potentially worth $200M per season, reports @marca 💰 pic.twitter.com/GHJeOKdtqf

— B/R Football (@brfootball) December 5, 2022
With basic incomes of $110 million (£96 million) and $65 million (£56.7 million), Kylian Mbappe and Lionel Messi of Paris Saint-Germain previously held the top two positions in world football.
MLS club Sporting Kansas City reportedly held talks with Ronaldo and offered compensation on par with that. Still, the five-time Ballon d'Or winner decided against a move to the United States.
Cristiano Ronaldo Salary & Contract Details
NOTE: Financial data incorporates on-field compensation and club-related marketing agreements. According to numerous reports, Ronaldo reportedly earns $75 million a year on the pitch.
Years: 2.5
Total value: ~€500,000,000 ($535,195,000)
Salary per year: ~€200,000,000 ($214,078,000)
Wages per week: €3,846,154 ($4,116,885)
Free agency: 2025
With an estimated weekly salary of $600,000, Ronaldo was the highest-paid player in the Premier League at the start of the 2022–23 club season. Now, he's managed to make it even more significant, with Al-Nassr reportedly spending the maximum amount of money to secure CR7 as not only the team's spokesperson on the field but also in a reported ambassadorial role that will keep him active for years to come even after he retires in the hopes of, according to reports, bringing the Kingdom's centennial World Cup in 2030.
You're not the only one who may be doubting the morality of this shocking action. If you're worried that moving the world's biggest sporting event to a nation run by an even more oppressive, regressive regime would further exacerbate the corruption and human rights violations that fueled the Qatar tournament, you're not alone. The landscape of the Beautiful Game has been irrevocably altered, and footballing toothpaste is never going back in the tube, even though plenty still needs to be resolved in the years to come.
Al Nassr signed Ronaldo for what reason?
Al Nassr's pursuit of Ronaldo is driven by their ambition to establish themselves as a significant force in Asian football, to compete with their Arab neighbors, and to take on Chinese, Japanese, and South Korean teams on a continental scale.
Ronaldo is a massive step towards the club's desire to rival other Asian superpowers in their capacity to draw star names from Europe.
History in the making. This is a signing that will not only inspire our club to achieve even greater success but inspire our league, our nation and future generations, boys and girls to be the best version of themselves. Welcome @Cristiano to your new home @AlNassrFC pic.twitter.com/oan7nu8NWC

— AlNassr FC (@AlNassrFC_EN) December 30, 2022
The agreement is anticipated to be necessary to Saudi Arabia's broader bid for the 2030 World Cup, which will be held in Saudi Arabia after the 2022 event in Qatar. Ronaldo is rumored to play an ambassadorial role in the host selection process.
Before the start of the 2022–23 season, Ronaldo himself admitted to Piers Morgan that he turned down an offer from an unknown Saudi Arabian team.
Do check out the following:
Final Lines
The preceding article provided information regarding Cristiano Ronaldo's Salary & Contract Breakdown. If you enjoyed this content, please return to our website Lee Daily.