Authorities said that six people were detained following protests in downtown Atlanta on Saturday night in response to a proposed police training facility and the earlier that week fatal police killing of an activist. A group inside the crowd then started "committing illegal acts," including smashing windows and hitting police cruisers.
Atlanta Police Chief Darin Schierbaum said in a news conference. The protestors had marched down a central Atlanta street on Saturday evening in a "peaceful way." The police chief stated that six persons had been detained and were still looking for possible criminal activity on the part of others.
He said that three companies had their windows damaged. A police cruiser on fire was captured on camera by social media users in the downtown area, and a Wells Fargo bank's windows were shattered in a CNN station WANF video.
The protests are in response to a proposed $90 million, 85-acre law enforcement training facility called "Cop City" by its detractors. They also occurred just days after a 26-year-old activist was killed by police close to the training center's proposed location. Some of the people arrested Saturday have "already been involved in other criminal activity and are involved in a manner to deter the building of the public safety training center," Schierbaum said.
"My message is simple to those who seek to continue this type of criminal behavior," Atlanta Mayor Andre Dickens said during the news conference. "We will find you, arrest you, and you will be held accountable." Dickens was among the city council members who voted in favor of the training center in 2021.
Listened to the news lately? Here are some more shootings that have been reported:
Georgia Gov. Brian Kemp also said on Twitter, "violence and unlawful destruction of property are not acts of protest. They are crimes that will not be tolerated in Georgia and will be prosecuted fully."
Many of those detained, according to Dickens, "don't even live in Atlanta or the state of Georgia," and some of them were discovered "with explosives," he claimed during the press conference.
Mother of Activist Killed Feels Frustrated and Powerless
Authorities claim that the activist was killed by a police shooting on Wednesday morning while being cleared from the area where a new facility will be built. To delay development, opponents of the facility have been camping out in the region for months.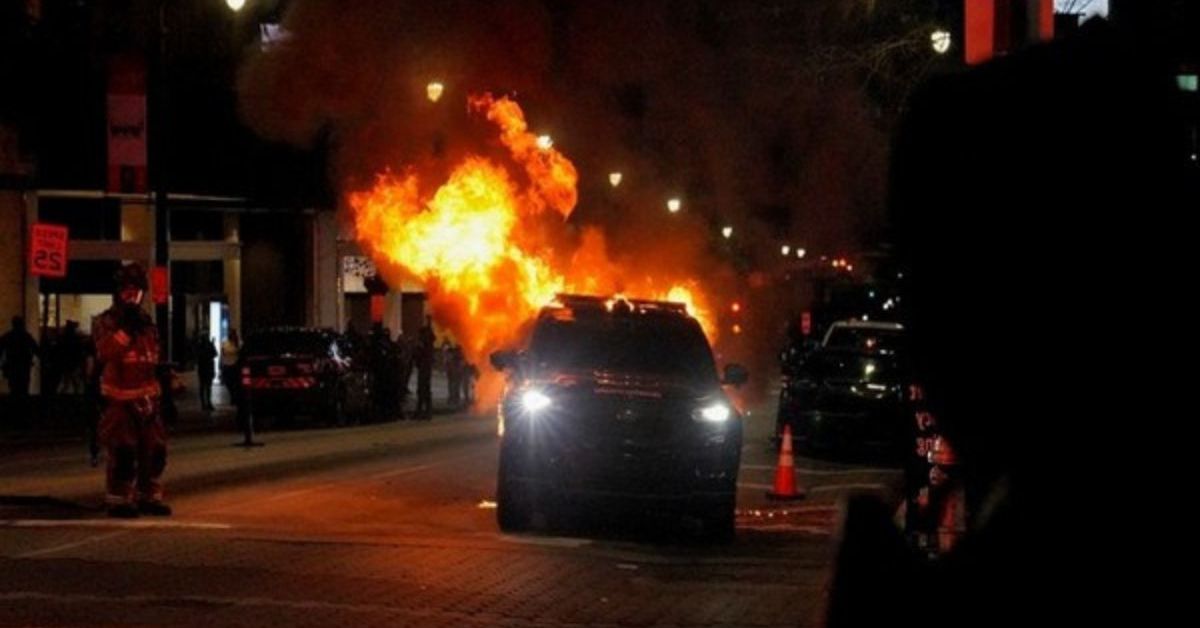 According to a news release from the Georgia Bureau of Investigation, law enforcement officials saw a person in a tent in the woods and offered verbal directions to them; nevertheless, the person allegedly disobeyed and shot a Georgia State Patrol Trooper.
Officers opened fire in response, mortally wounding the person. The GBI reported that the projectile from the trooper's wound matched a firearm in the person's possession. Manuel Esteban Paez Terán was named as the deceased.
Terán was described as a "forest defender" fighting environmental racism, according to activists opposing the plant and disputing the police's version of events. Terán, also known as Tortuguita, who identified as nonbinary, was praised by local justice organizations as being "lovely, warm, highly brilliant, and caring."
Calling CNN on Saturday night, Terán's mother expressed her frustration and helplessness at her son's passing. Speaking from Panamá City, Panamá, Belkis Terán expressed her disbelief in law enforcement's recounting of the incident, saying, "I know they said he shot first, but I don't believe it."
"He was attacked," she added. The mother said while law enforcement said Terán had a gun, she was unaware of the activist having one and that "if he had one, it was for protecting himself against the animals in the forest. That's what I understand."
"He was not a violent person. He was a pacifist. He would tell me that all the time. 'I am a pacifist.' He wouldn't even kill an animal," Belkis Terán told CNN. "Tortuguita," the nickname Terán went by, was because of their love for turtle conservation, the mother said. She described Terán as a generous, "sweet soul" who, from a young age, always helped others.
Authorities Will Not Identify the Trooper
The injured trooper was taken to a local hospital for surgery and was in stable condition Wednesday night, authorities said. The Georgia Department of Public Safety said it would not release the trooper's name because "disclosure would compromise security against criminal or terroristic acts due to retaliation."
In addition, the GBI reported that during its Wednesday clearance operation, it discovered and took down roughly 25 campsites and detained and charged seven individuals with domestic terrorism and criminal trespass. Authorities recovered "mortar style fireworks, multiple edged weapons, pellet rifles, gas masks, and a blow torch," it added.
A Controversial Facility
According to the Atlanta Police Foundation, the current law enforcement facilities are subpar, and the proposed training center will help raise morale and recruitment efforts. However, ferocious opposition has been to the complex, which will feature a gun range, model city, and burn building.
Several people were arrested in downtown Atlanta during protests in response to a proposed police training facility and the fatal police shooting of an activist this weekhttps://t.co/lgZBEpfHnp

— CNN (@CNN) January 22, 2023
City officials have stated that the center will also help address police reform, although they have not provided any other information. Some project critics believe it is a response to the 2020 rallies against racial injustice and police brutality.
Some locals have also claimed that the city has been blindsiding their neighbors with a development process that has been mostly unnoticed by the public. According to city officials, around $30 million of the facility's cost will be covered by taxes, with the remaining funds coming from philanthropic and corporate gifts.
Environmentalists have long expressed concern about the project's effects on the environment: the training center would cut through a piece of forest land and sever what local activists hope will eventually connect a network of green spaces throughout parts of Atlanta and DeKalb County.
At least six people were arrested after the peaceful protest turned into a violent march in Atlanta. Please tell us what you think in the section below. Follow us only on Lee Daily for more news like this.