Video footage released by the city of Memphis on Friday shows that during a traffic stop on January 7, officers tased, pepper-sprayed, and beat 29-year-old Tyre Nichols very badly. The footage is split into four videos. It comes from a SkyCop camera and officers' body cameras.
Police can be heard shouting at Nichols to get out of his car and dragging him out of the car by force. Police and lawyers for Nichols' family have said that the video is "absolutely appalling," "alarming," and "unconscionable."
The videos show officers kicking Nichols at least twice in the face, hitting him at least three or four times with a baton in the upper body area, punching him at least four times in the face, punching him at least two more times in the upper body area, and kicking him at least twice in the abdomen.
The first video is about 11 minutes long and comes from an officer's body camera. It shows police pulling Nichols out of a car at Raines and Ross roads while he yells, "I didn't do anything!"
"Get on the f***ing ground!" yells a police officer. "I'm going to tase your rear end." Nichols yells, "I'm on the ground, I'm on the ground." The words "break your shit" can also be heard from an officer. Nichols says, "You guys are doing a lot now." "All I want to do is go home."
The camera shakes, Nichols runs away, and an officer fires a taser at him. The video shows that pepper spray was used by other officers to hit several officers. At the first scene, an officer says, "I hope they stomp his ass."
The second video is silent and lasts about 30 minutes. It was taken by a SkyCop camera at Castlegate and Bear Creek Lane. As Nichols tries to turn over, the camera turns to show two officers violently pushing him to the ground on his face. Then, it looks like a third officer kicks Nichols in the face more than once.
A fourth officer watches, then walks over to Nichols and hits him with a baton. Nichols is able to get back on his feet before officers show up and hit him in the face more than once. Then, three officers pull him back down to the ground.
As more officers enter the frame, one of them tries to hold Nichols' feet down. It looks like one officer kicks him again. The officers then move away as Nichols lies on the ground almost flat, moving his legs but not being able to get up.
Officers then drag Nichols across the concrete to a police car, where they lean him against it. At this time, there are at least six officers around. As Nichols lies against the car and more cops crowd around, the minutes drag on. At one point, it looks like Nichols falls off the car and lays down flat on the ground. Officers do nothing as he rocks back and forth on the cement.
Not until 28 minutes into the second video does someone bring Nichols a stretcher. The third video, from a body camera, shows an officer running to the scene at Castlegate and Bear Creek Lane and spraying Nichols as he screams for his mother while lying on the ground.
The officer, who seems to be affected by his own pepper spray, says, "I'm going to beat the hell out of you with a baton. Give your hands to us." You can see other officers punching each other.
In the fourth video, which was taken with a body camera, a different officer is seen running toward the second scene. Nichols is being pushed to the ground by that officer's hands. As Nichols screams "Mom," the camera goes dark, and the police keep telling him to show his hands.
The camera feed goes dark for a few minutes while a fight is going on and Nichols calls out for his mother again. It sounds like a man is moaning and trying to scream. "Bro, take a breath," says someone. A few minutes later, the body camera was still blocked, so an officer said, "That motherfucker on something. He went through traffic and everything without stopping."
Nichols is leaning against the police car when the camera is unblocked. Shortly after 10 minutes, EMTs show up and seem to start helping. In the meantime, police officers talk about what happened and say that Nichols was weaving through traffic and didn't stop his car at first. One of the officers said that they got him out of the car when the light turned red.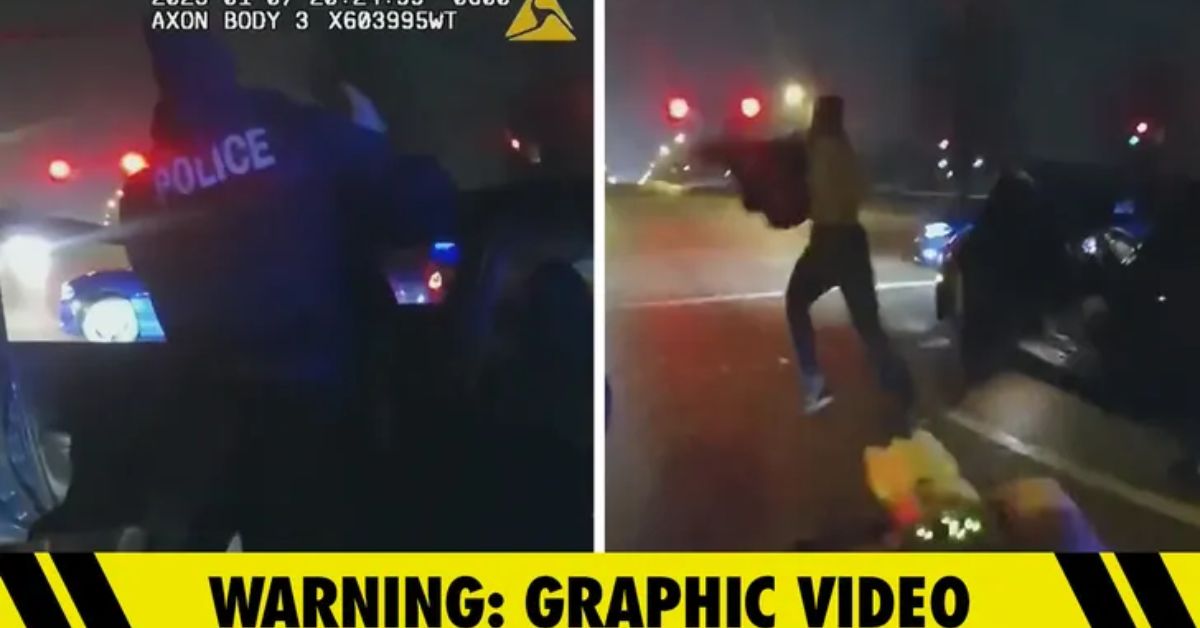 More News:
They talk about the beating. One officer says, "Bean was rocking, and then I jumped in and started rocking." Some parts of the videos have been cut out, like license plates and what looks like a cell phone. Mayor of Memphis Jim Strickland said, "I've never seen anything like it."
Police Chief C.J. Davis said, "You're going to see a disregard for life, a lack of care that we're all sworn to, and a level of physical interaction that goes above and beyond what law enforcement requires." "Like I said before, I'm sure that people who watch will feel what the family felt. If you don't, you aren't a real person. And we're all people too."
Nichols died on January 10, three days after he was pulled over for speeding near his mother's house, where there was a "confrontation," according to Memphis police.
Five Memphis police officers were fired and charged with second-degree murder, aggravated assault while acting together, two counts of aggravated kidnapping, two counts of official misconduct, and one count of official oppression on Thursday.