Given that there are presently approximately 7 million hashtags for "sunflower," you have undoubtedly already seen colossal fields of cheerful yellow sunflowers adorning Instagram feeds. Why not, then? An excellent location for an outdoor picture shoot is a field of sunflowers.
Sunflowers are a common summer background for picture shoots and lavish proposals due to their magnificent stature and eye-catching golden petals, whether grown as a crop or planted as a roadside attraction.
Fortunately, sunflower fields are everywhere in the United States, and many are tourist hotspots. Here is a handful of the most impressive to see.
Top 10 Most Beautiful Sunflower Fields Around the Country
Forks of the River Wildlife Management Area in Knoxville, Tennessee
You should stop at Knoxville's sunflower fields if traveling to (or currently residing in) Eastern Tennessee. A sunflower festival is held on the 70-acre lot in the middle of July, making it an excellent location to view the golden blooms—especially in years with odd numbers.
The entire 70 acres of flowers are only planted every other year due to crop rotation, but even the smaller fields are breathtaking to see.
Coppal House Farm's Sunflower Fields in Lee, New Hampshire
Numerous out-of-state visitors have come to Coppal House Farm's annual sunflower festival throughout the years, and with good cause. The festival has something for everyone, from various family-friendly activities like face painting and wagon rides to a day specifically designed for people with restricted mobility.
The farm even offers a unique "Sunrise in the Sunflowers" day where ticket holders are given entrance to the fields at 5:30 in the morning for the "golden hour," when the early morning sun produces gorgeous soft lighting for extraordinary images.
You can also see related articles by opening the following link:
McKee-Beshers Wildlife Management Area in Poolesville, Maryland
Despite not being intended as a tourist attraction, this 30-acre sunflower lot is still a wonderful place to stop and take in the scenery. There is no restriction on gathering flowers in the fields; visitors can park for free and take pictures there.
The Mckee-Beshers WMA program, which strives to maintain and improve animal populations and their various habitats, includes the lot, which is looked after by the state. Visit the website for information on the sunflowers' growth status and a map of the fields.
Babbette's Seeds of Hope Sunflower Maze in Eau Claire, Wisconsin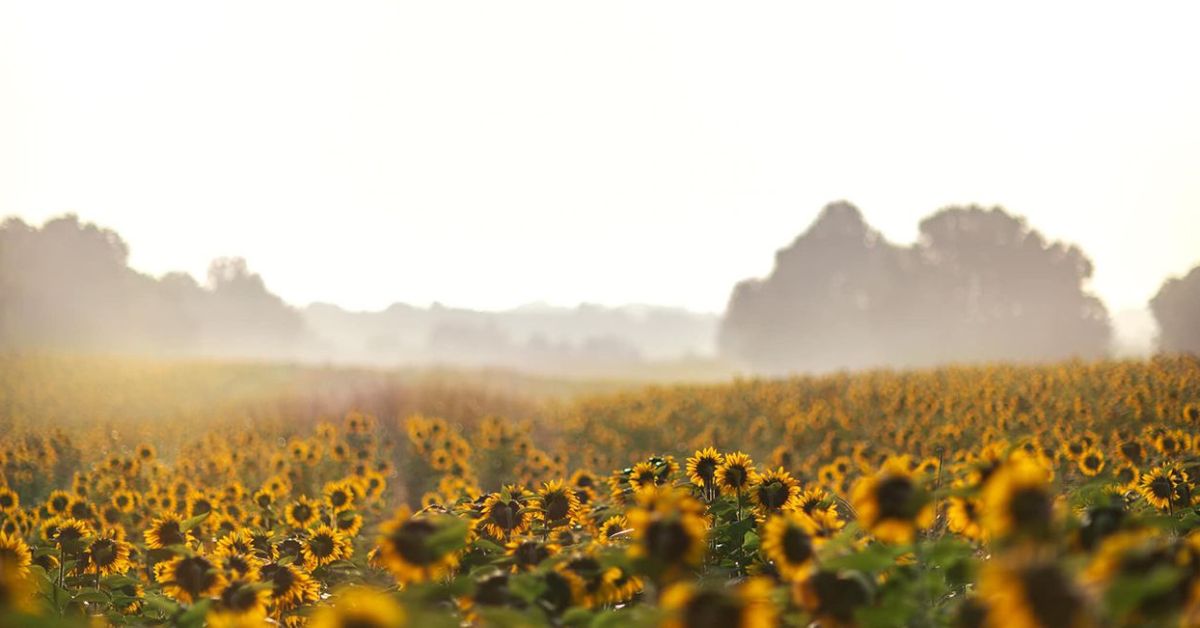 You may get lost in a field of sunflowers at this Wisconsin farm. A well-liked and upbeat substitute for the corn maze is the sunflower maze. Mid-August will see the opening of Babbette's Seeds of Hope for sunflower gazing (they recommend following their Facebook page for exact dates).
The farm organizes fundraisers and contributes money to hospitals and cancer research in memory of the farmer's wife, Babette, who passed away in 2014. Donating to assist their research and the needs of people undergoing treatments will also help you support the cause.
Buttonwood Farm in Griswold, Connecticut
The 13 acres of yellow at Buttonwood Farm's sunflowers serve a function beyond just being beautiful. The dead flowers were fed to the cows before the "Sunflowers for Wishes" fundraiser (held annually in July) began. Today, the farm sells hundreds of bouquets to tourists yearly, with 100% of the money going to the Connecticut Make-A-Wish Foundation.
The farm has given the nonprofit group more than a million dollars throughout the last 13 growing seasons. The town of Griswold is known as Connecticut's sunflower capital due to Buttonwood Farm.
Sunflower Maze at the Inn Between Restaurant in Camillus, New York
Upstate New York's Inn Between Restaurant offers fine dining and wine. After eating, go outside and burn off some calories in the fields of sunflowers. The restaurant owners planted no tiny plot of grass—75 acres of sunflowers grow adjacent to the building.
The restaurant gathers sunflowers for their seeds and oil after the growing season. While the flowers bloom, guests and clients can enjoy a journey through the sunflower maze.
Colby Farm in Newbury, Massachusetts
Colby Farm is a beautiful place to add to your bucket list of sunflower fields because it has a strong family focus and a buy-local program at its core.
Even though the sunflowers may be a major attraction, the farm's 350 acres of hayfields and 20 acres of vegetable gardens offer plenty more to view. Many of those vegetables find their way to the Colby Farmstand, where you can buy meat, produce, and a variety of baked goods made with local ingredients.
Fausett Farms Sunflowers in Dawsonville, Georgia
This Georgia farm, which has been in operation since 1858, is filled with family-owned charm and heritage. The 13 acres of sunflowers are a more recent addition, but they are no less remarkable after 60 years of chicken farming ended in 2011.
In addition to its major lure, the farm also provides BBQ sandwiches, local honey, and mule-drawn wagon excursions. You can also bring your horse and spend the day riding on the horse paths for a $10 fee.
Grinter Farms in Lawrence, Kansas
It only makes sense that the condition of the sunflower is included on this list. Grinter Farms near Lawrence, Kansas, has a 40-acre sunflower field that does justice to the title. The farm's owners maintain an open-door policy. During the blooming season, thousands of people congregate in the area for photo shoots and flower harvesting.
Admission is free except for the on-your-honor gift for each bloom you choose. The Kansas City Star reports that farm owner Ted Grinter initially intended to use the sunflowers as birdseed, not as a popular tourist destination. Still, he claims that "it puts smiles on people's faces."
North Dakota
Since there are sunflowers everywhere, the finest field in North Dakota lacks a single address. The Peace Garden State is one of the leading producers of sunflowers in the US, competing with Kansas for first place. Finding the ideal field of yellow can be a little more complicated in this case.
Sunflower fields frequently change places because farmers rotate their crops to manage and preserve soil fertility and health. Call the North Dakota Tourism Division (they're used to it) to find one. Viewing is usually free, but if you want to enter the fields to snap pictures or explore, ask the proprietors first.
Grab your camera and head to the fields to photograph the sunflowers in their full bloom. The most incredible time to see the numerous sunflower fields across the nation is right now, whether you decide to go on a guided tour or stop by on your way there. Your visit's revenue might even go toward protecting local wildlife and charitable causes.
As always, we appreciate your time and hope you enjoy our post. It would help if you told us your feelings about our camp in the comments section. If you want to stay abreast of the most recent developments in the news, follow our official Twitter page.