In what will be the most crucial day of industrial action in more than a decade, teachers will join train drivers, public officials, university lecturers, bus drivers, and security guards from seven trade unions in going on strike next week.
Following the addition of tens of thousands of new members to the National Education Union (NEU), a union official has predicted that many schools will be closed during strikes beginning on Wednesday, February 1. Here are all the specifics of scheduled strike dates and how they may impact London public schools.
When Are the Teacher Strike Dates?
Following a recent union vote, the following dates in the London area have been designated for teacher strikes:
Wednesday, February 1 (All schools in England and Wales)
Thursday, March 2 (South-east and south-west England, and London)
Wednesday, March 15 (All schools in England and Wales)
Thursday, March 16 (All schools in England and Wales)
Will My Child's School Close When Teachers Strike?
Each school's circumstances will be unique based on the number of teachers participating in the strike and the parts of the school they support. Sutton Council recently stated that some schools would be able to remain open for all students, some may be partially open for some students, and some may need to close entirely.
The education secretary, staff members are urged to notify the headteacher if they intend to strike. However, the law does not require individual teachers to indicate if they will. The timing of informing parents of closures is likewise unregulated. This suggests that many parents are still awaiting word on whether they need to organize childcare on February 1.
There are no minimum staffing requirements or guidelines if a school does operate, and the Department of Education encourages using agency workers and volunteers to cover lessons on strike days. Schools are still expected to remain open, however, if practical. They are not required to follow the curriculum. Although it is not needed, schools may offer remote education to students at home.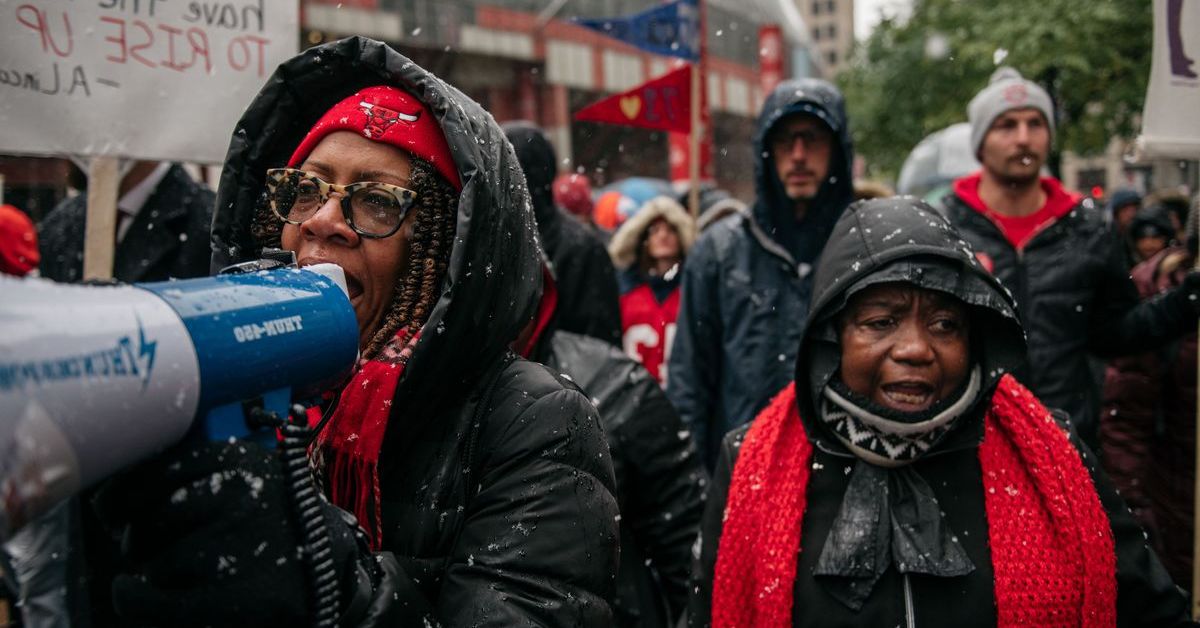 Before a planned strike, the NEU is required by law to inform schools of the number of members working there; but the union is not required to give employers the identities of specific members. Schools must provide free lunches to children who qualify for them but cannot attend during strikes. Food packages may need to be delivered in this case.
Please read some of the recent news items we've written regarding current Teacher events:
London schools are expected to endure a lot of the disruption, according to Mary Bousted, joint general secretary of the NEU. Asked how many teachers could strike next week, she said:
"Definitely over 100,000 but I think many more than that."

"Lots of schools will close. In areas where the NEU is the biggest union and has a really strong density like London, there will be lots of schools closed," she added.
Why Are Teachers Striking?
Most teachers have received salary increases of 5% from the Department for Education (DfE) for the current school year, but the NEU wants teachers to receive fully-funded raises above inflation. After accounting for rising costs, the Institute for Fiscal Studies reports that between 2010 and 2022, teacher pay in England decreased by an average of 11%.
Mary Bousted and Mr. Courtney, joint NEU general secretaries, said in a statement:
"We have continually raised our concerns with successive education secretaries about teacher and support staff pay, and its funding in schools and colleges, but instead of seeking to resolve the issue they have sat on their hands.

"We have continually raised our concerns with successive education secretaries about teacher and support staff pay and its funding in schools and colleges, but instead of seeking to resolve the issue they have sat on their hands." @MaryBoustedNEU #SaveOurSchools! #PayUp! pic.twitter.com/WFLFwDQ8PG

— National Education Union (@NEUnion) January 17, 2023

"It is disappointing that the Government prefers to talk about yet more draconian anti-strike legislation, rather than work with us to address the causes of strike action."