The second season of Critical Role's famous streaming service, Vox Machina, is an epic fantasy adventure show. The series, which was developed by well-known voice actors and Dungeons & Dragons dungeon masters Sam Riegel, Marisha Ray, and Matt Mercer, follows the exploits of seven unexpected heroes as they attempt to defend the planet against strong, enigmatic forces.
The group of explorers known as Vox Machina embarks on a quest to learn the truth about an enigmatic tower in the continent's heart with the aid of their strong magical allies. They encounter monsters, formidable foes, and secrets that could either save or destroy the planet as they travel. In the second season of this adored program, follow Vox Machina as they continue their adventures.
If you're interested, you can also read our reviews of various other topics:
The Legend of Vox Machina Season 2 Recap
The fantasy heroes of The Legend of Vox Machina split unexpectedly into two groups at the start of Season 2's second half due to a poorly cast teleportation spell. While Keyleth guides the remaining members of Vox Machina through the bizarre Fey Realm, Pike commands one contingent to aid Grog in his recovery.
Unhappy family reunions are in store for the two groups as they struggle to recover from a brutal loss at the hands of an old dragon. They must also put out the effort to reclaim a different powerful but risky Vestige of Divergence. As they stroll through the city anonymously to escape notice, Vex speculates that she and Vax's birthplace has magically moved to the center of the Fey Realm as a protective response to some unidentified threat.
When the group is swiftly surrounded by the city guards, this strategy is futile. Vex and Vax approach their powerful father Syldor Vessar and ask to speak with him. The twins are astonished to encounter their half-sister after being brought into their father's home, but Vessar still treats them with the same obvious disdain as previously, unimpressed by their return.
Vessar recounts that after Emon was destroyed by the Chroma Conclave, the city withdrew to the Fey Realm, with Vax presuming that his people would prefer to flee rather than aid in the liberation of Exandria. Vessar rejects Percy's explanation that Vox Machina is gathering Vestiges of Divergence in order to defeat the Chroma Conclave and takes offense at Vex and Vax for showing up without warning.
As soon as Vessar insults Percy before the heroes depart to collect the Vestige, Vax, and Vessar are back at loggerheads, with Vex entering the argument. As the team continues to recover the vestige, Percy reveals his actual feelings for Vex in private. While the rest of her crew is constrained by the magically manipulated vines as they enter the marshland outside of the city, Vex is forced to endure painful flashbacks from her upbringing.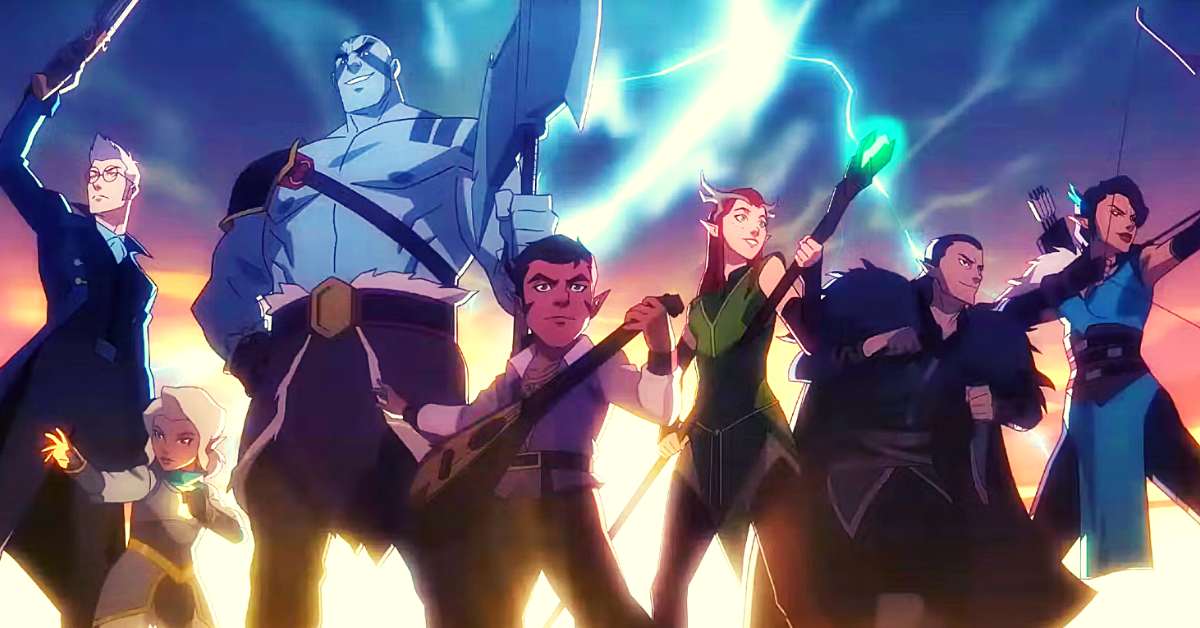 When given the chance to cut off her father's relationship with her for good, Vex declines since she recognizes the trick. The others free themselves and fight against monster trees that violently attack them while Vex fights the source of her visions. After killing the phantom stalking the forest, Vex takes possession of its Vestige, a powerful magical bow.
After that, Vex rejects the advice to visit her father to show him that she is right by displaying the Vestige, content to never run into him again. The imp that accompanied them into the Fey Realm admits he is more powerful than he anticipated and opens a gateway allowing them to flee back to Exandria after being impressed by Vox Machina's demonstration.
The quartet returns to their home world with another Vestige of Divergence at their disposal and thanks the imp without discovering his true identity. It is revealed that Pike's great-great-grandfather Wilhand owns the hut where Pike and Scanlan have taken the weak Grog. Wilhand makes a suppository in an effort to magically strengthen Grog.
Grog, who is being taught by Wilhand to reenergize his body, struggles when the drug fails to take action right away. Without waiting for Grog to fully recuperate, Pike and Scanlan decide to move on to find the next Vestige. However, they soon discover that the Vestige is in the possession of Grog's uncle, who used it to almost kill him.
The Legend of Vox Machina Season 2 Review
Splitting a TV series into four three-episode portions aired weekly is odd. Streaming shows generally lose weekly episodes or entire seasons. The Legend of Vox Machina's innovative distribution strategy lets each episode tell a whole story and create arcs. The penultimate chapters split personalities and explore Vox Machina's mind.
Travis Willingham and Sam Riegel write season two's ninth episode for the first time since "Scanbo" last season. Their name in the credits twice suggests a focus, and their character mastery makes their episodes a joy. After episode 6's dramatic dragon battle, Keyleth's desperate escape attempt is thwarted, scattering the group. Keyleth, Vex, Vax, and Percy explore "The Fey Realm" in Episode 7.
One of the first detailed visual renderings of Fey's kingdom, it's as gorgeous as it's described. The multicolored, mysterious vastness is made more magical by its open antagonism. A naughty satyr leads the gathering and enjoys their antics. There are some terrific action scenes, good party banter, and a heartbreaking secret in the wilderness.
Grog, Scanlan, and Pike stay in their dimension but land in the middle of nowhere as the rest of the group fights otherworldly monsters in the Fey Realm. Grog knows who hurt Pike badly. Finally, Grog's Craven Edge use must be addressed. Grog seems easy, yet his internal struggle against a weapon that makes him stronger is wonderfully done.
Spoilers: Grog wins, but the sword drains him. Scanlan and Pike must carry their huge companion through the woods to restore his muscles. Ashley Johnson eventually joins Sam Riegel for a song, making it one of the greatest in the series. But they're going somewhere.
In these episodes, Vax, Vex, and Grog confront their pasts. It's an impressive narrative in a short time. As the show enters its second season finale, the massive fireworks show appears to be worth more than numerous fantastic action scenes. The show handles character arcs like a TTRPG campaign. The DM's narrative sweep and upcoming antagonist determine the plot progression.
Character arcs occur throughout and between plot arcs. Chance and fated encounters slowly bring up and heal previous wounds. Vox Machina builds and pays off throughout the show rather than building to one cathartic apex. An ensemble cast that offers equal credit to its big actors makes a TV season fascinating all the time.
The Legend of Vox Machina has been promised a third season during this season and will likely return. Critical Role and Amazon have collaborated on more than just the best-funded Kickstarter animation. This show about nerdy voice actors playing Dungeons & Dragons may surpass the Marvel Cinematic Universe in two or three years.
It started as a Twitch stream of friends playing tabletop games in someone's kitchen, then became a huge company and a hit streaming series. Vox Machina remains one of the purest examples of current franchise media artists doing what they want. At the risk of overinterpreting the ridiculous D&D show's rise to prominence, it's an inspiration and a lesson in what can happen when creators are given the freedom they need.
The Legend of Vox Machina exceeds expectations. Fans and newcomers love it. The show is hilarious, its emotional moments are heartbreaking, and its characters are more realistic than any live-action figure. Every episode is a cathartic high before the end. Vox Machina is a legend.
The Legend of Vox Machina Season 2 Cast And Crew Members

Marisha Ray
American voice actor Marisha Ray Huber, better known by her stage name Marisha Ray, also works as a host, producer, and creative director. She is well recognized for her parts in the Dungeons & Dragons online series Critical Role as herself, Keyleth, Beauregard, and Laudna.
Matthew Mercer
An American voice actor by the name of Matthew Mercer is Matthew Christopher Miller. He is well-recognized for his work in anime, cartoons, and video games with Studiopolis, Funimation, and Bang Zoom! Entertainment, Viz Media, and NYAV Post.
Other Cast: Ashley Johnson, Laura Bailey
The Legend of Vox Machina Season 2 Trailer
Frequently Asked Questions
How Many Episodes Will Vox Machina Season 2 Have?
It was renewed by Amazon for a second season in November 2019, before the show's debut, and it debuted on January 20, 2023. Amazon renewed the show for a third season on October 6, 2022, before the start of season two.
What Arc Will Vox Machina Season 2 Cover?
Vox Machina battles Brimscythe at the start of the first season before the Briarwoods narrative is adapted. The Chroma Conclave narrative is then adapted in the second season and continues in the third.
When Did Vax Tell Keyleth He Loved Her?
In the original moment, during episode 33 of Critical Role's first season, Vax turns to Keyleth and offers his declaration of love — and then lands a kiss.