Elijah Wood has made it obvious that he doesn't like the announced plans for AMC Theatres to alter ticket prices. The "Lord of the Rings" actor slammed the theatre chain's new Sightline project, which sets ticket rates depending on a seat's exact location.
The actor is scheduled to feature in the forthcoming season of Showtime's "Yellowjackets." Instead of paying the regular ticket costs for their seats, theatergoers participating in this new project will each pay a different fee.
 Wood said, "The movie theatre is and always has been a sacred democratic space for all," This new initiative by AMC Theatres would essentially penalize people for lower income and reward for higher income."
AMC's Sightline initiative, which was unveiled on Monday, will launch on Friday in a few theatres in New York, Chicago, and Kansas City before gradually expanding to all AMC sites nationwide by the end of the year.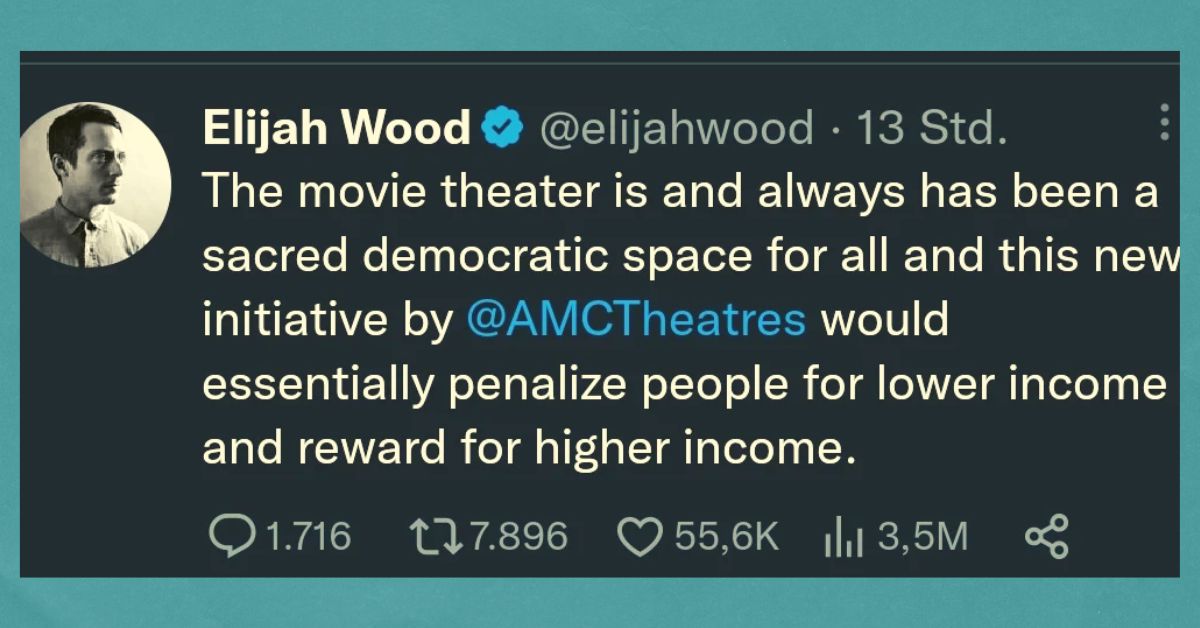 Recommended For You:
According to Variety, the program offers three different seat-pricing options: Standard Sightline, which includes the theater's most popular seats and is available for the standard ticket price, Value Sightline, which includes front-row seats and some wheelchair-accessible spots and is priced lower than Standard Sightline seats, and Preferred Sightline, which includes seats in the middle of the theatre and is priced higher.
AMC stated that theatres employing Sightline are required to offer a thorough seat map that details every seating choice and the associated ticket cost.
Of course, AMC Stubs A-List subscribers who have already paid a monthly subscription have an edge since they can book seats in the Preferred Sightline Section for free and the Value Sightline Section for a reduced price.
In a statement provided to Entertainment Weekly, AMC Theatres CEO Eliot Hamlisch provided the following explanation of Sightline's goals:
"Sightline at AMC more closely aligns AMC's seat pricing approach to that of many other entertainment venues, offering experienced-based pricing and another way for moviegoers to find value at the movies. While every seat at AMC delivers an amazing moviegoing experience, we know there are some moviegoers who prioritize their specific seat and others who prioritize value moviegoing. Sightline at AMC accommodates both sentiments to help ensure that our guests have more control over their experience so that every trip to an AMC is a great one."
The statement from AMC doesn't appear to recognize that some moviegoers desire both a fantastic experience and affordable tickets. There is currently no information on what the price variations will be.
As of right now, it appears that AMC's new approach may increase Stubs A-List membership sales if only to escape the inconvenience of tiered seating costs. Everyone will still receive the $5 Tuesday discount.
Keep in touch with leedaily.com for more Updates.