Fans of House of the Dragon can all agree on one thing: Queen Alicent deserves the throne, regardless of whether they are Team Green or Team Black. I'm joking.
We can all agree that the second season of House of the Dragon, the Game of Thrones spinoff, cannot come soon enough.
We've all been trembling in our pants waiting for information on when Season 2 will air since Season 1 finished in October and built up the genuine civil war that the rest of the series will reveal.
It will take some time, is a quick response. The longer response is that it won't happen until 2023. We have lots of inquiries while we're waiting. When will Season 2 of House of the Dragon premiere? Who will participate? How much time will pass? Below, we'll attempt to respond to each question.
This is all there is to know about Season 2 of House of the Dragon.
House of the Dragon Season 2 Release Date
HBO and we are both in the dark about the release date for Season 2. Season 2 will start shooting, though, according to creator Ryan Condal, who spoke to Variety.
Condal responded that it is "to be determined" when asked whether the series will debut in the same year. HBO chief content officer Casey Bloys told Vulture that the new season will be ready "sometime in '24," which provided a little more clarification.
But he appears to want to control what viewers anticipate, stating "Much like last time, we are only just beginning to put the plan together and there are many unknowns.
You don't want to claim it will be ready on this date and then have to move it, so don't expect it in 2023. This is not to be coy or sneaky."
If we look at Season 1, it took 14 months from the start of production to the show's HBO debut (April 2021 to August 2022); by carrying the one and doing some math, Season 2 might start airing in the spring of 2024. But that's only a speculative guess!
House of the Dragon Season 2 Cast
Will there be a time jump into the next 100 years? Will everybody perish? No and possibly! Things should calm down as Season 2 concentrates more on the Dance of the Dragons, often known as the Targaryen civil war, after multiple time leaps that caused characters to outlive their actors.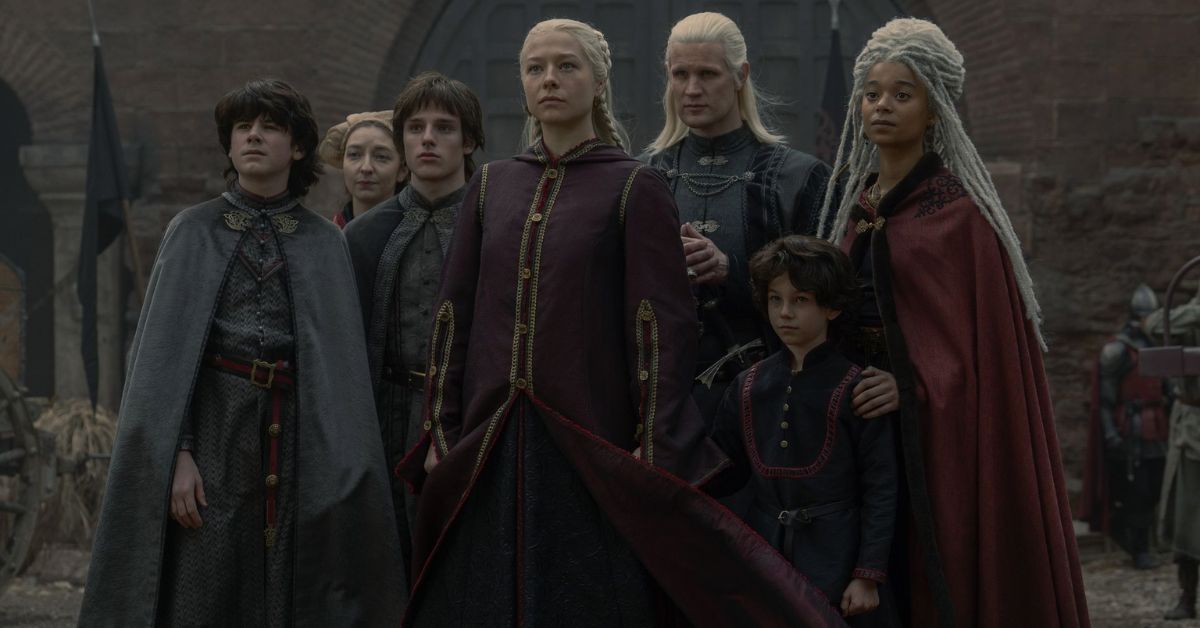 Apart from all the deaths, that should also result in a more constant cast. Expect the Season 1 ending survivors to return for Season 2, and as the world gets bigger, additional characters will join.
Matt Smith as Prince Daemon Targaryen
Olivia Cooke as Queen Alicent Hightower
Emma D'Arcy as Princess Rhaenyra Targaryen
Fabien Frankel as Ser Criston Cole
Sonoya Mizuno as Mysaria
Graham McTavish as Ser Harrold Westerling
Matthew Needham as Larys Strong
Rhys Ifans as Otto Hightower
Eve Best as Princess Rhaenys Targaryen
Steve Toussaint as Lord Corlys Velaryon
House of the Dragon Season 1 Finale Recap: A Bloody Ending
The first season of House of the Dragon ended with a lot of blood and death. To inform Princess Rhaenyra (Emma D'Arcy) and Prince Daemon Targaryen (Matt Smith) that King Viserys (Paddy Considine) has passed away and that Aegon (Tom Glynn-Carney) has been crowned King by the Hightower-led Greens, Princess Rhaenys Targaryen (Eve Best) traveled from King's Landing to Dragonstone.
Upon hearing this information, Rhaenyra experiences early labor and ultimately loses her daughter. And although Rhaenyra preferred to wait since she did not want to rule over "a realm of ash and bone," Daemon wanted to start a battle right now and respond with dragons.
When the Hand of King Otto Hightower (Rhys Ifans), the mastermind behind the Greens' plot to seize the Iron Throne, arrived at Dragonstone to provide Aegon with peace conditions, Rhaenyra indicated that she would consider them.
Meanwhile, the Targaryen-led Blacks were attempting to persuade Westerosi lords to back Rhaenyra's claim. After being prompted by his wife Rhaenys, a frail Lord Corlys Velaryon (Steve Toussaint) proclaimed his loyalty to Rhaenyra.
When Rhaenyra's son Jacaerys (Harry Collett), and his brother Lucerys (Elliot Grihault), offered to convey messages to the other lords, Rhaenyra consented to send them both. Jacaerys would go to the Eyrie and Winterfell, and Lucerys headed to Storm's End.
Nevertheless, at Storm's End, Lucerys observed that the terrifying dragon Vhagar was already present (which was a clear indication for Luke to depart!). Before arriving, Aemond Targaryen (Ewan Mitchell) chatted with Borros Baratheon. The Lord of Storm's End rejected Lucerys in favor of Aemond's offer, which included a marriage pact.
Seeing an opportunity to further dominate the cousin who had cut out his left eye, a resentful Aemond prepared to confront Lucerys and demanded that he gouge out his eye as payment for the offense—a literal eye-for-an-eye demand. The Targaryens were not permitted to battle under Lord Baratheon's house, though.
Aemond, who rides the considerably larger Vhagar, followed Lucerys as he departed on his dragon Arrax. Arrax spewed fire at Vhagar, evidently to taunt him.
The she-dragon replied by chewing up Arrax in the air, which killed sweet Lucerys, who was just 14 years old. It's frightening that the Targaryen only have partial control over the dragons. You know, they're essentially emotional, sentient nuclear bombs.
We did not hear what Daemon said, but it is safe to presume that this is what he told Rhaenyra in the final scene of Season 1 of House of the Dragon. The Dance of the Dragons has begun as Rhaenyra shakily makes her way to the hearth and turns around with a menacing glare.
You can also check the release date of other seasons here:
What to Expect in Season 2 of House of the Dragon?
HBO quickly decided to order a second season of House of the Dragon. HBO gave the go-ahead for Season 1 five days after the show's debut, citing the episode's impressive viewership, which included the biggest HBO audience ever on the first night (nearly 10 million viewers), and more than 20 million viewers across linear, streaming, and on-demand services over the first five days.
Even if that renewal happened quickly, it took longer than Game of Thrones did. Just two days after the 2011 season debut, Game of Thrones received a second season renewal.
Even though there haven't been any further season extensions, George R.R. Martin has stated that he thinks it will take four whole, 10-episode seasons to tell the story outlined in the two-volume Fire & Blood series of books, on which the series is based.
How Many Episodes Will Be in House of the Dragon Season 2?
Like Season 1, it almost probably will have ten episodes. Despite what it accomplished with the final two seasons of Game of Thrones, HBO generally keeps the season lengths of its shows consistent. George R.R. Martin stated that it would take four 10-episode seasons to tell his story.
Where is House of the Dragon Season 2 Filmed?
Season 1 was shot in several European sites, including Cornwall, Hertfordshire, Cáceres, the Château of Monsanto in Portugal, and more. The same sites will likely be used for Season 2, with Spain being the only one with official confirmation as of October 2022.
Latest News About House of the Dragon Season 2
We might have a start date for the movie! The second season of House of the Dragon will begin production on March 6, and the initial locations for filming will be London and Spain, according to the production reference website Production List. Perhaps HBO will soon make the shooting schedule official.
As one would anticipate from a project of this scope, the television series has been in pre-production for some months. The House of the Dragon Season 2 premiere is still scheduled for 2024, but we wouldn't anticipate it to happen until later in the year considering the volume of special effects and post-production needed.
We have covered all the information about the House of the Dragon Season 2 Release Date. If you want to check out more information about this series then you can bookmark our site leedaily.com for all the latest updates.