The massively multiplayer online role-playing game (MMORPG) Throne and Liberty is one that NCSoft will soon release.
It was repurposed and reorganized far into development from its original plans to be a continuation of the Lineage series and a follow-up to the first Lineage game.
Although Lineage Eternal was first announced and given its name in November 2011, the game's release date has been repeatedly postponed, with the earliest beta testing scheduled.
2016 saw the launch of the first South Korean Closed Beta, which ran from November 30 to December 4. The game has been restarted by NCSoft as Project TL at a private NCSOFT Director Cut event.
Throne and Liberty Release Date Revealed Or Not?
The Throne and Liberty will launch on PS5, Xbox Series X|S, and PC in 2023. Amazon will publish the game in all countries, expanding its MMO library.
Throne and Liberty Release Date wasn't specified during the announcement, but we'd guess that it will happen in the second half of 2023.
Throne and Liberty Story
As players come across various personalities across the game's environment, Throne and Liberty will have a wealth of stories to tell in terms of the narrative.
Star Children are described in the game's brief description as being endowed with unique abilities by Silaves, the Goddess of Destruction's fragments that became dispersed throughout the globe.
Revil Lupius and his merciless Arkeum Legions have taken over Solisium, and it is up to the Star Children to fight back and reclaim freedom.
At this point, there isn't much to go on, but as the story progresses and we learn more about the circumstances around these incidents, things should start making more sense.
But, the development team is fully aware that the appeal of MMORPGs lies in the ability of players to craft their own narratives as they go on solo or group adventures.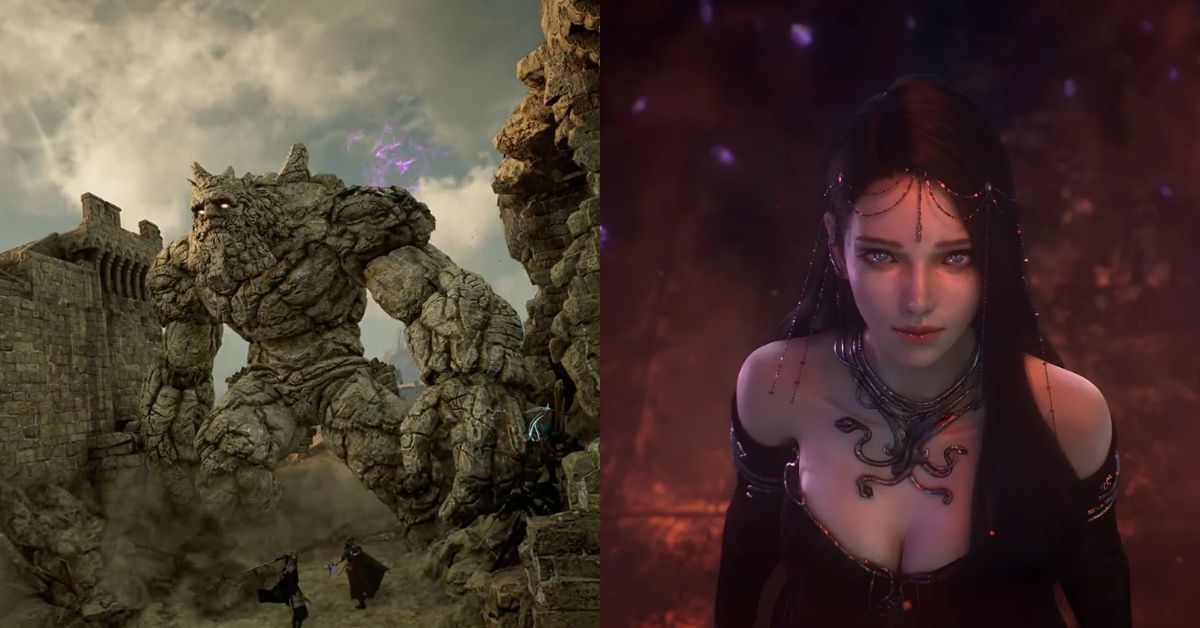 Throne and Liberty Gameplay
The open world of Throne and Liberty consists of a single sizable area that players can explore. Surface locales and multi-level underground dungeons will both be included in the game.
Also, a day/night cycle and a dynamic weather system are supposed to be included at launch, changing both the graphics and feel of the planet as well as the events that players run across while exploring.
Also, you won't have to choose a class and remain in it for the duration of your playing. The way you fight in Throne and Liberty depends on your weaponry.
Every time you equip a weapon, you can choose from two different types and freely switch between them to use the various talents each one gives your character.
Although you can explore most places safely, PvP does become feasible when specific events begin. Players can opt-in if they want to compete against other players.
This implies that you won't be forced to engage in PvP, which is wonderful news if you've had a string of unpleasant ganking encounters in the early days of the genre.
Guilds can fight in battles and are a part of Throne and Liberty. Guilds can manage items on the map, such as Blessing Stones and Dimension Stones, providing a range of improvements and resources. Of course, they can be the subject of greater conflicts in which guilds face off.
You may play the game and make your own character, which gives you a lot of customizing options. According to what we've seen thus far, there is just one playable race that resembles humans, however, this could alter in the months before launch.
To know more about other games, click on the links given below: