Finally, a release date has been set for the highly anticipated Doom franchise's upcoming installment. The Doomslayer, who is now known as the Tiny Slayer and who is still quite great at slaughtering hordes of demons, gets a brand-new look in the mobile-only Doom game Mighty Doom, this time from a top-down camera perspective.
Mighty Doom was created by the Alpha Dog Gaming Studio and released in early access in 2021 under the ZeniMax publishing imprint. Mighty Doom, a top-down version of the popular shooters with a cute new twist on fans' favorite demon-slaying game, features a fast-paced run-and-gun campaign across renowned levels from the Doom series.
Mighty Doom appears to be living up to its storied legacy with a strong escalating progression of new gear and weapons and a healthy dose of challenge.
Mighty Doom Release Date
Alpha Dog Gaming Studio announced that Mighty Doom is officially debuting on March 21, with the chance to pre-register as of the trailer's release. The Mini Slayer is assembled by whirling machinery and then placed in a plastic action figure package, which they break out of when a demonic invasion detected alarm sounds. The Mini Slayer exhibits an endearing cartoonish appearance.
The gameplay footage that follows shows the Tiny Slayer shooting and moving through top-down hallways while experiencing classic Doom action and blood. The unique viewpoint makes the gameplay seem quite innovative, and the gear systems and rogue-like features make the mobile excursion a bold departure from the Doom that fans know and love.
Mighty Doom for mobile announced by Bethesda, developed by Alpha Dog Studios.

A single-touch action shooter introducing the all-new Mini Slayer, set in the animated Doom universe.

Coming March 21.

Announcement trailer: https://t.co/E9z9BcibFe pic.twitter.com/Xg2JBGylUe

— Klobrille (@klobrille) February 21, 2023
Here you can also more interesting games like this:
What is the Gameplay of Mighty Doom?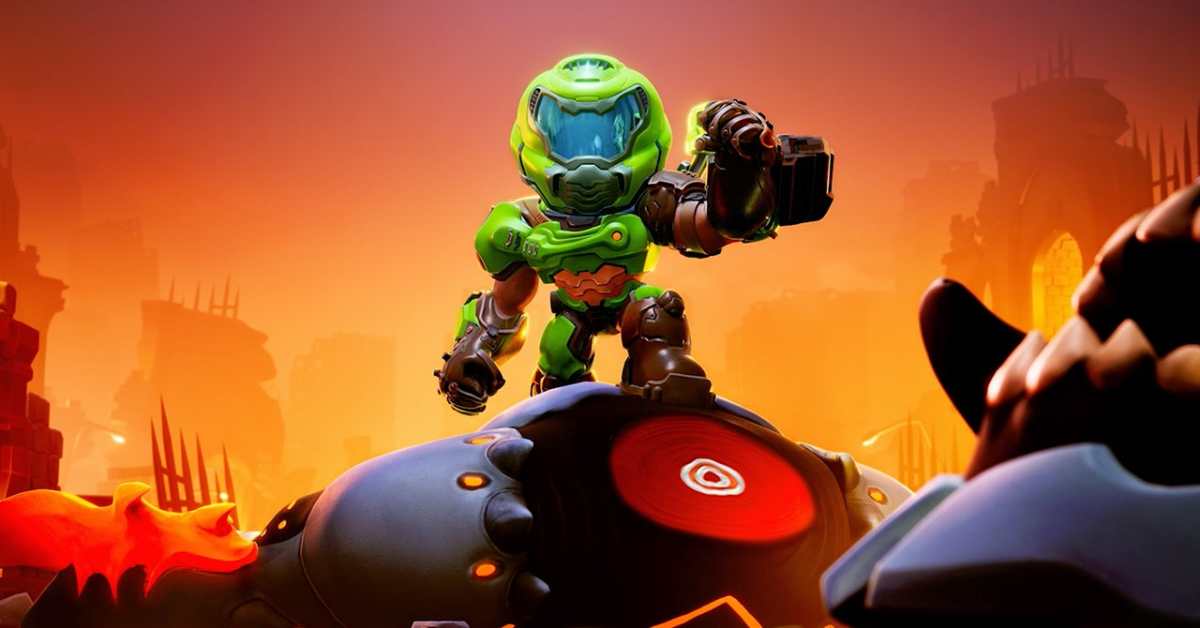 Players may get a reasonably good notion of the gameplay to expect from "Mighty Doom" from the introduction trailer. Almost every weapon you've come to anticipate from the franchise is here and fully functional, from the destructive rocket launcher to the aforementioned BFG.
As they navigate through swarms of demons, players can see every part of the arena from a top-down perspective in this game. Depending on the weapon you employ, adversaries could simply transform into a small crimson smudge on the ground or they could potentially explode in a body part and bone shower.
Glory Kills, the cinematic finishing maneuvers that have become a mainstay of the more recent "Doom" games, will also be making a return in the game. Be prepared for things to turn ugly, but in a kind of cute way.
Rogue-lite gameplay is perhaps the addition that is most exciting. In the fight against Mini Hell, players should prepare to lose a lot of lives, but each defeat presents an opportunity to improve the Mini Slayer's equipment and attempt again for better rewards.
Is There a Trailer for Mighty Doom?
It's safe to say that devoted followers of the franchise will be delighted to learn that the show's propensity for gratuitous violence has not been significantly reduced. The Little Slayer is still on a gory, heavily armed rampage, though it is less graphic. The "Mighty Doom" teaser includes a little cinematic that demonstrates how the game's cutesy visuals work with the terror and action of the original titles. The first adorable decapitation in history might be seen in this trailer.
In this clip, a miniature Doom Slayer character is struck by an Argent energy wave, comes to life, and slaughters his demonic foes. In case you were wondering, the Mini Slayer absolutely does have his own miniature BFG. Tiny Slayer is seen utilizing the incredibly potent weapon to eliminate a bridge's worth of adversaries before cutting off the head of a huge Cyber Demon.
I hope you find out everything you need to know about "Mighty Doom Release Date". If you found this article interesting, please forward it to your friends. Don't forget to bookmark our site leedily.com, so you can find more interesting articles.