Murdaugh Murders: A Southern Scandal, Netflix's newest true crime documentary series, tells the story of how a wealthy South Carolina family's mother and son were killed.
In June 2021, Margaret "Maggie" Murdaugh and her 22-year-old son Paul both died. Alex Murdaugh, the husband, and father of the people who died are being tried for their deaths. He has been charged with killing them, but he has said he is innocent and pleaded not guilty.
The family has a long history of being powerful prosecutors in South Carolina. They have been linked to several scandals, including a boating accident that killed someone because Paul was allegedly driving while drunk. The three-part Netflix documentary, which came out on February 22, looks at all of these and other events.
After this terrible event, Paul and Maggie Murdaugh were killed in June 2021. Alex Murdaugh, the father of Paul and the husband of Maggie, is being tried for their deaths. Even though he said he wasn't guilty, he was charged with two counts of murder in July of 2022, according to The New York Times.
He went to court this week to defend himself and answer questions about the deaths of his wife and son. Here is all the information you need to know about the defendant before the new Netflix documentary series.
Don't Miss Out on the Latest Headlines:
What are the 'Murdaugh Murders'?
Paul and Maggie Murdaugh were killed, but the Murdaugh family has also been linked to a number of other deaths and crimes. The phrase "Murdaugh murders" usually means that Paul and Maggie were killed at their family's hunting lodge in June 2021, according to The New York Times.
According to PEOPLE, Paul was shot in the head and chest with a shotgun, and his mother was killed with an assault rifle. The New York Times says Alex Murdaugh called 911 that night to say he found the bodies near the family's dog kennels. The call was made just after 10 p.m.
Alex also told the police that his son had been getting threats about Mallory Beach's death. In this case, no one was caught for more than a year.
Where is Alex Murdaugh Now?
The New York Times says that Alex has been in jail since October 2021. He was first arrested on charges of fraud related to the life insurance claim of the Satterfield family. The NYT said that the former lawyer scammed his clients out of a total of $8.8 million over the years. The government says that he killed his family to hide other financial crimes.
Paul and Margaret Murdaugh's murder trial started in January 2023 and is still going on in Walterboro, South Carolina. The NYT said it will last for about three more weeks. Even though Alex has already been accused of killing them, he says he is innocent and has pleaded not guilty. Before the trial, his lawyers told the New York Times that he "looks forward to this chance to clear his name."
The New York Times says that if Alex Murdaugh is found guilty, he will spend at least 30 years in prison. However, prosecutors want him to spend the rest of his life in jail. Murdaugh Murders: A Southern Scandal, which is now available on Netflix, has more information about the Murdaugh family and Alex's trial.
Who is Alex Murdaugh?
Alex Murdaugh is 54 years old and lives in South Carolina with his family. He is being tried for killing his wife and oldest son. He has been charged with killing them.
According to the Office of the Solicitor, Fourteenth District, three generations of the Murdaugh family worked as prosecutors in South Carolina's Fourteenth Judicial Circuit until 2005. This is about 100 years. The Murdaugh family became rich and powerful because of their long history of being in charge of the law in their area.
Alex Murdaugh never ran for the prosecutor, but he did help the district by being a volunteer prosecutor. He was officially fired from that job in September 2022, according to The New York Times.
Buster Murdaugh Got Kicked Out of Law School
Alex and Maggie Murdaugh's oldest son is named Richard Alex "Buster" Murdaugh Jr., and he is 26 years old. In 2021, both his mother and younger brother, Paul, were killed.
Buster had been going to the University of South Carolina to get his law degree, which is what his family had always done. The Wall Street Journal says that he was kicked out of law school because he copied someone else's work. The Post and Courier, a local paper, then said that "the family had paid a well-connected lawyer in Columbia, Butch Bowers, about $60,000 to help get Buster readmitted."
But Buster hasn't been back to school yet. "For now, he has put off his plans to go to law school," Murdaugh's attorney told The Post and Courier. "There are no plans for him to start school in the fall or in the spring." It's not clear what Buster does for a living now, but before Alex was arrested, he worked at his father's law firm, according to PEOPLE.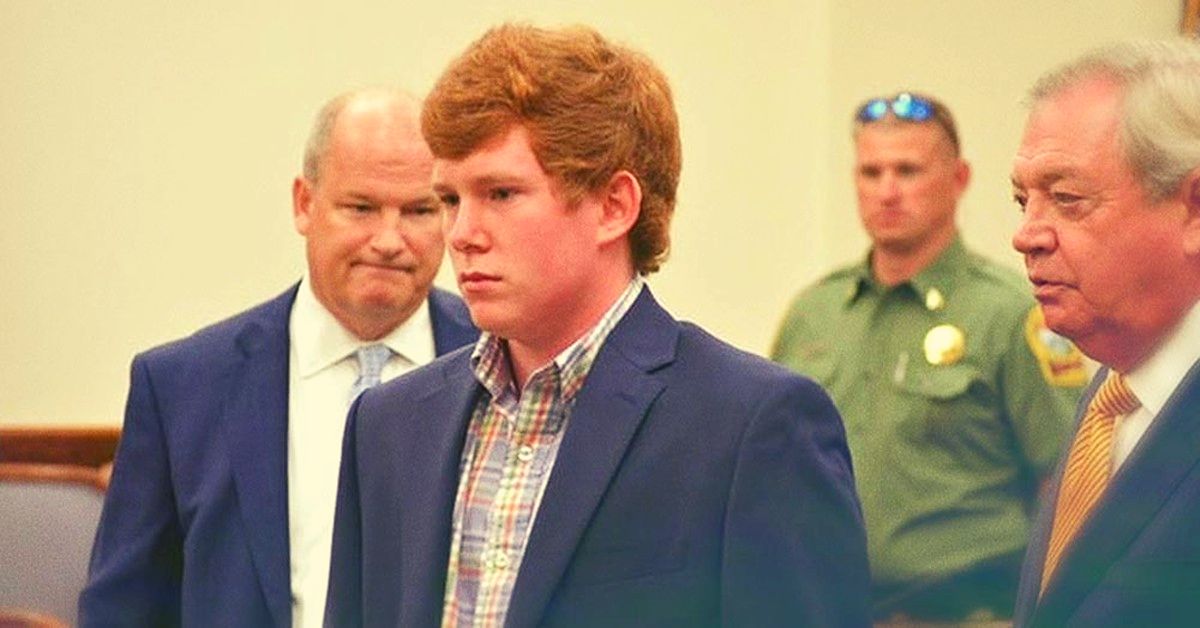 Buster Lives With His Girlfriend
People say that Buster didn't want to go back to the hunting lodge where his brother and mother died. He is said to live in a condo on Hilton Head Island, South Carolina, with his girlfriend, Brooklynn White.
The website for Olivetti, McCray, and Withrow Law Firm says that Brooklynn works there as an attorney. Fox News says that Brooklynn bought the condo in 2021, a month after the Murdaugh killings.
Buster Recently Spoke Up in Court to Defend His Father
On February 21, 2023, Buster was the first witness for the defense. He spoke out in support of his father. According to the New York Post, he told the court that the Murdaugh family had "a lot of guns" and that his brother Paul left more guns around the property than anyone else.
Buster also said that his father was "ruined" the night of the murders. Buster told the court, as reported by PEOPLE, that "he was heartbroken."
Check out some other new content we've published:
Buster Helped His Family Come to a Deal About the Death of Mallory Beach
Mallory Beach died in a boat accident in 2019 that was caused by Paul Murdaugh. Since then, Mallory Beach's family has been in talks with the Murdaugh family. The Daily Mail says that they recently settled for a "significant amount" of money, which took Buster and Maggie's names off the case.
Paul Murdaugh, who was 19 at the time, was said to have been drunk while driving the boat when it crashed. He was later charged with killing Mallory and was free on bail when he died. On the day of the accident, Paul is said to have bought alcohol using Buster Murdaugh's ID and his mother's credit card. Fox News says that after the settlement, the Mallory Beach lawsuit will only list Alex Murdaugh's name.
"The Beach family is very sure that Paul and Maggie didn't deserve what happened to them, no matter how bad they were. They also think Buster has been through enough, so trying to get him out of the case was important to them "Mark Brandon Tinsley, the lawyer for the Beach family, is said to have told Fox News.
Buster Was Close to Another Person Who Died in a Strange Way
Stephen Smith, a 19-year-old college student, died on the side of the road about 10 miles from the Murdaughs' home in 2015. It was not clear what happened. People say that he was found with deep cuts on his head on a road in Hampton County.
Buster and Smith used to be in the same class. The Wall Street Journal says that some locals who were interviewed for the docuseries say that the Murdaughs might have had something to do with his hit-and-run death.
The death of Smith is still being looked into, and The New York Times says that the Murdaugh family has not been officially linked to it.
Frequently Asked Questions
Did Alex Murdaugh testify today?
Alex Murdaugh's trial for killing his wife and son in 2021 is over, and he has finished his testimony. Court will start again on Monday. Alex Murdaugh finished testifying about the killings of his wife and son on Friday. He had been on the stand for two days.
Are the Murdaugh murders true?
Murdaugh Murders: A Southern Scandal tells the shocking true story of how the accidental death of a teenage girl led to two more murders and exposed a century of corruption by one of South Carolina's most prominent families. Netflix is now out.
Who committed the Murdaugh murders?
Alex Murdaugh is being tried for shooting and killing Maggie and Paul Murdaugh on the family's property in June 2021. Alex Murdaugh is being tried for shooting and killing Maggie and Paul Murdaugh on the family's property in June 2021.