The Bravo television program "Family Karma" examines the lives of Indian Americans who live in Miami, Florida. The reality show, which looks at the Indian population in the US, mostly concentrates on families that immigrated from India and have resided in the Miami, Florida, area for several generations.
The drama- and romance-filled show is famous for presenting viewers with the families' unvarnished, everyday lives. Due to its captivating and dramatic extravagant material, it has received a tremendous amount of attention since its premiere in 2020.
The romantic relationships between the cast members and the ensuing dramas in the local community are what drives the majority of the story. Fans were particularly interested in Monica Vaswani and Rish Karam as one such couple.
Their romance was the buzz of the town, and admirers were fascinated by their ups and downs. It is clear from this that people want to know if Monica and Rish are still dating. If you share our curiosity, check out what we learned!
If you want to read more articles related to relationships, check it below:
Journey of Monica and Rish's Family Karma
The 30-year-old former Miss India Virgin Islands who worked as an HR Expert at Ultimate Software till January 2022, Monica Vaswani, is a recurring cast member. She is now an aspiring Bollywood choreographer and creator of digital content.
She loves to dance and is regarded in her community as the "ideal Indian girl." Rish Karam, on the other hand, is a businessman and entrepreneur who serves as the managing partner of S R Concepts at the moment.
He has been working with his family's Pandora jewelry company since 2011 and, starting in 2019, he and Christopher Corda have co-founded Moksha Indian Brasserie in Miami. When she first had a "situationship" with her childhood lover, Brian Benni, Monica's love story captured the attention of both her coworkers and fans.
Although she initially felt a connection with him, she eventually became tired of it because he did not give her the same sense. Later, when Brian expressed interest in dating her, Monica realized that they were "better-off friends than girlfriend-boyfriend" and started looking for someone for him.
She then indicated that they would be better off as friends. In 2020, she started dating Rish Karma when this failed to materialize. Monica and Rish were also childhood pals due to their close ties to the Indian community in Miami.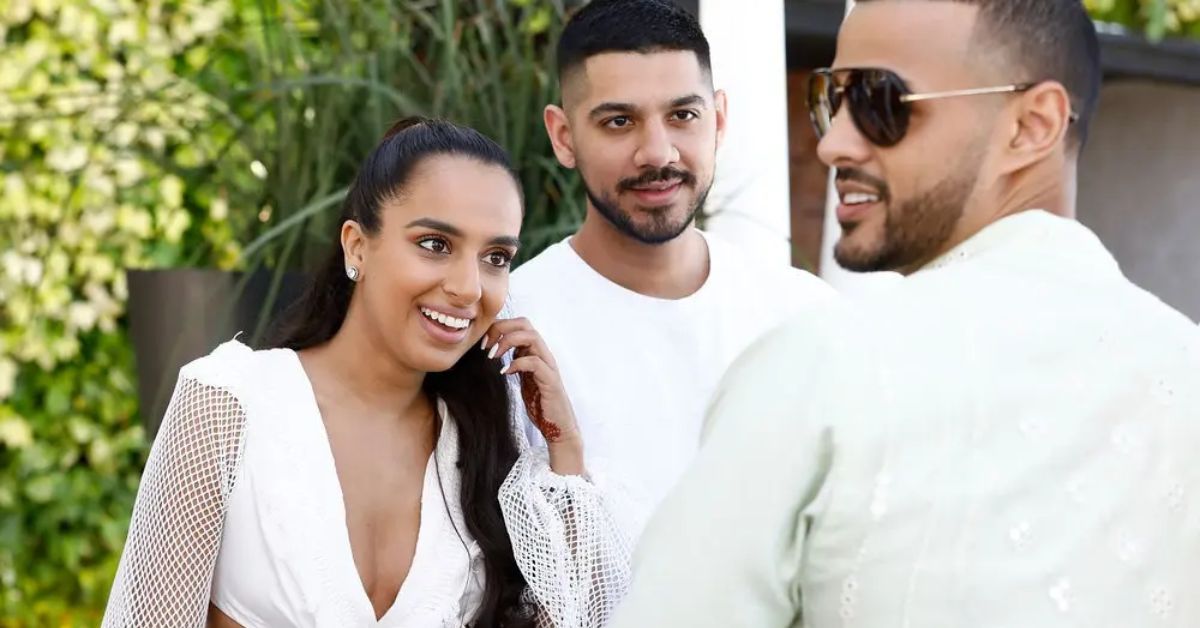 We've known each other since we were about nine or ten years old, Monica told Showbiz CheatSheet. Our families have known one another since my dad was a young child in Hong Kong. Monica continued, "I'm a year and a half older than him.
We've always liked each other. I therefore always thought, "He's too young for me." After she and Rish acknowledged their emotions for one another, they started dating, and things have been going well ever since.
Is Monica and Rish Still Together?
Monica Vaswani and Rish Karma remain faithful to one another. The two frequently co-star on the program and make sure to stand up for one another. When Rish kissed Monica's hand in front of others, Monica's father once said to her, "Put a ring on it," as a hint that they would get married.
As they hadn't gone all the way to talking about their future together, she deftly sidestepped the query. But, this does not imply that the pair have not encountered any difficulties.
When their castmate Amrit Kapai revealed to others that he overheard Rish talking about being unfaithful to Monica at a party, Rish in particular came under fire.
Monica asked her partner about his side of the tale right after Brian informed him of the conversation. Rish initially denied the infidelity but subsequently revealed to her the full truth of what he had previously known about the group's discussion.
He apologized for the misunderstanding and said, "I hope this doesn't come between us and the trust that we have in our relationship."
But, Monica had faith in Rish, and they put their disagreements behind them. She even stated that she wanted a boyfriend who "would watch Bollywood movies with me" as a true Bollywood girl. Monica seems to found her dream man in Rish now that he is the one in her life.
You might also think about the various celebrity relationships:
Even though the pair don't share many photos of themselves together, when they do, it's filled with love and gratitude. As of right now, Monica and Rish are dating slowly and maintaining a low profile. Nonetheless, we only wish them greater happiness and love as they travel forward.
Explore our website Leedaily.com for some additional information.