Chris Brown seemed to throw a fan's phone into the audience as she ignored him completely. The incident took place after Brown allowed the lucky fan to join him on stage during his performance of "Take You Down" in concert; it was posted on TikTok on Wednesday.
The woman immediately pulled out her phone to record the event instead of taking it all in. At first, Brown was seen removing the phone and putting it away while doing so gently.
She grabbed it again to keep filming, but he danced around her and even gave her a passionate lapdance. Concertgoers were in a frenzy as a result of the singer's unimpressed snatching of the woman's phone and hurling it into the audience.
The stage lights suddenly turned out, ending the awkward meeting when the very irritated woman flung her hands in the air
You can go for more articles related to other celebrities:
Luckily, she was able to retrieve her phone, though it's unknown how it fared after flying through the air and falling into a mosh pit. Contacted the singer's agent but at the time of publication had not heard back. He hasn't spoken about the incident either.
The video gained a lot of attention on social media, with some fans standing up for Brown and others dismissing it as yet another outburst from the divisive musician.
"Listen, I totally agree that sometimes we all need to be able to put our phones down and enjoy the moment… but that's not Chris Brown or anyone else's decision to make," one person tweeted. "it is impossible to defend chris brown he just keeps doing stuff," another added.
WATCH: Chris Brown throws fan's phone into crowd 📱💨😅

The woman would not stop recording herself after Breezy gave her an onstage lap dancehttps://t.co/oA7nT6IMz5

— XXL Magazine (@XXL) March 2, 2023
Others, on the other hand, defended him, saying: "Lowkey, I see why Chris Brown chucked the phone. You're trying to tell me that while I'm up here giving it my all and giving you the best of my abilities, you'll be up here taking selfies. The disdain?"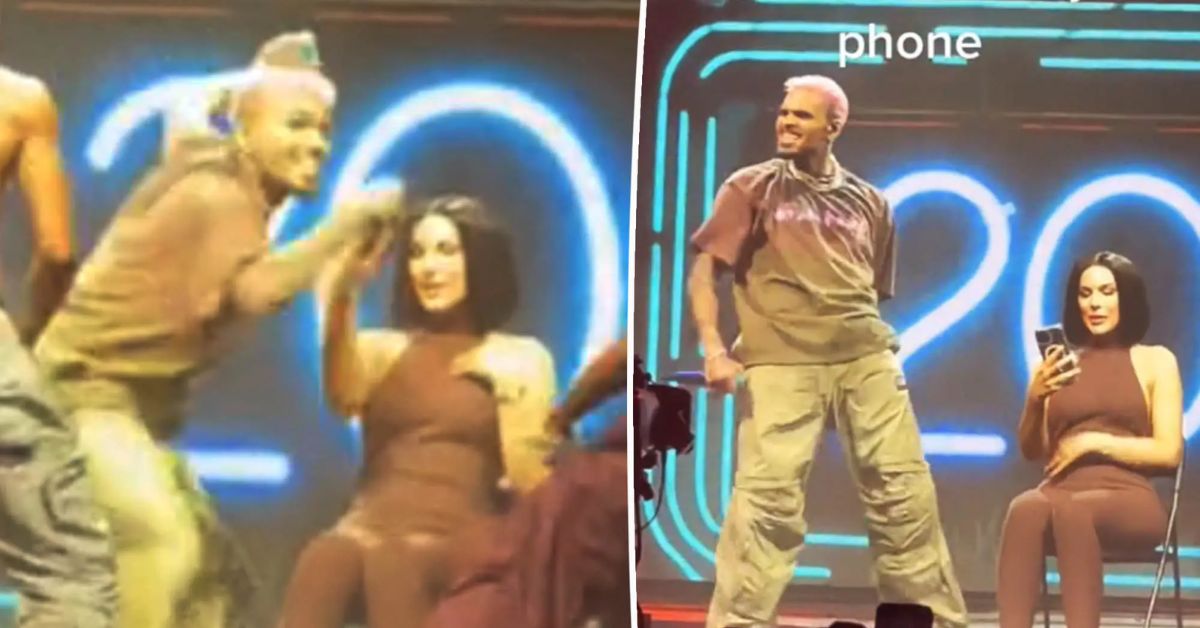 When it comes to stirring up controversy, Brown is no stranger. The "No Guidance" singer made news last month when he had a fit when Robert Glasper won a Grammy.
WHO THE F-K IS THIS, BRO? The "Breezy" creator added, "Ima keep killing y'all as*!" as a caption on a screenshot of his Glasper Google search. Respectfully."
A few weeks later, following Brown's long history of violence towards women, critics pounced on Chlo Bailey, 24, for working with him.
Here are the articles related to the other celebrities:
For hitting his then-girlfriend Rihanna, Brown entered a guilty plea to one count of felony assault in 2009. Less than ten years later, Karrueche Tran obtained a five-year restraining order against him because she said he started acting violently toward her after their breakup.
Then, in 2021, he was charged for allegedly assaulting a woman at his Los Angeles home following an altercation. The musician, however, makes it obvious that he doesn't care what others think of him and commands them to kiss his "f-king ass" if they "still detest" him for his previous transgressions.
Keep in Touch with Leedaily's Facebook account for further updates.