Tamar Braxton discovered love after actively seeking it. Atty. Jeremy "JR" Robinson, her finalist on Peacock's Queen's Court, proposed to her on the show's last episode.
Reality dating series featuring Braxton, Evelyn Lozada, and Nivea, hosted by Hollywood power couple Holly Robinson and Rodney Peete, follows the three women as they go on dates with 21 men competing to be their "kings."
In the dying minutes of the season finale, Robinson proposed to Braxton, saying,  "I don't wanna be your friend. I wanna be your husband. I'm here forever because I don't see my life without you. And I love you, Tamar. Tamar, will you marry me?"
Braxton said yes, "I can't believe I found what I was looking for," and she admitted that she is "crazy" about JR. Braxton and Robinson are still dating after six months, and the series revealed that they are "busy planning their wedding!"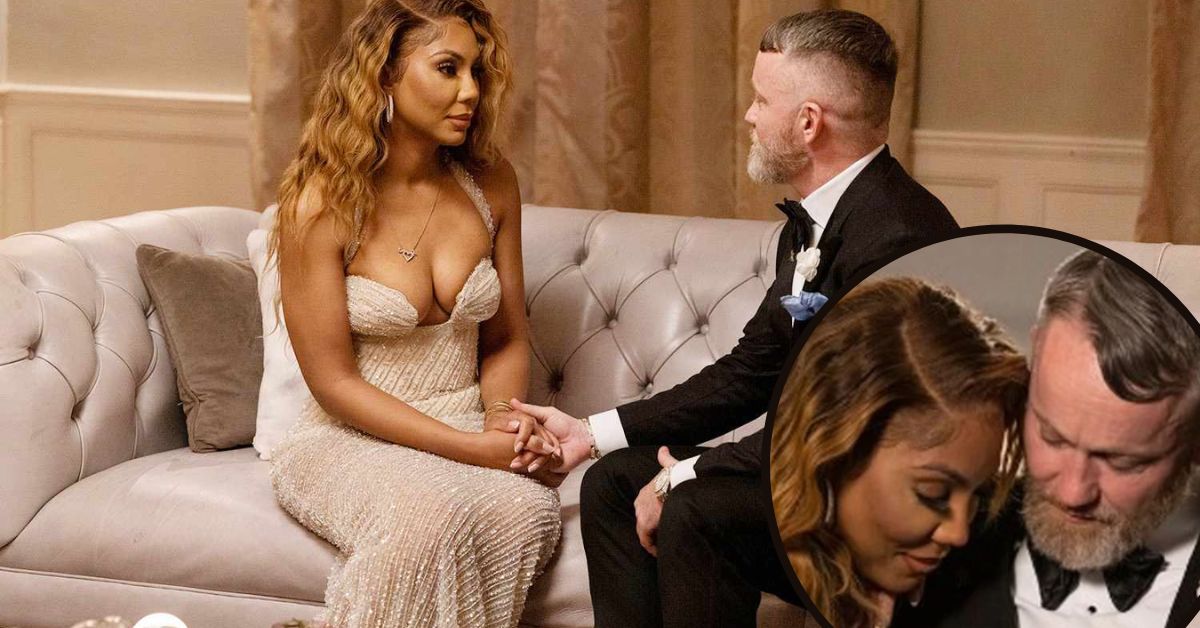 In a recent interview with ET, Braxton explained why she decided to participate in the show: "Well, you know, look I had to find Mr. Right somewhere!"
"I feel like I looked high and low and the truth is I wanted to meet some potentials on there in a different kind of way," she shared. "You meet people through people and I think I done ran out of people."
The singer has a "love/hate" connection with reality TV shows, despite her familiarity with the genre. Queens Court, but, "Something told me to trust the process," as the saying goes.
We have recently covered top articles related to Evelyn Lozada and Nivea. If you want to read more about them then check the links given to you below:
"I've never done anything like this before and what's the worst that can happen? I find love?" she added. "This TV show is so amazing, it's one of my proudest moments. Because I got a chance to be with some girlfriends, some people I truly love and respect, who were looking for the same thing that I was looking for… We had vulnerable moments [and] we've had amazing moments."
Braxton was able to develop as a person and as an artist because of the platform provided by the show.
"The number one thing I learned is that I wasn't as ready as I said that I was, in receiving love," she admitted. "The times when a certain amount of gentlemen would show me some type of affection, I didn't want it. Sometimes, when they would want to have certain conversations, I wasn't open. And I just really had to check myself and make sure that this is an area that I had to work on before I, you know, just branched myself out a little bit."
Like Braxton, Lozada left the show in a serious relationship with one of the contestants, Lavon Lewis. Lozada's birthday party in Los Angeles in December was a low-key affair where Lewis proposed, as recently disclosed by the former Basketball Wives cast member.
By posting a tweet, page Six verifies the news that Tamar Braxton is engaged to 'Queens Court' contestant Jeremy 'JR' Robinson. You can view the tweet provided below-
Tamar Braxton engaged to 'Queens Court' finalist Jeremy 'JR' Robinson https://t.co/wVSZswk6WR pic.twitter.com/wzrXyItc5C

— Page Six (@PageSix) March 16, 2023
"The thing about Evelyn is, it is very hard to surprise her," the marketing firm cofounder told People. "I told her to pack her bags, we're going somewhere. She was blindfolded until she got to the front door. She walked into about 20 close friends and family and the big 'marry me' letters, roses on the ground, things like that."
The engaged mother of two children said she was surprised by Lewis' proposal, even though the couple had talked about marriage in the past, but that she loved the Twila True ring he had chosen.
"It was the perfect size and shape," Lozada said. "I've never had that stone, so he did a good job. But I'm not surprised. Lavon is a creative mind and he doesn't forget anything."
Check out the links below for additional well-known love stories:
Lewis said, "I would challenge people to think outside of the box and have faith and push themselves" when asked what he hopes viewers of Queens Court take away from the series. "I didn't think I would go into it and come out of it with a wife. But look at what happens when you open yourself up and challenge yourself and step up to the plate."
"Sometimes as women, you think, 'I'm 40, my life is over,'" Lozada added. "But just to keep working at it. Never give up on love."