Jerry Seinfeld's popularity as a comedian spans several decades. But, he did something early in his career that most people would consider inappropriate in the modern era. There are already well-known persons behind bars for similar offenses as Jerry's.
Jerry, then in his 30s, is revealed to have dated a girl (yes, a girl) who was under the age of 18. What Jerry had to say about his long-ago girlfriend is detailed below. This article's sources have been brought up to date for accuracy and clarity.
To learn more about the Lovelife of other famous people, check out the following articles:
Was Jerry Seinfeld Accused of Dating an Underage Girl?
Jerry Seinfeld did date a minor, despite being of legal dating age himself. Shoshanna Lonstein, presently Shoshanna Lonstein Gruss, is the name of the young lady in dispute. In 1993, Shoshanna and Jerry had their first encounter in New York City's Central Park. Over 30 million people at the time were regular viewers of Seinfeld, making Jerry Seinfeld a household name.
The 1990s press was divided on whether they liked or disliked Jerry and Shoshanna. According to a 1994 interview, Howard Stern questioned Jerry, "So you sit in Central Park and have a candy bar on a string and pull it when the girls come?"
"This is the only girl I ever went out with who was that young," Jerry responded. "I wasn't dating her. We just went to a restaurant, and that was it."
Despite being sighted having dinner together shortly after their Central Park meet-cute, Jerry's reply was understood to suggest he didn't officially start "dating" Shoshanna until she turned 18.
The legality of the argument may have been upheld in 1993, but it certainly isn't anymore.
A TikTok video showing Jerry and his adolescent ex with the words "Seventeen Thirty-Eight" superimposed on it has gone viral, with over 35,000 people liking it after it was posted on Twitter.
— Mr Business (@mybigcrack) October 4, 2021
"I forget that Seinfeld was moving like R. Kelly smh," reads one Tweet, with another pointing out "His wiki has both ages bumped up by 1."
What Did Jerry Say About Dating a 17-year-old?
In the words of Jerry, "not that there's anything wrong with that…" sums up his feelings on the scenario.
He seems to think that the fact that there was a large age disparity in their relationship is irrelevant and that everyone should calm down. He once declared in an interview:
"I am not an idiot," says the comic. "Shoshanna is a person, not an age. She is extremely bright. She's funny, sharp, very alert. We just get along. You can hear the click."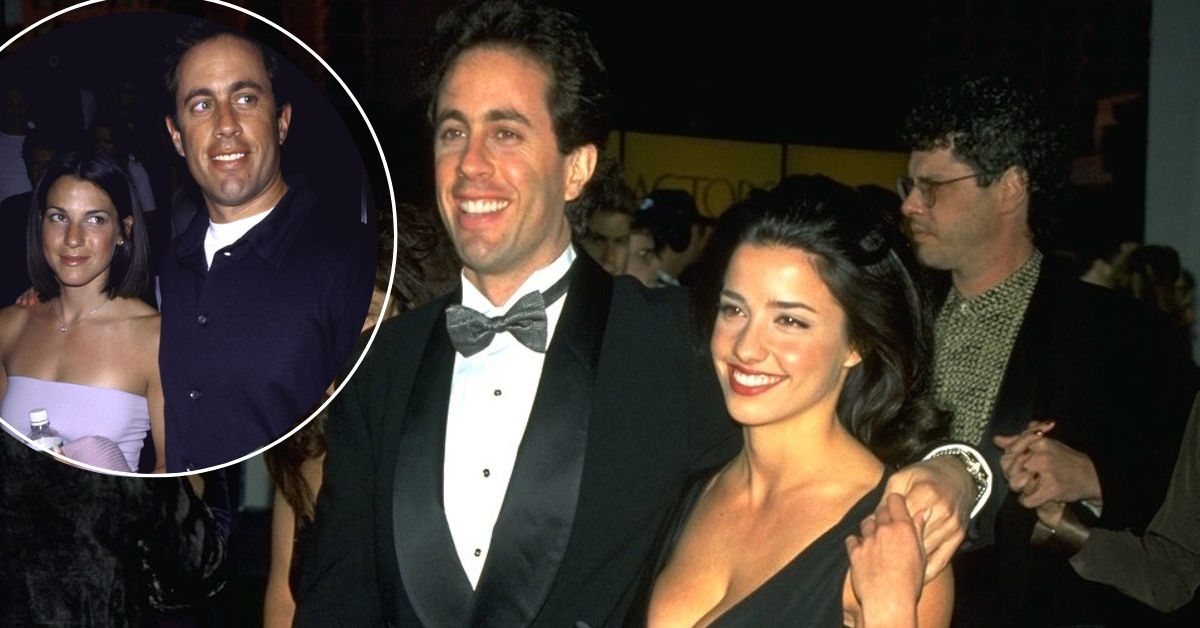 He also states that he was often frustrated because his sole alternative to Shoshanna was to have multiple girlfriends at once.
"When I wasn't involved with Shoshanna and was seeing several women, then it was awkward," he continued. "You go out with one girl and the other sees you with her in the paper. That was uncomfortable. Now I'm not doing anything I'm uncomfortable with. My interest in her is very proper."
On what was supposed to be Shoshanna's 21st birthday, he reportedly proposed. "We were very much in love but the timing wasn't quite right," Jerry divulged. "I almost got married to Shoshanna."
In November of 1999, Jerry tied the knot with Jessica Seinfeld. He was 45 and she was 28.
You can also read the articles below to find out what's going on in the personal life of other celebrities:
What is Shoshanna Lonstein Gruss Doing Now?
Shoshanna is doing well now; she established a successful clothing company in 1998. Now, everyone from Mindy Kaling to Meghan Markle wears her designs, and you can find them in high-end retailers like Neiman Marcus and Saks Fifth Avenue.
Shoshanna doesn't seem to have anything to say about Jerry recently. After their breakup, she did a few interviews, in which she expressed gratitude for the time they spent together while also confessing that Jerry's busy schedule and public profile left her feeling lonely and alone.
Shoshanna posted a photo to her Instagram page on April 9, 2022. We've put the link to that post below for you to look at:
View this post on Instagram
The couple dated for at least four years before breaking up because Shoshanna "wanted to run around and play," as she put it.
Later in life, Lonstein Gruss tied the knot and had a set of twins with her now ex-husband. There seemed to be no ill will between the two of them, either, as Shoshanna had intended to co-parent with her ex.
In addition, she plans to publish a memoir that will likely not center on her romance with Jerry but may still include some juicy facts.