Social media users have been in a chokehold for the past month due to the Selena Gomez and Hailey Bieber conflict, and the only people more tired of hearing about it are the ones involved in the drama. TikTok fans initially sifted through the two women's posts for any signs of shadow or wrongdoing, but the platform swiftly devolved into a toxic pit of hate and fabricated competitiveness. The internet's detrimental influence is increasing even as time goes on.
"Hailey Bieber reached out to me and let me know that she has been receiving death threats and such hateful negativity," Gomez wrote on his Instagram Story early Friday morning. "This isn't what I stand for. No one should have to experience hate or bullying. I've always advocated for kindness and want this all to stop."
Justine Skye, a close friend of Bieber's, released a statement a few hours after Gomez's, in which she shared screenshots of abusive text messages and emails she had gotten celebrating Gomez while condemning herself and Bieber. Someone wrote that she has to "stop obsessing over Selena" and called her a "nasty black bitch." There was also a demand, "Tell Hailey to come clean and apologize to Selena instead of being a pussy and running to you or begging Selena for help," which essentially said the same thing.
Hailey Bieber and Selena Gomez were recent headlines. Check the links below for current buzz:
Skye also discussed her decision to remain mute rather than engage in an online fight with stans. It's been more than a month, and she finally vented on Twitter: "You guys have ASSUMED ENOUGH and it's actually beyond insane at this point it's been going on for over a month," she wrote on Twitter. "What the hell do you want [to] happen next? For us to kill ourselves!? No one says anything because there is no winning with you all but I'm fucking tired of this."
This is currently what's being send to my phone right now.. I'm sick of this pic.twitter.com/zQaG3IKFUg

— Justine Skye (@JustineSkye) March 24, 2023
She added: "It doesn't matter what ANYONE says you guys don't want to truth to be real… But the fact of the matter is you're all so wrong. Wrong for instigating and perpetuating this horrible narrative. Wrong for not only spewing hate on the internet but also having to deal with it irl.. this isn't a game and it's no longer funny. You're probably going to find something wrong with this too I'm sure but go ahead."
The toxic femininity manifested in the Team Bieber versus Team Gomez feud was discussed by the mediator and conflict resolution expert Damali Peterman in an interview with Rolling Stone. "There's a risk that the posters have when they're posting about someone else's conflict, especially conflicts that don't impact you in any way," she explained. "These conflicts can be crippling, even if they're just if they're not in their face, but rather at a technology distance."
Here, we've shared a tweet that Skye sent out on March 24. If you want more information about this tweet, click on the link below-
I wasn't being shady.. I was being honest. It is a crazy world we live in where nothing is enough for you all. you guys have ASSUMED ENOUGH and it's actually beyond insane at this point it's been going on for over a month. What the hell do you want I happen next. For us to kill…

— Justine Skye (@JustineSkye) March 24, 2023
Both Jenner and Gomez made attempts to put an end to the allegations when they first began to gain traction in late February when people began to accuse Bieber and her best friend Kylie Jenner of indirectly teasing Gomez via Instagram postings. Jenner said in response to one video, "U guys are making something out of nothing." and Gomez agreed in his response.
Despite her best efforts, the singer added gasoline to the fire. On the evening of the same day, Gomez responded to a video in which Hailey was called a "mean girl" for her unfavorable reaction to hearing the name of her closest friend Taylor Swift in a tape from more than three years ago. She promptly said she would be unplugging from all online platforms.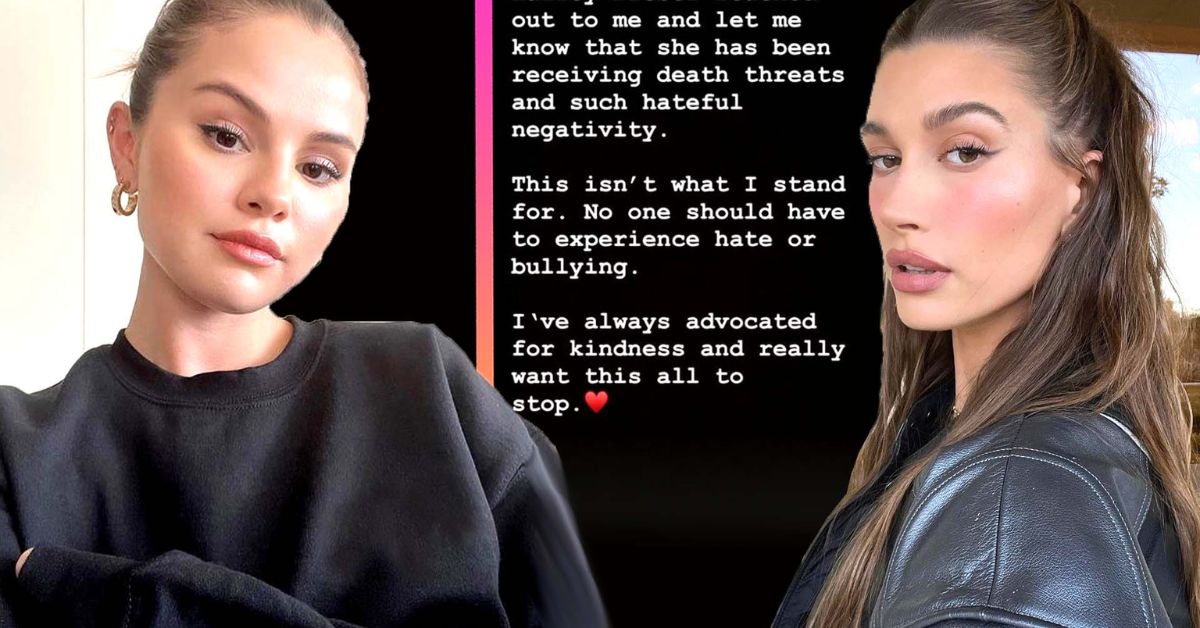 "I'm going to be taking a second from social media because this is a little silly," she said on a TikTok Livestream. "I'm 30 and am too old for this. But I love you so much and I'll see you guys sooner than later."
Even when Gomez left, the tensions didn't ease. Name-calling and nasty claims of stalking and deadly fixation flooded the comment sections under Bieber's Instagram postings, as well as those of her husband Justin Bieber. Both Justin and Hailey stayed silent and avoided the argument.
We've recently covered big news about Hailey Bieber and Selena Gomez. If you want to know more about current gossip, check out the links below:
Around a week later, when Gomez posted another beauty tutorial on TikTok, she said, "I'm deeply grateful for every one of you humans. You make me unbelievably happy," before later adding: "Please, please be kinder and consider others mental health. My heart has been heavy and I only want good for everyone. All my love."
There was no better moment than then to make the request she did today, head of the situation before it could get worse over the next three weeks.
You can follow us on Leedaily.com to receive the most up-to-date information as it happens.