On Saturday morning, Belvidere officials convened a press conference to give an update on the circumstances leading up to the Apollo Theatre roof collapse. The building collapsed on Friday night during a concert when strong storms with 90 mph winds swept through.
Officials have confirmed that the fall claimed the life of a 50-year-old man. Another 28 people were hurt, including two who had life-threatening wounds, two who had severe wounds, 18 who had moderate wounds, and five who had minor ones.
Hospitals in the area treated more than 40 patients. According to Mercy Health's Dr. Matt Smetana, the most common injuries comprised orthopedic, head, and brain trauma, and soft tissue injuries. There are no reported missing persons.
Officials claim that a tornado touched down in Boone County, leaving a trail of destruction that included significant damage to the theater. Around 7:24 p.m., warning sirens began to sound, and two blocks away from the station, at 7:47 p.m., a call of the collapse was reported.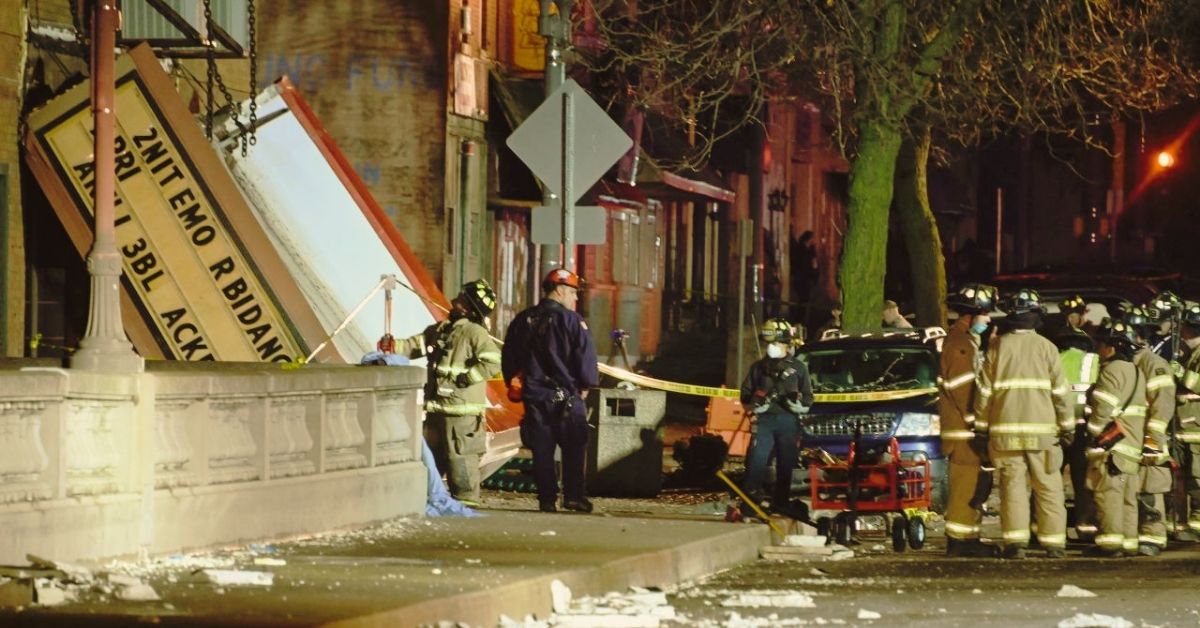 The storm also caused damage to numerous structures in addition to the arena. At 7, the sold-out show started. The venue's schedule included the death metal bands Morbid Angel, Revocation, and Skeleton Remains.
Just 30 minutes into the show, there was a collapse. The initial report was for a mass casualty collapse. The audience, crew, and bands totaled about 260 individuals inside the theater for the show, according to Schadle. The theater can hold about 1,500 people.
The massive bowstring truss roof and the marquee were both seen to have collapsed in the scene's video. Moreover, bricks were lying in the middle of the street. On several of the neighboring cars, debris fell.
Inside the theater, the ceiling fell directly in front of the proscenium, leaving the area exposed to the outside and filled with flashing lightning. At that moment, there was probably a crowd assembled in front of the stage.
The police chief for Belvidere, Shane Woody, described the situation upon arrival. "Chaos. Absolute chaos," he said.
"When officers are first on the scene, when the fire department and first responders get here, they do the best they can to control the chaos as much as possible. But ultimately, we go in, and ultimately try and find people, and save as many people as we possibly can – and bring them to safety as best as we can."
Illinois state representative Dave Vella (D-Loves Park) claimed he was out to dinner with his wife in nearby Rockford when he learned of the fall and hurried to Belvidere. "It's just horrific what's happened. Apollo Theatre is one of the heritage places around here, and this damage is just heartbreaking," Vella said.
According to Vella, the unexpected storm severely damaged a tiny area. "Rockford is only about 10 minutes away, and we didn't get much," Vella said. Gov. JB Pritzker claims he has spoken with authorities to direct any resources that may be available.
My administration is closely monitoring the roof collapse at the Apollo Theatre in Belvidere tonight.

I've been in touch with officials for updates and to direct any available resources we can.

As we learn more, please follow the guidance of all local authorities.

— Governor JB Pritzker (@GovPritzker) April 1, 2023
Social media video from a witness Once the roof and ceiling fell, Mike Winters depicted onlookers stepping up to assist. Even though there were stories of individuals being trapped for hours after the building collapsed, Vella said that by 10 p.m. everyone had been freed.
There was a request for 20 ambulances, according to a source with the Chicago Fire Department. The site received the assistance of numerous police and fire departments, as well as seven EMS companies, many of whose ambulances were able to make repeated trips.
According to Schadle, no emergency personnel was hurt. Hundreds of people attended the concert, according to Vella, and many anxious family members were present late on Friday.
"This was a huge storm that hit this area, and I tell you, we as a community have been hit hard by a lot of economic stuff right now," Vella said. "This was not a great time for this."
A high school student who hurried to the site to assist was interviewed by Marissa Perlman of CBS 2. In his conversation with a father whose injured 19-year-old son, he claimed to have grown up in Belvidere.
"I did witness when I first got here that they did have people out on stretches out in front of the Apollo Theatre," said Jayden Gallagly. "It looked like they were trying to get ambulance access; EMTs."
Here you can check some latest news:
As of 10 p.m., according to Schadle, the MABAS 8 Technical Rescue Team was still on the scene performing secondary searches and attempting to stabilize the structure. Go to the fire station if you have relatives or friends in the vicinity who are looking for concert attendees.
While debris is being removed, State Street is still blocked off and fenced in. Due to the damage, the theater and the nearby buildings have been condemned. In Boone County, Belvidere is around 72 miles from Chicago.
At the northernmost point of the Belvidere Business District, at 104 N. State St., is where you'll find The Apollo. The Apollo Theatre, according to Cinema Treasures, debuted as a theater for theatrical performances, films, and vaudeville in 1921.
During the past few years, the Apollo Theatre AC has served as a live music venue. The once-vacant structure reportedly underwent renovations not long ago.