"ARK: Survival Evolved" is a popular survival action-adventure game that gamers all over the world love. The game came out in 2017, and since then there have been many updates and additions to it. Each one brings new challenges and adventures to players.
"ARK: Survival Evolved – Ascension," which will be released soon, is one of the most anticipated updates. It promises to add even more fun and challenges to the game. Fans have been eagerly waiting for this update to come out, and in this article, we'll look at the latest news and rumors about the "ARK: Survival Evolved – Ascension" release date.
Ark Survival Ascended Release Date
It is anticipated that this upgraded edition, which will be called Ark: Survival Ascended, will be available in August 2023. The Island, Survival of the Fittest, and all of the progressively added DLC maps will be included in the base game. A cross-platform multiplayer option will be one of the new features, enabling players to advance through the game regardless of the platform they use to access it.
Mods built on a Computer will be "sent straight to end-users consoles from a dedicated modding backend," according to the availability of cross-platform modding. Users of Microsoft and PlayStation will be able to purchase all of this and more in various variants.
If you wish to learn more about various games. Click on the following links to learn more:
What Is Ark: Survival Ascended?
In a nutshell, Ark: Survival Ascended is an updated version of Ark: Survival Evolved, an MMO survival game in which players assume the role of stranded survivors on a planet ruled by prehistoric animals. This August, Survival Ascended will take the place of Survival Evolved ahead of Ark II, which is now preparing for a 2024 launch. A precise date has not yet been disclosed.
What exactly does Survival Evolved (or Survival Ascended, in this case) offer that other MMOs just can't seem to grasp? Oh, for starters, leviathan dinosaurs and fully automatic guns. Not only that, but an entire island known as the ARK is alive, breathing, and always changing—a world where the elements are harsh and bad luck is often.
Similar to many survival games, Ark provides all the necessary components for a protracted endeavor. Ark offers the groundwork for an immersive experience, except for the expansions (DLC that will be included with Survival Ascended). Players can forge their pathways and learn to resist hardships and tribulations in any way they see necessary without the linearized structure.
In addition to the original game, Ark: Survival Ascended will also feature the following expansions: The Island, Survival of the Fittest, and all of the "non-canon" Downloadable maps that will be made available after the game's August release. There is more to it than what first appears—which, to be fair, is a $50 generic reskin.
ARK: Survival Ascended Gameplay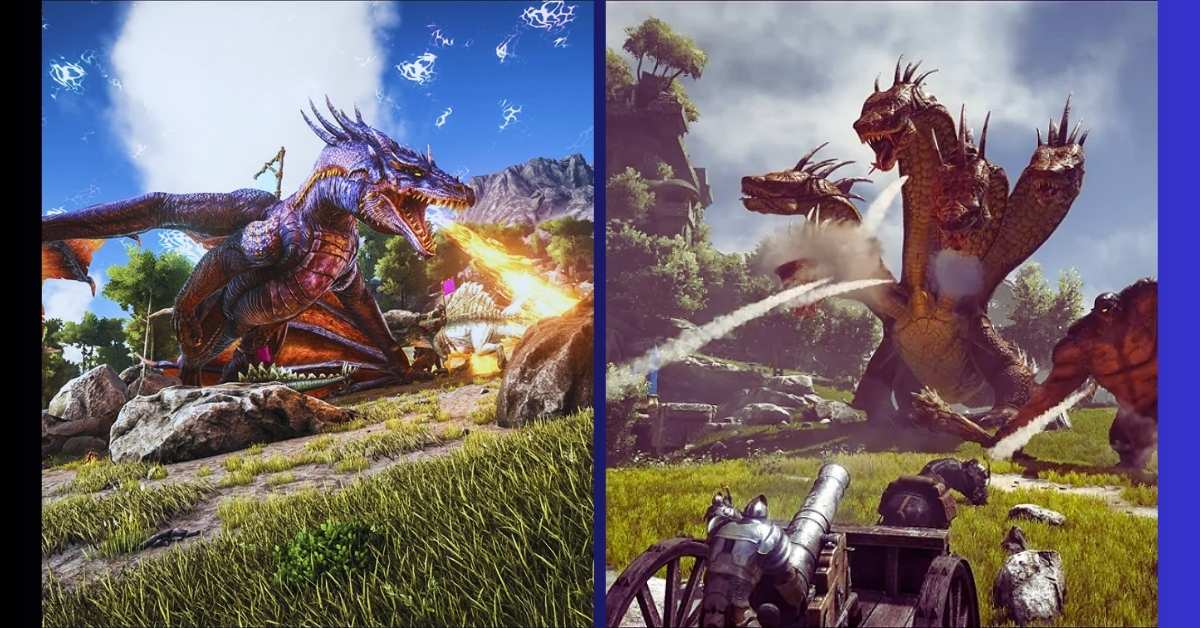 Similar to many other survival games available today, Survival Evolved has a sizable open environment that is completely explorable and customizable. You'll soon discover that creating a haven that can endure the horrors of ARK won't be simple as you started your voyage at the very minimum and without even two sticks to rub together.
However, because other players are in the same situation as you, you will either need to form alliances to ward off the ancient animals that prowl the land or develop your independence by building a strong enough stronghold to ensure your protection.
Naturally, as this is a non-linear game, there are no set guidelines or routes to take. Instead, players just need to get familiar with the area and chart their course by hunting, scavenging, or annihilating other survivors in the hopes of gathering more resources to get by day to day. Everyone who wants to risk pandemonium should have their wits about them because it is survival of the fittest, plain as day.
If you wish to learn more about various games. Click on the following links to learn more:
Is ARK: Survival Ascended Different?
Even while it is different, it is also the same. To make up for postponing ARK 2, Studio Wildcard unveiled ARK: Survival Ascended, a complete next-generation remaster of the 2015 game that launched the franchise.
Being one of the biggest and most ambitious remasters ever, ARK: Survival Ascended has been completely redesigned to take advantage of "the potential of Unreal Engine 5," according to Studio Wildcard. It's a massive re-release that aims to satisfy fans' every desire and fill the gap created by the postponement of ARK 2.
The entirety of Survival Evolved's base game has been rebuilt and expanded numerous times in ARK: Survival Ascended. The Island, Survival of the Fittest, and a large number of DLC maps will all be included in it.
With the Unreal Engine 5 update, it will look better than ever and boast "Unreal Engine 5 performance enhancements." It includes more quality-of-life upgrades and improvements than we can ever enumerate.