During the April 3 Disney shareholders meeting, Dwayne "The Rock" Johnson said the animated film "Moana" will get a live-action makeover.
"Humbled to say we're bringing Moana's beautiful story to the live-action big screen! Maui changed my life (miss you grandpa) and I'm honored to partner with Disney to tell our story through the realm of music and dance, which at the core is who we are as Polynesian people," Johnson tweeted.
Disney's 2016 animated film was a smashing success, grossing over $680 million worldwide. Johnson, Dany Garcia, Hiram Garcia of Seven Bucks Productions, and Beau Flynn of Flynn Picture Co. will be the film's producers. Moana's voice actress, Auli'i Cravalho, and Flynn Picture Co. president Scott Sheldon serve as executive producers. The production will also feature Jared Bush and Dana Ledoux Miller, a pioneer in the Samoan film business.
Disney CEO Bob Iger and Johnson broke the news at Disney's annual shareholders' meeting on Monday.
"I'm deeply humbled and overcome with gratitude to bring the beautiful story of 'Moana' to the live-action big screen," Johnson said in a statement.
"This story is my culture, and this story is emblematic of our people's grace and warrior strength. I wear this culture proudly on my skin and in my soul, and this once-in-a-lifetime opportunity to reunite with Maui, inspired by the mana and spirit of my late grandfather, High Chief Peter Maivia, is one that runs very deep for me. I want to thank my partners at Disney for their strong commitment to this special endeavor, because there is no better world for us to honor the story of our people, our passion and our purpose than through the realm of music and dance, which is at the core of who we are as Polynesian people."
We have some other articles on the Moana Series that we have covered lately. If you want to know when Moana 2 will be released, follow the links provided below:
Watch Johnson's pre-recorded segment shown during the webcast below.
Humbled to say we're bringing #MOANA's beautiful story to the live action big screen!#MAUI changed my life (miss you grandpa) and I'm honored to partner with @DisneyStudios to tell our story thru the realm of music & dance, which at the core is who we are as Polynesian people🪝 pic.twitter.com/CxJFKQewUS

— Dwayne Johnson (@TheRock) April 3, 2023
Dwayne Johnson and Disney Are Collaborating on a Live-Action 'Moana'
Disney's Moana is getting a live-action makeover for a brand-new adventure. The studio is adapting its 2016 animated musical hit into a live-action film starring Dwayne "The Rock" Johnson.
Johnson hopes to reprise his role as Maui, the mighty wind and sea demigod. He will produce under the Seven Bucks Productions banner in collaboration with Dany Garcia and Hiram Garcia. Production company run by Beau Flynn. The original film's screenwriter, Jared Bush, will work on the remake alongside Dana Ledoux Miller. At this time, there is no director attached.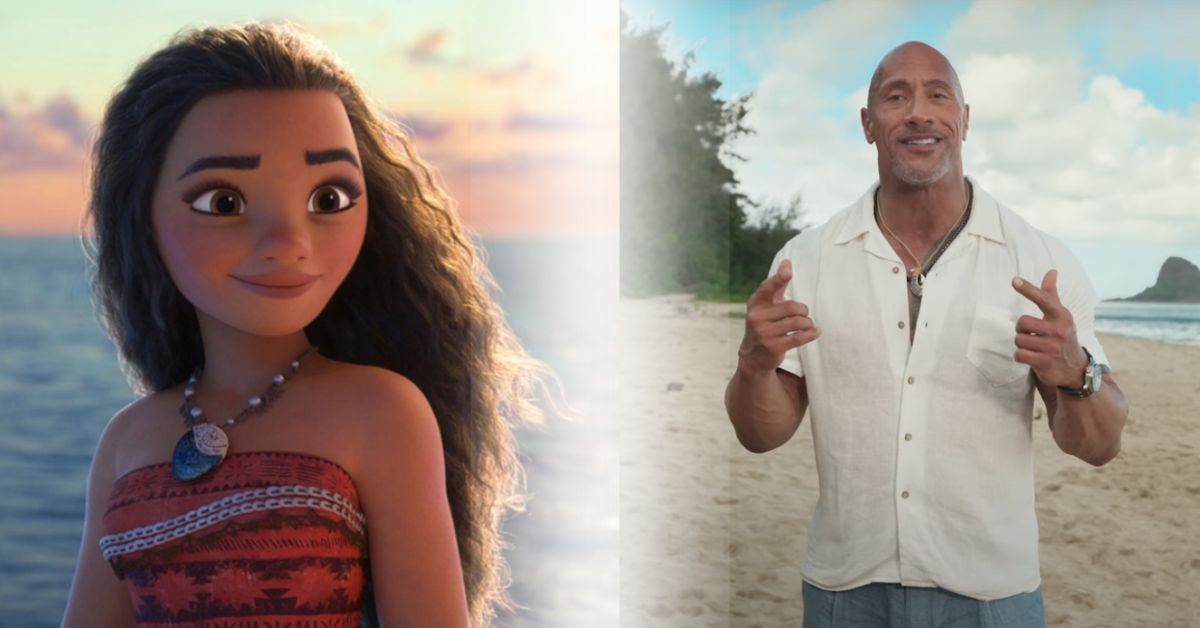 Moana, which drew heavily from Polynesian mythology, followed the journey of a young lady who defies her father, the chief of an island facing an imminent ecological disaster and sets off on a mission to return a sacred object to its rightful owner, the goddess Te Fiti. She rescues Maui from his island jail, is taken captive by a monster crab, and eventually becomes the chief her father always knew she could be.
Flynn Film Co.'s Scott Sheldon and the original Moana's voice actress, Auli'i Cravalho, will serve as executive producers. The film's original story was written by Clements, Musker, Chris Williams, Don Hall, Pamela Ribon, Aaron Kandell, and Jordan Kandell, and John Musker and Ron Clements directed it. Bush was the only listed writer for the film.
Lin-Manuel Miranda collaborated closely with Opetaia Foa'i and Mark Mancina to create the music. The infectious "You're Welcome," written by Miranda, was one of Johnson's show-stopping songs. Oscar-nominated original song "How Far I'll Go" is another contender.
The film was a critical and commercial success, grossing over $665 million worldwide and being nominated for an Academy Award for best-animated cinema, where it ultimately lost out to another Disney production, Zootopia.
Disney was the first studio to adapt its animated films into live-action movies successfully. The tactic has paid off handsomely, with some films becoming billion-dollar smashes like Beauty and the Beast and Aladdin, and others receiving praise for their inventiveness like Cruella. Yet, it has also produced failures, with certain movies removed from Disney+.
Thus far, it has avoided adopting any works from the twenty-first century, sticking to its tried-and-true formula of adapting classic and animated works. The studio's approach, however, appears to be shifting, suggesting that films like "Frozen" and "Tangled" may soon be the studio's focus.
We've recently written about a few other articles about upcoming TV shows. If you want to know when they will come out, look at the links below:
The summer is set as the filming season for the new Lilo & Stitch film. One cause for the delay has been enthusiastic fan reaction. Still, Disney is taking a chance that six years isn't too long in our nostalgia-driven culture that discards ideas faster than a damsel on a camakau can escape coconut pirates.
Some other studios with animation collections are following Disney's lead and searching their archives for potential titles for live-action remakes. Universal plans to adapt its beloved and now-classic 2010 film How to Train Your Dragon this summer.
If you want to be the first to know about the most recent and groundbreaking news, follow us on Twitter.