James Gunn and Peter Safran are guiding the DC Universe into a bright new future. Nonetheless, there are still a few works scheduled for release this year that were started under the former DC leadership. In the upcoming superhero flick Blue Beetle (2023), Xolo Mariduea (of Cobra Kai fame) plays the role of Jaime Reyes.
He adds a new dimension to the comic book character in the live-action adaptation, and he is the first Latino lead in a DC project. This article contains all the information you need to know about this highly anticipated project, including the release date, plot summary, trailer, and cast.
When and Where Will Blue Beetle Be Released?
Blue Beetle was not axed from the DC release schedule like Batgirl and Scoob! : Holiday Haunt. Many planned movies were scrapped after the Warner Bros. and Discovery merger, but fortunately, our scarab-themed hero was not one of them. Instead of debuting exclusively on HBO Max's streaming service, Blue Beetle will hit theaters on August 18, 2023.
During a Q&A with the Press, director Angel Manuel Soto revealed that the film would also be screened in IMAX, promising a more "immersive" experience for audiences.
"…IMAX is the shit. It's the immersive aspect of it. I try to be as immersive as I can, with the projects that I do. The scope of IMAX allowed you to be swallowed whole into the frame. My relationship with cinema is very spiritual, and it almost feels like you can have a physical connection to it. In the same way that we try our best to bring the audience in and come into this dance, with the story and with the characters, IMAX just advances it a little further. It feels like you're dancing with your partner, instead of just being alone in a room with it."
Listed below are additional articles. To learn more about the upcoming series, visit the links.
Check Out the New Blue Beetle Trailer!
Jaime Reyes is introduced as Blue Beetle in the teaser trailer. His life in Palmera, his work as a hotel security guard, and the discovery of a scarab inside a sealed box transform his outlook on life. Jaime becomes the Blue Beetle as the creature escapes the enclosure and bites his spine.
What we can gather from the video is that Jaime's superpowers consist of an advanced exosuit that protects him from harm and heightened eyesight that helps him to spot possible dangers. The film depicts Jaime as a freshly changed superhero, thus it's likely that it will also highlight his journey of coming to terms with and mastering his new talents.
While Jaime strives to do good with his newfound abilities, he must be on the lookout for Victoria Kord and Conrad Carapax, who want to utilize the scarab that turned him for their own nefarious purposes.
What is the Plot of Blue Beetle?
Here is the official synopsis of the film:
Recent college grad Jaime Reyes returns home full of aspirations for his future, only to find that home is not quite as he left it. As he searches to find his purpose in the world, fate intervenes when Jaime unexpectedly finds himself in possession of an ancient relic of alien biotechnology: the Scarab. When the Scarab suddenly chooses Jaime to be its symbiotic host, he is bestowed with an incredible suit of armor capable of extraordinary and unpredictable powers, forever changing his destiny as he becomes the Super Hero BLUE BEETLE.
Who's in the Cast of Blue Beetle?
This is groundbreaking since it will be DC's first superhero film with a Latino cast. Xolo Mariduea, known for his role in Cobra Kai, will make his big-screen debut as Jaime Reyes. Mariduea discussed how it felt to be cast in the part and how fun it was to connect it to the comics at a Q&A session:
"That part of things, making everything canon, is a very exciting part of the process. I got to come in during pre-production and help carve out who Jaime is, as a character. I was really grateful that Angel gave me a lot of liberties, in terms of trusting me, as a performer. Jaime feels so honest. Although we're telling this larger than life story, it felt really easy, especially with the help of the family, to get those moments. Our rehearsal days weren't getting the lines right. It was talking as a family."

"Once that part locked into place, the rest of the dominoes went perfectly. That really is due in part to wanting the foundation of this movie and the soil to be really pure, and wanting the hearts and souls of these characters to be three-dimensional. Once that was in place, everything else melted away. At the same time, we wanted to do something that's different."

"We've seen a lot of these superhero movies, over the course of the past couple of decades, and seeing where we could fit in that feels different, was one of the most magical parts. It's not about competition to us. We're not looking to be called the next blah, blah, blah. We just want to enter this space and have it feel new, and I think we completed that. I think we did it."
Penny, Jaime's love interest in Blue Beetle, is played by Brazilian actress Bruna Marquezine. She has had a busy acting career in Brazilian soap operas and television series, but this is her first role in Hollywood. Sharon Stone was considered for the role of Victoria Kord, but ultimately Susan Sarandon was cast in the role.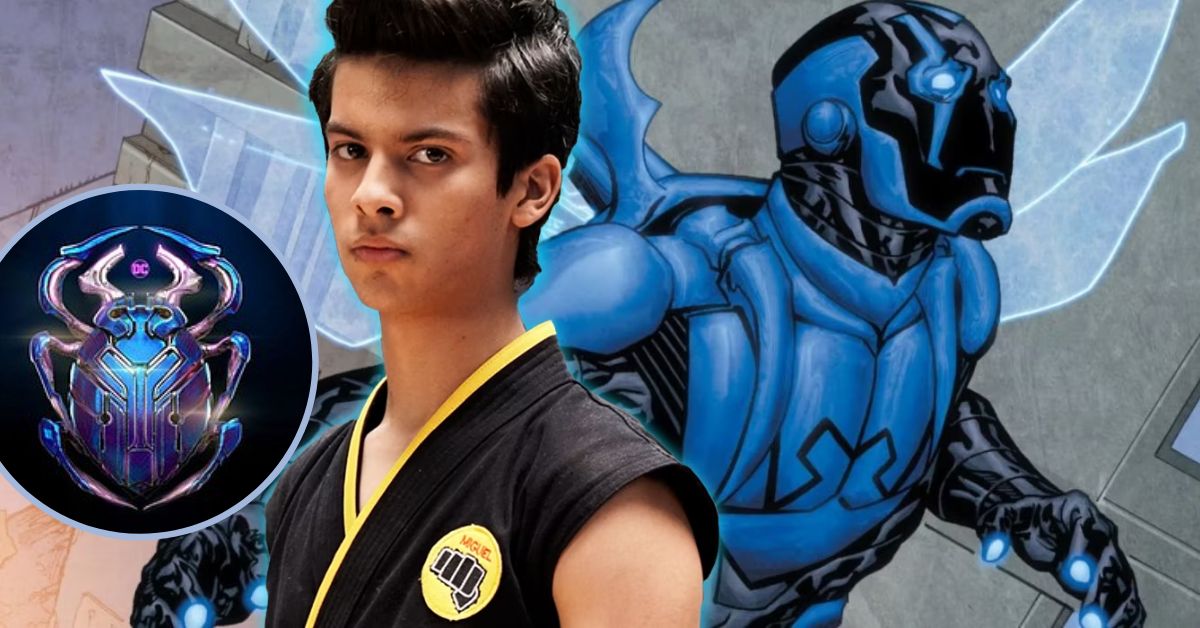 The film also features Belissa Escobedo as Jaime's sister, the legendary George Lopez as Jaime's uncle, Adriana Barraza as Jaime's grandmother, and Harvey Guillen as Dr. Sanchez. Raoul Max Trujillo will play Conrad Carapax (aka Carapax the Indestructible Man) in the film. Damian Alcazar and Elpidia Carrillo will play Jamie's parents.
Who is Creating Blue Beetle (And When and Where Was It Filmed)?
Atlanta, Texas, El Paso, Texas, and Santurce, Puerto Rico were just a few of the locations used to film Blue Beetle. Production on the movie Mofongo got underway in Atlanta in May 2022. Production in Puerto Rico was completed on July 18, 2022.
The film has a Puerto Rican director and a Mexican writer, both of which are great examples of diversifying the film industry. Blue Beetle marks the debut of filmmaker Angel Manuel Soto, who has never before helmed a superhero movie. Gareth Dunnet-Alcocer penned the script for the film. As the picture is no longer intended for a streaming release, rumor has it that the filmmakers were allowed more leeway to experiment during production.
We've put together a list of some other articles for you below. Check out the links for more information about upcoming shows:
Executive producers Zev Foreman, Garrett Grant, and David Siegel all had roles. Pawel Pogorzelski (Midsommar, Nobody) and Bobby Krlic (Beef, Paper Girls) are recognized as cinematographers and composers, respectively, for their work in Blue Beetle, which also has Peter Safran and John Rickard as producers.
If you're interested in the most recent news and extreme entertainment, be sure to Follow us on Leedaily.com.