Here's all we know about the Gran Turismo film: the release date, trailer, cast, plot, and more.
Video game adaptations have recently been popular, and Sony has been at the forefront of this trend. There are lots to be excited about, from Nathan Drake's big screen debut in Uncharted to HBO's massively successful The Last of Us series, and even projects in the works for Horizon, God of War, and Twisted Metal.
Gran Turismo will join that list and reach out to new audiences shortly. While Sony's iconic racing franchise has never been known for its storylines, instead for its extraordinary attention to detail, an all-new narrative is emerging to help catapult the series onto the big screen.
With huge celebrities already attached and production now started, it won't be long before Gran Turismo hits your local theater. So, before it arrives, review everything we know about the film adaptation thus far.
When Will the Film Gran Turismo Be Released?
On August 11, 2023, the Gran Turismo film will be released. This was announced when Sony initially revealed the project in 2022, and it was verified in the most recent trailer.
Accomplished director Neill Blomkamp is directing the project. Best known for his sci-fi work on films such as District 9, Elysium, and Chappie, the more grounded racing project appears to be a departure from his usual output.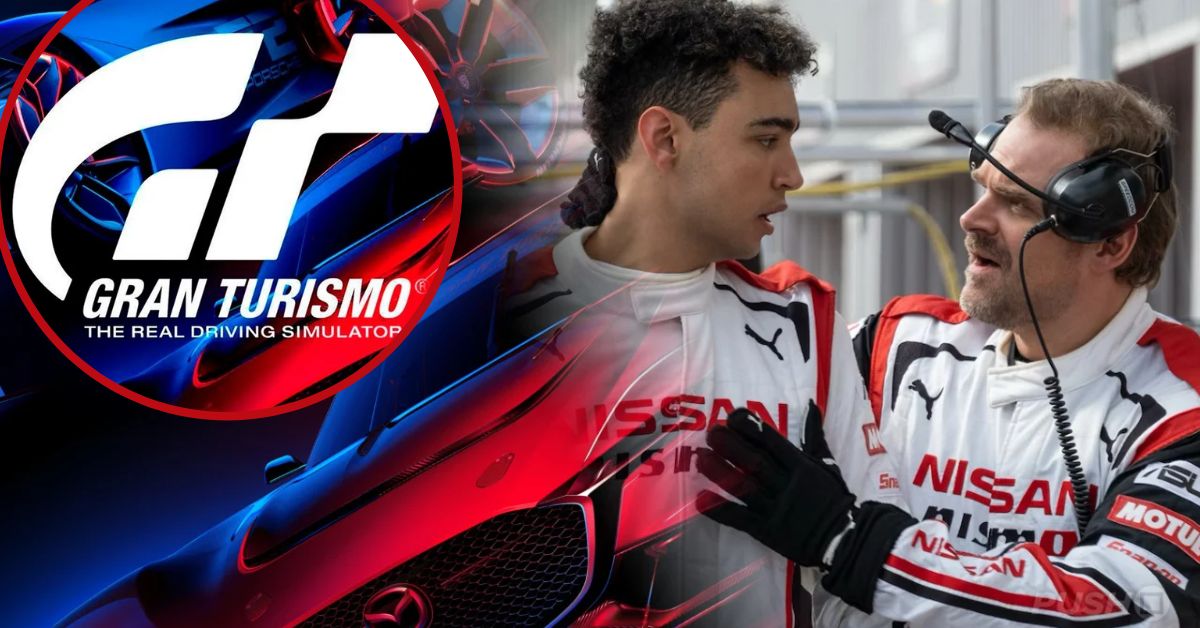 Blomkamp told Empire, "It's real actors, in real cars, on real race tracks, driving insanely quickly."
"The north star, for me, was to make a video game title with character work that propels the movie, even more so than the racing. Although the racing is bloody intense, too."
We have lately covered great articles about other movies and shows. You can find the release dates listed below:
Who is in the Gran Turismo Movie Cast?
The Gran Turismo movie cast includes:
Archie Madekwe as Jann Mardenborough
David Harbour as Jack Salter
Orlando Bloom as Danny Moore
Darren Barnet as Matty Davis
Djimon Hounsou as Steve Mardenborough
Geri Halliwell as, Jann's mother
Daniel Puig as Jann's brother
Joshua Stradowski as a rival driver
Hollywood heavyweights David Harbour (Stranger Things) and Orlando Bloom (The Lord of the Rings, Pirates of the Caribbean) have been committed to the project.
Harbor will portray Jann's trainer, while Bloom will be "the market leader at Nissan who convinces PlayStation to run the Gran Turismo challenge at the heart of the movie," as reported by The Hollywood Reporter.
What Happens in the Gran Turismo Film?
The official synopsis states, "Based on a true story, the film is the ultimate wish fulfillment tale of a teenage Gran Turismo player whose gaming skills won a series of Nissan competitions to become a professional race car driver."
The film is based on the true story of British kid Jann Mardenborough, who leveraged his knowledge of the tracks from playing the video game Gran Turismo to become the third and youngest winner of the GT Academy competition.
While discussing his interest in the project on the PlayStation Blog, Blomkamp said, "I've also been very close to video games in a lot of ways throughout my career, and I had never come across something like Gran Turismo where the movie itself treats the game as a game. It's based on a true story about Jann Mardenborough, who learned to drive by playing the game before moving professionally, competing against other fundamental drivers. It's just a fantastic story."
"Another reason I signed on was that my stuff tends to be much darker and more dystopian, as you mentioned, but this movie felt very inspirational. I never thought I would direct a movie where the audience would leave the theater feeling uplifted and inspired. This was appealing to me."
Is a Trailer for the Gran Turismo Film Out Yet?
The first full trailer for Gran Turismo was released on May 2 and you can see it below:
In the preview, we see Jann disagreeing with his father about pursuing a career as a racing driver, and only after that does he discover the GT Academy competition. Despite Harbour's character's skepticism, Jann has his attention because he sees potential in the "scrawny little" gamer.
We get a taste of the heart-pounding action, fine-tuned to evoke the excitement of the game rather than just the plot. According to Blomkamp, "It came down to creating something that would just be cool to watch on a large cinema screen, and for that, we doubled down on FPV drones to carry IMAX sensor-approved cameras."
We used a pursuit arm attached to a fast car to record much aerial drone footage. We attached it to an R35 GTR, shorter than many of the GT3 vehicles seen in the video, and could easily keep up with them.
You have some fantastic dynamic shots with the automobile and the drone. For the third-person chase viewpoint, we constructed an R1 rig that could place a camera so that the entire car would fit within the frame. I have also been preoccupied with duplicating camera positions people were familiar with from the game.
We have lately covered great articles about other movies and shows. You can find the release dates listed below:
"To capture the driver's POV, our stunt driver would lie back so we could mount a camera where his head should be. We liked including nods to the game in these kinds of ways."
At their CES press conference on January 4, Sony also debuted the first glimpses of the footage. In this short clip, we were treated to both clips from the film and a few behind-the-scenes glimpses.