There are a lot of reports and rumors that Taylor Swift has broken up with Joe Alwyn and is now dating Matty Healy, the lead guitarist, and singer of the band The 1975. He was seen at Taylor Swift's show in Nashville, Tennessee, not too long ago.
Photos show that Healy was in the crowd, wearing a casual blue shirt and paying close attention to Swift's music while moving to it. His most recent showing at Swift's concert has led to even more rumors.
They have known each other for a long time and have worked together before. The singer of "Blank Space" went to The 1975's London show in January and sang her hit "Anti-Hero" and a cover of The 1975's "The City." It was said that they went out on a date in 2014, but Healy has already rejected the rumors.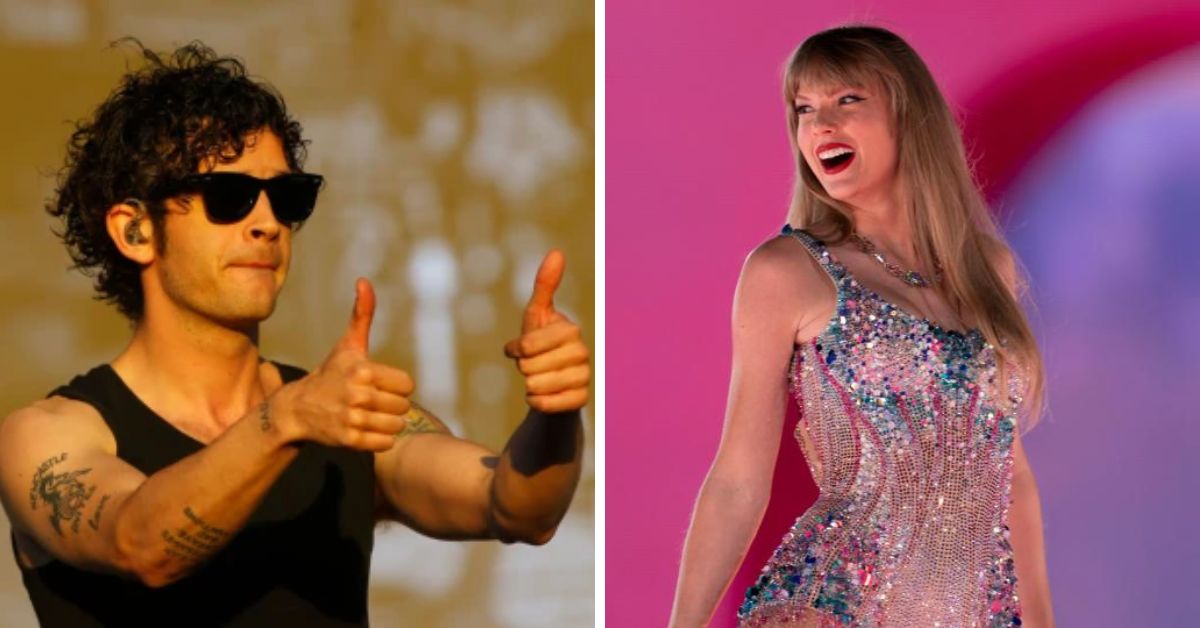 When the pictures went viral, someone on the Internet said,  "Maybe they're just friends !! (pls they have to be just friends)." Another commented, "She's talented, cute, hilarious, rich and successful …. and then there's him." And, a third comment read, "I've officially reached the breaking point because my boyfriend almost got me tickets to see Taylor tonight and then decided not to and I missed not only the announcement of Speak Now but MATTY HEALY."
You might also find this interesting if you're a fan of Taylor Swift:
A publication said a few days before the Nashville show that Healy and Taylor will give a big hint about their relationship in Nashville. So, could it be how they look?
"She and Matty are madly in love. It's super-early days, but it feels right. They first dated, very briefly, almost ten years ago but the timings just didn't work out. Taylor and Joe actually split up back in February, so there was absolutely no crossover," a source told The Sun at the time.
"Both Matty and Taylor have been touring over the past few weeks, so it's been a lot of Face-Timing and texting but she cannot wait to see him again. But as two international megastars, they understand the pressures of one another's jobs better than anyone and are incredibly supportive of their respective careers. They are both massively proud and excited about this relationship and, unlike Taylor's last one — which was very much kept out of the spotlight, deliberately — she wants to 'own' this romance, and not hide it away. Taylor just wants to live her life and be happy. She's told pals Matty Healy is flying to Nashville over the weekend to support her on the next leg of her tour," the source said.
Matty Healy has been spotted at Taylor Swift's Nashville show:
Matty Healy has been spotted at Taylor Swift's Nashville show of the Eras Tour following dating report from The Sun. pic.twitter.com/XtS6BUUVib

— Pop Base (@PopBase) May 6, 2023
It was claimed a month ago that the American singer-songwriter is no longer with Joe Alwyn. But neither side said they were sure. Healy dated the artist FKA Twigs for about three years before that. They broke up at the beginning of 2022. Between 2015 and 2019, he was also with the model Gabriella Brooks.
Healy and his band finished the Australian and Asian part of their tour to promote their new album, Being Funny in a Foreign Language, on Thursday in Manila.