The public is frequently interested in the causes behind celebrity breakups, especially when they include well-known individuals like Sam and Katrina. Many people used to be envious of the couple's famed romance because they appeared to be inseparable and madly in love.
Fans were shocked and disappointed when, much to their dismay, their relationship eventually came to an end, prompting many to speculate as to why they split up.
We examine the complexities of Sam and Katrina's relationship in this article, as well as the potential causes of their breakup. We try to provide a thorough picture of the events that led to their breakup, from rumors and guesses to insights from close sources.
Why Did Sam and Katrina Break Up?
Sam and Katrina worked together to produce the video, and they appeared to state unequivocally that despite their breakup, they do not have animosity toward one another.
Sam says in the video,
"We don't dislike each other, nothing happened wrong. She didn't attack me when I was sleeping or anything, and there wasn't anything like a fistfight." They had "an awesome relationship," Sam continues, while Katrina adds that they were "the best ever."
Then, when Sam discusses the cause of their breakup, Sam and Katrina both start to feel a little teary-eyed. He explains that after moving in together last year, the two of them frequently discussed developing their relationship further. Sam just came to the realization that he and Katrina weren't on the same page and weren't prepared to proceed to that next level.
Samgolbach shared a post on Instagram with the caption "Although we broke up, our relationship has been the best years of my life. and as cliche as it is, instead of being sad that it's over I want to be happy that it happened. Katrina, you are the most amazing girl I've ever met…
View this post on Instagram
Here you can also check more celebrities' love life:
How long have Sam Golbach and Katrina Stuart been together?
YouTuber Sam Golbach from the United States and singer and social media star Katrina Stuart have broken up. On May 19, the 26-year-old celebrity posted a number of screenshots from their most recent YouTube video, in which they broke the big news, to his Instagram account.
Following that, Sam Golbach referred to Katrina as "the most amazing girl" he had ever met and said:
"You've changed my life and made me such a better person. I will always cherish what we have had. I will always support you (especially as you become a mega superstar with that amazing voice) and I'll always love you. & one day I can't wait to reminisce about all our crazy stories (as friends)."
In her reply, Katrina expressed her gratitude to Golbach for "the most amazing years" and promised to always love him.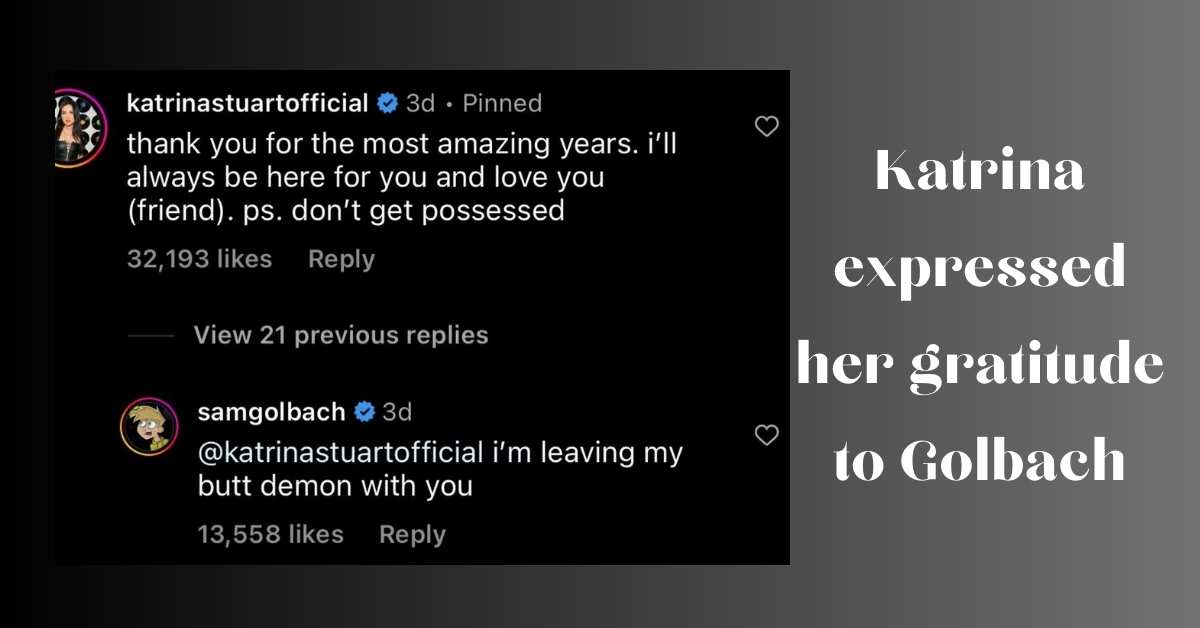 Sam Decided to End the Relationship Because He 'Wasn't Ready.'
Sam explained, "I wasn't ready, so I figured it'd be better if we separated split ways. He claimed he didn't want to hold her back or waste anyone's time. The breakup was difficult, Sam continued, and their admirers would probably find it difficult to hear as well. This wasn't a constant issue, according to Katrina, and they hardly rarely argued.
While they were "always on the same page," according to Katrina, taking the next step proved to be difficult. Sam remarked, "We want to treasure the memories. Instead of being disappointed that it was over, we want you guys to be glad it happened. Additionally, Katrina stated that the separation occurred almost two months ago and that she has since relocated briefly back to Los Angeles.
Although the breakup was difficult, the video seems to imply that Sam and Katrina are still quite amicable toward one another. Even while many stated that the couple's breakup made them sad, fans were supportive of them in the comments. Even though it might eventually be for the best, change is difficult.