PlayStation Showcase 2023 brought BIG news as fortunate spectators witnessed Marvel's Spider-Man 2's first-ever gameplay. The following entry in the original Marvel Spider-Man franchise will release on PlayStation 5 in Fall 2023, making it one of the most eagerly awaited games of the year.
The initial gameplay for Spider-Man 2 was eventually made public by Insomniac. It showcased various new gameplay additions to Spider-Man 2 and some significant new story points in a 12-minute teaser. Let's explore all the primary further information from the most recent Spider-Man 2 video.
Kraven's Great Hunt
In 2021, Spider-Man fans were ecstatic to learn that Kraven the Hunter, a beloved villain, was arriving on the scene. This incarnation debuted in Marvel's Spider-Man 2 and is looking for a match.
That's terrible news for Marvel's New York, including the Spider-Men, Peter Parker, Miles Morales, and a rogue's gallery of baddies. Our heroes' task is complicated by the beginning of Kraven's Great Hunt and a brand-new Symbiote danger to Earth-1048.
The official Marvel Games Twitter account recently tweeted:
'Marvel's Spider-Man 2' swings onto PS5 in Fall 2023! 🕷🕸 Check out the latest gameplay seen during the PlayStation Showcase and read the highlights now: https://t.co/Dbpy87BEtZ #SpiderMan2PS5 #BeGreaterTogether pic.twitter.com/c1mfDtVaNf

— Marvel Games (@MarvelGames) May 24, 2023
When Peter must stop Dr. Curt Connors, a.k.a. The Lizard, from being pursued by Kraven's Hunters, a new enemy force, things rapidly become heated. In Queens, one of the brand-new playable and explorable boroughs featured in Marvel's Spider-Man 2, the narrative begins at Connors' house across the East River.
How Does the Symbiote Enhance Spider-Man's Fighting Style?
We don't waste any time: Peter Parker, the original Spider-Man in this tale, which requires no introduction, bursts through basement doors. He is sporting the highly wanted, recognizable, and adored Black Suit, and he is more than prepared for a battle, so perhaps what he is wearing warrants one.
Our Symbiote-bound hero has some additional skills besides functioning as a good-looking guy. Spider-Man has a reputation for knocking people off their feet, but never quite like this: he's considerably more assertive, and no punches are being pulled.
Marvel's Spider-Man 2 gameplay was posted on Twitter by Spider-Man 2 News:-
Full 12 minute trailer of Marvel's Spider-Man 2 gameplay.pic.twitter.com/V2ocqNm7Bn

— Spider-Man 2 News (@SpiderManIntel) May 24, 2023
Symbiote tendrils enlarge Spider-Man's outline while crushing enemies against solid objects, showing no compassion to Kraven's Hunters. "My advice: get cozy with the L1 button because you'll love it," continues Espinoza.
Nearly everyone who comes face-to-face with the trendy suit will be terrified, but Kraven isn't just any person, and his highly skilled Hunters aren't scared of a fight. Take heart! Our unique fighting skills can effectively neutralize our new aggressive opponents with some talent.
Cast a web to shunt foes between two much harsher places, or strike back with aggressive parries to win the upper hand. You may also use the standard dodge to escape danger but don't relax too much because parrying can only entirely avoid some strikes.
"Our animators put in the work to deliver a much more impulsive Peter Parker, fitting for the symbiote bonded to his person, without sacrificing his combative finesse," Espinoza says.
"New takedowns bring even the most formidable foes to their knees, while new fighting animations test Spider-Man's abilities. Did you see what Spider-Man did to this guy, after all?
We appreciate the Black Suit in Marvel's Spider-Man 2 and give it the narrative it merits. This chapter mainly focuses on Peter's connection with the symbiote and how it impacts the people closest to him.
Does Miles Morales Return in Marvel's Spider-Man 2?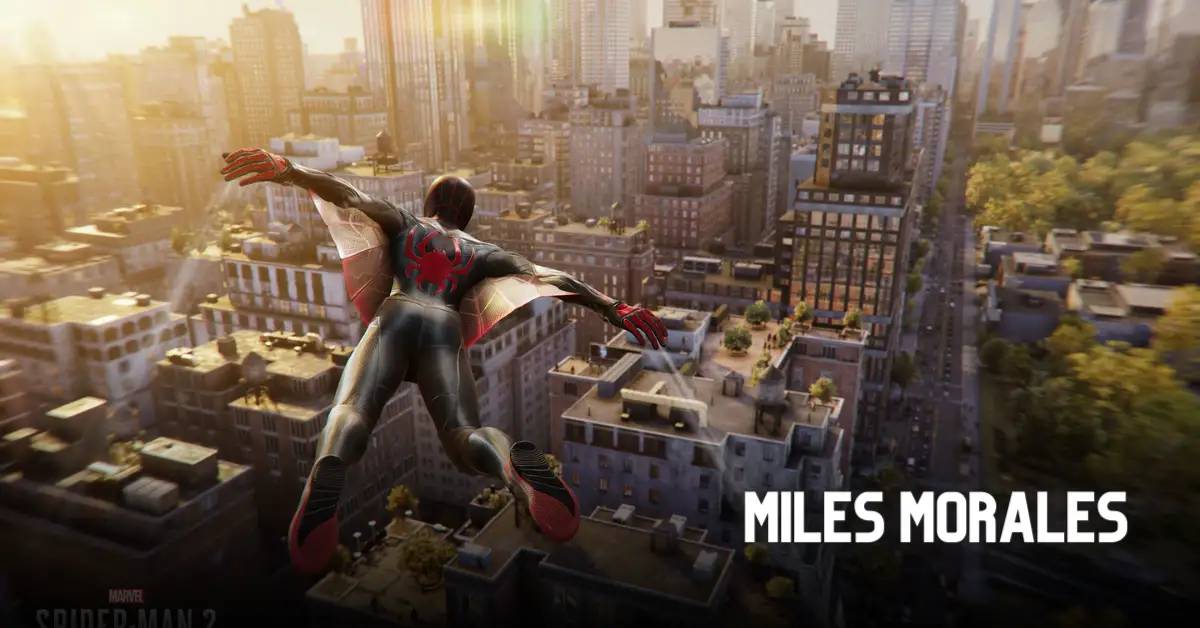 Since Miles Morales is back in the sequel and plays a significant role in the plot, Marvel's Spider-Man 2 offers only one but TWO playable Spider-Heroes. Miles is hard on Lizard's trail in this demo and is in Harlem. Speed is crucial in several ways.
Get a peek at the almost immediate switching between the two Spider-Men who are playable first. And as if that weren't enough, Marvel's Spider-Man 2 significantly speeds up traversal! Bring on the Web Wings, which either Spider-Man may use to move quickly and urgently about the city.
As you soar above the concrete jungle, whizzing by all kinds of automobiles, buildings, and people (and pigeons), you may travel quickly using wind tunnels between skylines. You can also see the possibilities of the PS5 console's SSD now. Wait until you play Marvel's Spider-Man 2 to see precisely how thrilling navigation was in the first two games.
If you are interested to know more articles related to games. So you can check the link below:
Where Does Miles Track Connors in Marvel's Spider-Man?
Connors have been located within the Harlem Fish Market by Miles after a quick flight across the city. It appears that Kraven's hunters are attempting to approach him. Therefore, it is time to expel them.
Players can approach confrontations in the style of Marvel's Spider-Man using stealth, fists of rage, or both. Whatever your strategy, there are new tools and skills that support various playstyles.
The Web Line, a new technique to skulk across the environment to get the upper hand on foes, is one of the most interesting new technology. Watch as Spider-Man executes a dual takedown—a Marvel's Spider-Man first—by casting a line across a couple of Hunters.
Like his master before him, Miles Morales is equipped with new skills and tools. The Web Grabber is a new device that gathers adversaries in a secluded area. It is on the gadget front.
This enables Miles to link the Thunder Burst, one of his new skills, to attack a group of enemies with an electrified ground pound. You also catch a peek of Chain Lightning, an attack that may shock foes inside a certain radius.
Each Spider-Man has distinct capabilities that can be enhanced using a brand-new personal Skill Tree, between Peter's new Symbiote abilities and Miles' discovered blue bioelectric powers. A combined Skill Tree provides concurrent improvements for both as our heroes share resources and train together.
How Does the Environment Enhance Immersion in Marvel's Spider-Man 2?
Your Spider-Senses will be piqued as Miles pursues Lizard through the Fish Market since the settings are more detailed, prosperous, and filled with particles and better textures.
An improvement to lighting results in more dramatic shadows and reflections along pipes and walls, while spatial 3D audio produces distinctive soundscapes all around you.
Additionally, Marvel's Spider-Man 2's usage of the DualSense Wireless Controller, which has a variety of haptic feedback and great adaptive trigger use, improves immersion.
Marvel's New York is brought to life in ways only possible on the PlayStation 5 system, whether sneaking through interiors or exploring the city streets.
Be Greater Together
Together, the Spider-Men must hunt down Lizard and fend off the Hunters who want to capture him. Kraven is well-equipped, and all eyes are on Lizard with boats, aerial transports, and guns.
The action is tight as The Great Hunt continues along the East River, one of the new locations you may explore in Marvel's Spider-Man 2. Miles destroys vehicles in his path as Peter Parker leads the pursuit from a distance.
In Marvel's Spider-Man 2, you may smoothly swap between both Spider-Men at specific points in the narrative. The tale can be experienced from each Spider-Man's point of view, and players may revel in the legendary team-ups heightened by memorable set-piece moments.