In a historic performance, British pop star Ed Sheeran broke the single-show attendance record at Gillette Stadium on Saturday night, held by U2 for 14 years since September 2009.
The stadium, filled with 71,723 fans, witnessed a thrilling and record-breaking concert that will be remembered for years.
Gillette Stadium said in a tweet, "That "just broke the Gillette Stadium single-show attendance record" feeling." 
That "just broke the Gillette Stadium single-show attendance record" feeling 🤩 pic.twitter.com/I8sP7Lc43r

— Gillette Stadium (@GilletteStadium) July 2, 2023
Gillette Stadium holds a special place in Sheeran's career as it was the first NFL stadium he ever headlined. His return to the stadium was marked with a showcase of songs from his six-album discography as part of his "+ – = ÷ x Tour," pronounced The Mathematics Tour.
In an unexpected twist, the concert saw the legendary John Mayer as the opening act for Sheeran's Friday night show. The unusual pairing was a big deal for music lovers around the world.
Mayer, known for his sense of humor, even created a special edition of Sheeran's tour T-shirt for the show. Below a FedEx-style "Ed" logo, the shirt read "John Mayer opened for Ed Sheeran," marking a significant moment in modern music history.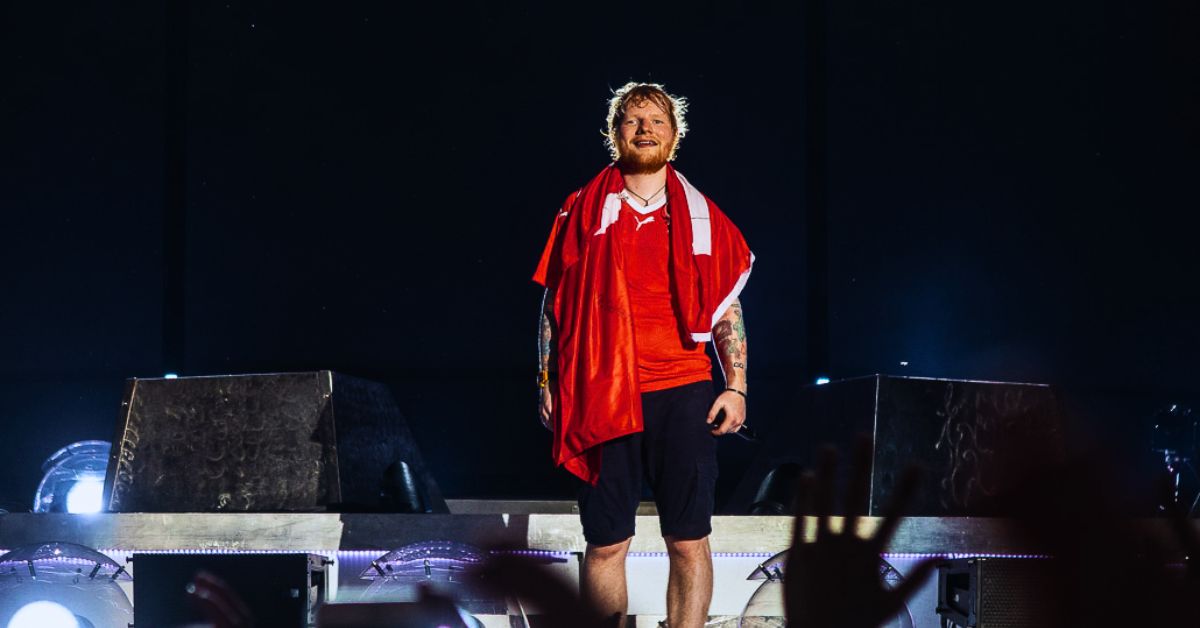 Sheeran opened the show with a short full-band set, launching with the 2021's song "Tides." The artist transitioned into a solo set, highlighted by the vocals "Castle on the Hill" and "Don't / No Diggity," a mashup of his 2014 hip-hop-flavored single with the 1996 Blackstreet tune.
The concert also featured an impressive display of Sheeran's unique loop pedal skills. The concert's high point was when Mayer reappeared on stage for a nearly eight-minute jam session with Sheeran, transforming Sheeran's "Thinking Out Loud" into an extended medley of sinewy guitar solos and athletic vocal runs.
Read more: Ed Sheeran Subtract Release Date: The Album We've Been Waiting For!
Sheeran expressed how surreal it was to have one of his musical idols opening the show, marking a unique moment in his career. The night concluded with the high-energy duo of "Shape of You" and "Bad Habits."
These two chart-topping dance songs define the pop sound of Sheeran's second act, moving away from his earlier acoustic love songs and steering his career towards a more sultry sound.
Fans were captivated throughout the two-and-a-half hours of Sheeran's performance. With help from his friends, the musician took the audience on a sonic journey from the streets of London to the clubs of Miami.
The concert left an indelible mark on the audience. It testified to Sheeran's incredible talent and ability to command the attention of an entire stadium of 71,000 fans.
Read more: Matty Healy Surprise Appearance at Taylor Swift's Philadelphia Concert
Sheeran expressed his gratitude on stage after being informed of the new record and retweeted Gillette's announcement. The record-breaking concert at Gillette Stadium cements Sheeran's place in the annals of music history.