Takeru Kobayashi, often called the 'godfather of competitive eating,' is a famous Japanese eater who has won the Nathan's Hot Dog Eating Contest six times. He not only made the sport popular but also had a long-standing rivalry with another eating champion, Joey Chestnut.
Despite some controversies and time spent in jail, Kobayashi's net worth has grown quickly due to his eating skills and modeling career. Let's explore how Kobayashi became a multi-millionaire.
What is Kobayashi's Net Worth?
Takeru Kobayashi, the godfather of competitive eating, has become quite wealthy due to his fame and success in the field. His net worth is estimated to be around $3 million. He has earned this money through his competitive eating career, which includes sponsorships and endorsements.
Additionally, he may have made extra income from his modeling work and investments in real estate. Now, let's take a closer look at how Kobayashi has earned his money through his different ventures.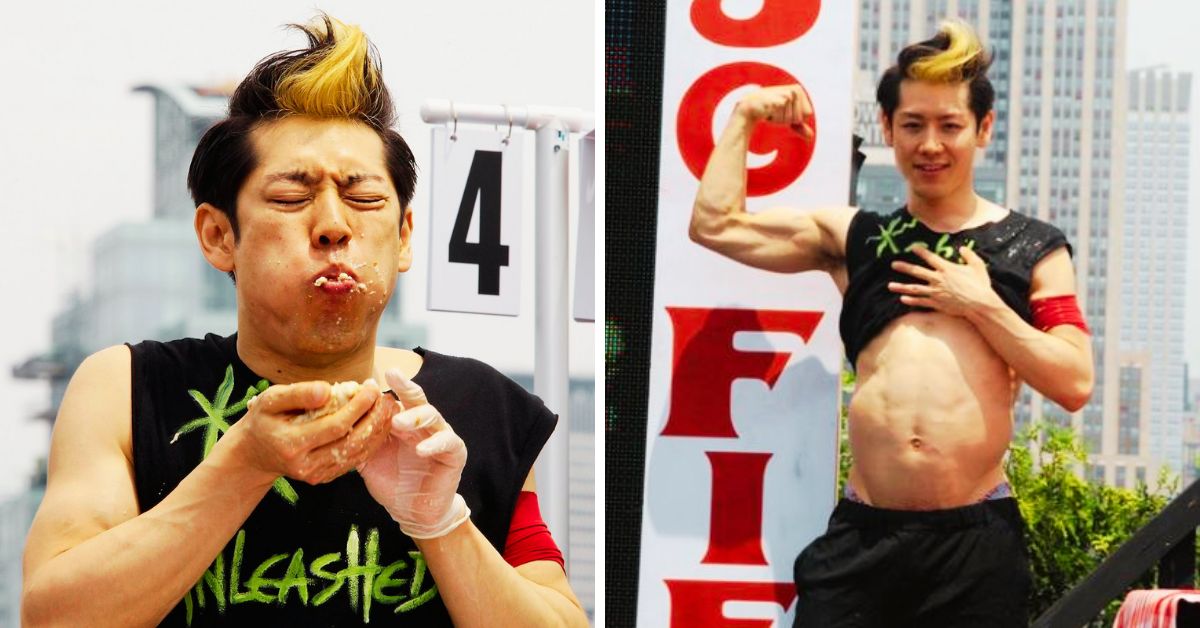 These Celebrity Net Worths Will Blow Your Mind:
Takeru Kobayashi Earnings From Different Ventures
Competitive eating competitions don't always provide the best income for professionals, even though winners can make up to $50,000 per year.
Takeru Kobayashi, being a renowned competitive eater with world records, earns money through his reputation and achievements. His net worth is boosted by brand endorsements and sponsorships too.
Interestingly, he had a year-long contract with MLE (Major League Eating) that limited his earnings to $40,000 and prevented him from getting endorsements or engaging in activities outside of MLE. This caused some disagreement between Kobayashi and MLE.
According to SB Nation, George Shea, a representative of MLE, said they offered Kobayashi a contract over $100,000 for four events in 2010. He explained that Kobayashi would get a guaranteed $25,000 regardless of winning at Nathan's Hot Dog Eating Contest.
Despite the rumors and not wanting to rely on just $40,000 without any other opportunities, Kobayashi decided to pursue his own path and later earned extra money from new endorsements and sponsorships.
As the number one competitive eater, Takeru Kobayashi also appeared in commercials and films, further adding to his earnings.
Takeru Kobayashi Instagram Post:
View this post on Instagram
Takeru Kobayashi's Multi Talented Career
Takeru Kobayashi, as mentioned earlier, faced some controversies and arrests in his competitive eating career. However, these setbacks did not prevent him from earning a living through competitions and TV appearances.
Today, Kobayashi is not just a famous competitive eater but also a television personality. He has acted in a movie called "The Houses October Built 2," as listed on his IMDb profile.
He has also made appearances in documentaries such as "The Good, The Bad, The Hungry" in 2019. Kobayashi has been featured in various TV shows like "Matsuko no shiranai Sekai," "Vs. Arashi," "TV Champion," and more.
In addition to his TV work, Takeru has appeared in several commercials. Some notable examples include the NIKE Tour de France commercial in 2003, the ESPN Sports Center commercial in 2005, and the Master Card PAY PASS commercial in 2007.
Furthermore, Takeru Kobayashi was featured in a magazine called VMAN 20th Winter in November 2010. He also had his first fashion editorial as a model in The Block magazine.
Additionally, he has expressed an interest in becoming a dog trainer. Through his modeling and TV appearances, Takeru Kobayashi has expanded his earnings beyond competitive eating.
Takeru Kobayashi's Kobi Dogs & YouTube Journey
Takeru Kobayashi didn't want to be tied down as an employee of MLE and sought freedom. So, he worked hard and came up with his own line of premium hot dogs called 'Kobi Dogs.'
These are incredibly flavorful jumbo hot dogs made from high-quality western beef. The Kobi Combination Pack with 30 hot dogs costs $19.99. Apart from his competitive eating success, Kobayashi's net worth is also boosted by his Kobi Dogs products.
Kobayashi also had a presence on YouTube around eight years ago, but unlike Matt Stonie, another competitive eater who has a large following on the platform, Kobayashi didn't focus much on YouTube. He has around 6.47K subscribers and only uploaded 15 videos until December 2012.
Despite his hard work and ventures, Takeru Kobayashi's net worth remains at $3 million. However, it is expected to increase in the future. For now, fans can enjoy watching him on ESPN and in other competitions.
Follow us on Twitter to find out about the latest celebrity news, and insider details about your favorite stars' lives.