Marketa Vondrousova's return to the tennis court has benefited her and many others. She wasn't in the best of health and had to cope with several injuries regularly. However, a significant change has occurred between her pre-injury and post-injury lives. Her manner of life, her tennis skills, and her tattoos.
With that stated, it's nearly impossible not to bring up tattoos while discussing Marketa Vondrousova. For years, her left arm has been the talk of the town. Many fans and other players have attempted to decipher what is written on her hand and what the tattoos imply. People comprehended the statement, "No rain, No flowers."
It appears to be the philosophy of the Czech star. She believes that to reach the pinnacle of success, one must first overcome obstacles. During her injury, she also added to her tattoo collection. Some of the tattoos have meaningful meanings, while others are only decorative. She shares the ones with significant sense with her sister Julia.
Vondrousova's Misery With Injuries
Marketa Vondrousova hasn't had the best luck with her health. She has failed at critical junctures in her career. Her wrist has been the source of her misery, as she has had two wrist operations. It all started when she reached the finals of the 2019 French Open. Her excitement didn't last long since her wrist quickly stopped operating correctly.
This forced her to sit out for six months. Her return to the court was brief. As the wrist failed her again, she had to wait another six months. However, after returning to the Tour, the tennis pro drew motivation from her tattoo and rebounded. She hopes to adopt the no rain, no flowers mentality and ascend to great heights.
Have a look at the tweet that we have provided to you below-
The Wimbledon final feeling 😇

📸Getty #wimbledon #vondrousova #marketavondrousova #svitolina #wta #tennis pic.twitter.com/2m3bksgkiM

— Tiebreak Tennis (@tiebreaktennis_) July 13, 2023
Here you can also check our recent articles:
Marketa Vondrousova's Wimbledon Breakthrough: a New Tattoo?
The former Roland Garros finalist already has one of the most exciting games at the 2023 Wimbledon Championships, combining seamless variation with lefty spin to achieve her highest Grand Slam result since 2019.
An Olympic silver medalist Vondrousova complements her edgy style with an intriguing on-court outfit, complemented by two growing tattoo sleeves.
She said earlier this week to the BBC–
"I actually go the first one when I was about 16. I got it for my birthday. Then, I don't know, I just started feeling like I wanted more. Now, it's also art for me, and I appreciate people who do that."

"I have three or four [tattoo artists] that I'm visiting often. A few are in Prague and most of them are girls!"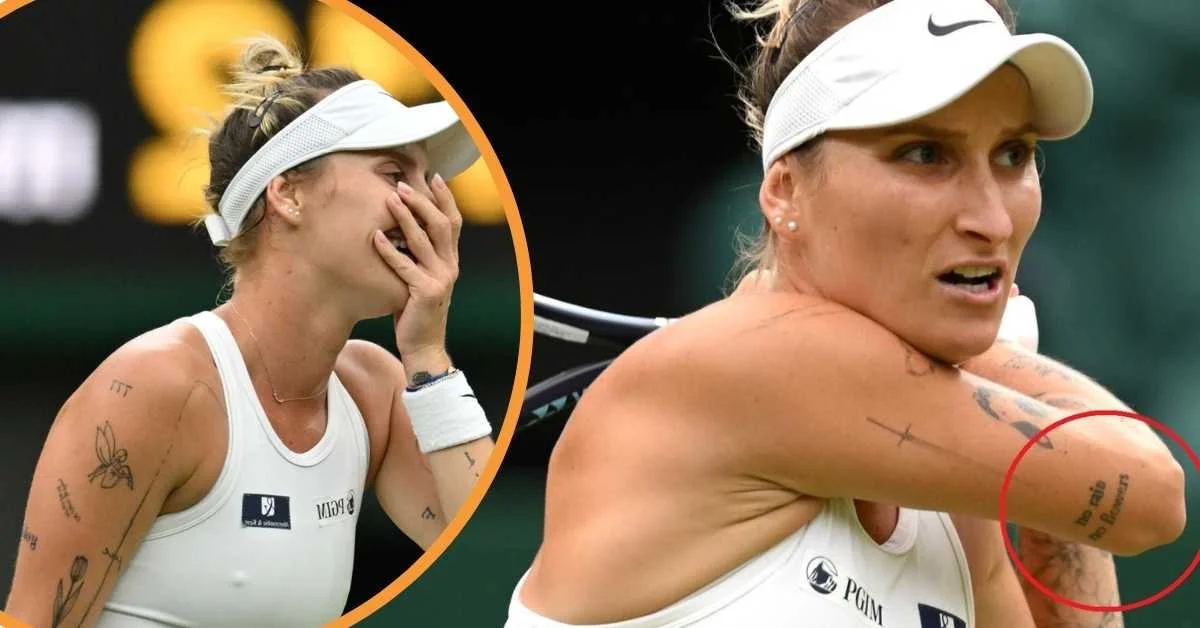 Her most renowned body art is a quotation from Wimbledon: "No rain, no flowers." Indeed, after a rocky start to the tournament, the former world No. 14, plagued by injuries since placing second to Ashleigh Barty in Paris four years ago, has made the most of one of the draw's most difficult portions.
After beating No. 12 seed Veronika Kudermetova, No. 20 seed Donna Vekic, and No. 32 seed Marie Bouzkova, she kept her biggest surprise for last, defeating world No. 4 Jessica Pegula 6-4, 2-6, 6-4 in the third on Tuesday.
If you want more recent top headlines, follow us on Leedaily.com regularly.