In 2023, many people are talking about the fact that Selena Gomez and Hailey Bieber have matching 'G' tattoos, which has reignited the conflict between the two singers.
Fans are certain that Justin Bieber and the singer/actress he dated before he broke up with them have a beef because he started dating the model around the same time. For a long time, many have speculated that Justin dated both Selena Gomez and Hailey Bieber simultaneously, pitting them against each other.
Yet in a recent podcast, Hailey flatly denied that she dated him while he was seeing anybody else, adding, "I can say, period, point blank, I was never with him when he was in a relationship with anybody — that's the end of it."
Now, the tattoos are being cited as evidence that Hailey is imitating the Behaving Badly actress, who dated Justin on and off for eight years.
Selena Gomez and Hailey Bieber Have the Same 'G' Tattoo
True fans know that both actors have been sporting the identical letter 'G' tattoo behind the ear for years, but the rest of the public is just learning about it now that the drama has returned.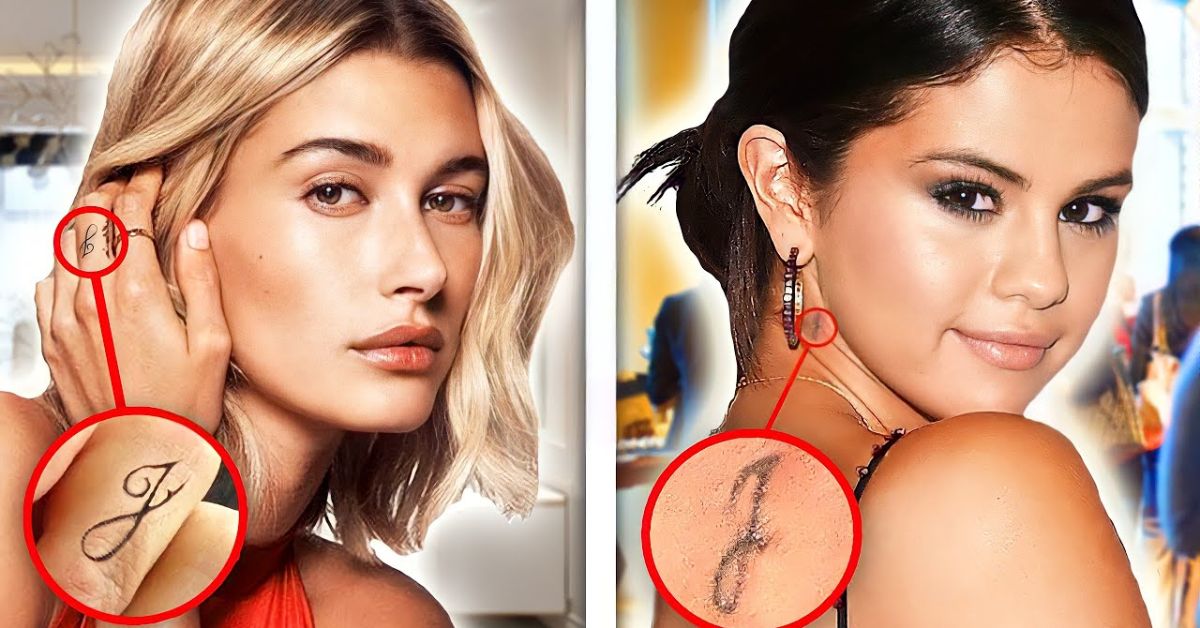 Several admirers are suspicious because both women have nearly identical tattoos of the lowercase letter 'G' on the back of their necks. They say the tattoos have different meanings and debunk the popular belief that Hailey copied Selena.
Several people think it's strange that Hailey got her tattoo a few weeks after the singer did, and they think there must be more to the story. The divorce rumors between Hailey and Justin coincide with the tattoo scandal, but their admirers are quickly debunking the allegations online.
Hailey Bieber and Selena Gomez were recent headlines. Check the links below for current buzz:
Selena Dedicates the "G" Tattoo to Her Sister Gracie
In June 2015, about eight years ago, Selena was first seen with the tattoo. Keep in mind that June 4 is a pivotal date when discussing Hailey's ink.
She told Refinery 29 in an interview that October that the tattoo was for her younger sister Gracie, who is 20 years her junior. She showed them her ink and explained that she got "the initial 'G' behind her left ear for her 2-year-old sister Gracie."
Below is a tweet we posted especially for you. If you need more information, read the complete tweet:
Selena got a G tattooed for her little sister Gracie and Hailey got the same tattoo for?????? pic.twitter.com/8U6Gck9Oig

— ky (@holeinthecrack) March 2, 2023
The actress went on to say that she had an "addicted" to tattoos and showed off several more, including the Roman numerals on her neck and the Bible text on her hip. Okay, now onto Hailey's tattoo, since we've covered Selena's.
We've recently covered big news about Hailey Bieber and Selena Gomez. If you want to know more about current gossip, check out the links below:
Hailey's 'G' Tattoo Relates to Their Church
On June 16, just 12 days after Selena was initially spotted with the tattoo, the 26-year-old got her own. She posted a picture of it to Instagram and explained that it was a memorial to Georgia Veach, the pastor's daughter at Zoe Church.
Hailey, Selena, and Justin are just a few of the celebs who have attended Hillsong, the Los Angeles megachurch that includes Zoe Church. Former Hillsong pastor Carl Lentz popularized getting tattoos after his daughter Georgia was born in 2012 with a congenital brain condition called lissencephaly.
A tweet has been put below for your convenience. If you want more information, read the tweet in its entirety:
4. Her "g" tattoo behind her ear to commemorate Georgia Veach who suffers from a rare and incurable brain disorder called Lissencephaly. Her parents Chad and Julia Veach are pastors at Los Angeles' Zoe Church. Selena Gomez, Justin, and Ashley Benson also have this tattoo. pic.twitter.com/r5L1h6wDcB

— Bella (@hailssbae) April 29, 2018
On July 9 2015 that year, Justin got a G tattoo and captioned an Instagram photo, "This is for the strongest couple I know Chad and Julia Veach!" To the best of our knowledge, Selena's 'G' tattoo is for her younger sister, despite the fact that they both attend the same church.
The drama, however, continues as supporters remain certain that there is more to the narrative than the one presented officially.