Keanu Reeves' band Dogstar released the lead track, "Everything Turns Around," along with news of a tour and their first album in 23 years.
Bret Domrose on guitar and vocals, Rob Mailhouse on drums, and Keanu Reeves on bass make up the 90s alt-rock trio that has made a comeback with their new single "Everything Turns Around" and their upcoming album "Somewhere Between the Power Lines and Palm Trees."
According to a press statement from Dogstar–
"We are so excited to re-introduce Dogstar with our new single 'Everything Turns Around.'"
They continued-
"It feels like a fun summer song to us. It has an uplifting message and a positive vibe that hopefully makes your day a little bit lighter. It's one of our favourite songs to play live and can't wait to share it on our upcoming tour."
The band's third album, 'Somewhere Between the Power Lines and Palm Trees,' will be released on October 6 through Dillon Street Records. You can pre-order the album here.
Dogstar was founded in the early 1990s. The band published their debut album 'Our Little Visionary' in 1996, followed by 'Happy Ending' in 2000. They'd eventually split up a few years later.
In honor of the new album, the band will embark on a tour next month, beginning on August 10 in Hermosa Beach, California. They will tour the west coast before heading to Japan for a few performances in September.
Dogstar will resume their North American tour on November 30, with gigs in Nashville set until December 20. All North American shows will be sold on July 21 at 10 a.m. local time. Visit here for tickets.
Read a post shared on their official Instagram account-
We are so excited to announce our new album Somewhere Between the Power Lines and Palm Trees out on October 6th on our label Dillon Street Records. A very limited quantity of signed vinyl is available in the Official Shop – act quick!
View this post on Instagram
Dogstar Tour Dates 
AUGUST
10 – Hermosa Beach, CA, Saint Rocke
11 – Phoenix, AZ, Crescent Ballroom
12 – Las Vegas, NV, Brooklyn Bowl
15 – Salt Lake City, UT, The Complex
17 – Denver, CO, Marquis Theatre
18 – Boulder, CO, The Fox Theatre
19 – Aspen, CO, Belly Up
22 – Napa, CA, Uptown Theatre
23 – Menlo Park, CA, The Guild Theatre
24 – San Luis Obispo, CA, Fremont Theater
26 – Ventura, CA, Ventura Music Hall
27 – Solana Beach, CA, Belly Up
28 – Santa Ana, CA, The Observatory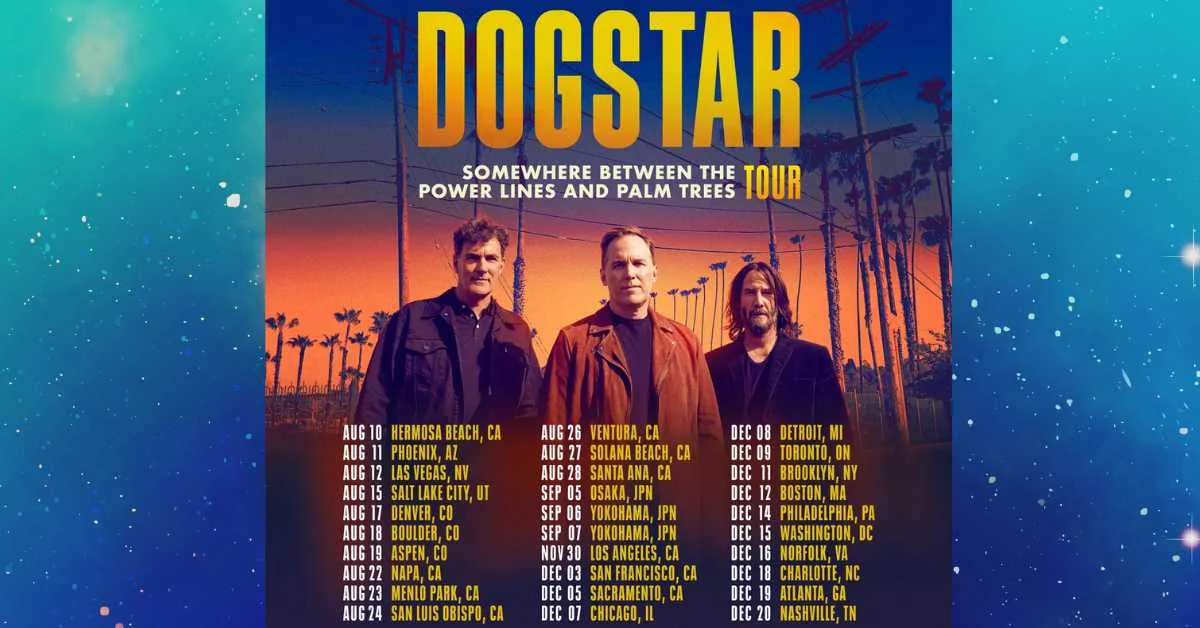 NOVEMBER
30 – Los Angeles, CA, Troubadour
DECEMBER
3 – San Francisco, CA, The Great American Music Hall
5 – Sacramento, CA, Crest Theatre
7 – Chicago, IL, Thalia Hall
8 – Detroit, MI, The Majestic Theatre
9 – Toronto, ON, Lee's Palace
11 – Brooklyn, NY, Music Hall of Williamsburg
12 – Boston, MA, Paradise Rock Club
14 – Philadelphia, PA, Underground Arts
15 – Washington, DC, The Howard Theatre
16 – Norfolk, VA, The NorVa
18 – Charlotte, NC, The Underground
19 – Atlanta, GA, Center Stage
20 – Nashville, TN, Brooklyn Bowl
Here you can also check more recent articles on new upcoming albums
The band debuted new music with songs from 'Our Little Visionary' and 'Happy Ending' at the show, with Reeves telling Billboard of the band, "It's a space that I love, and a space that I tried to protect."
Reeves also said that Alvvays is one of his current favorite bands. In an interview with NME, the John Wick: Chapter 4 star revealed his admiration for the indie band but acknowledged he had yet to purchase their latest album, 'Blue Rev,' on vinyl.
"I don't have their new record. I bought it digitally, but I don't have it on vinyl," Reeves explained. The actor cited two reasons why they're presently among his favorites: "I like me a good pop song and I like me a kind of inventiveness in it. And I think the lead singer [Molly Rankin], she's great…And I love the textures in it. I mean, I love bass guitar and drums and I like their energy."
In conclusion, staying up-to-date with the latest information is crucial in today's fast-paced world. You'll gain access to real-time updates, breaking news, and valuable insights by joining us on our Twitter account.