Fans can't wait for Season 2 of "Silo" to come out and are getting ready for its comeback. The first season of this dystopian science fiction show had a gripping plot and interesting characters that drew people in. Now, the show is about to make a successful return. "Silo" has a loyal fan base because of how it makes people think and how beautiful it looks.
It leaves people wanting more. As theories and speculations about the next season swirl, we bring you all the latest news and insider information on when you can expect to dive back into this mysterious world. As the release date of Season 2 of "Silo" gets closer, get ready for another exciting journey!
Silo Season 2 Release Date
Although there is no formal confirmation of a release date, Silo season 2 is expected to air in 2024. The second season was announced in June 2023, and filming at Hoddesdon Studios in Hertfordshire started that same month, indicating that the show will be producing its episodes quickly.
The first three episodes will be directed by Morten Tyldum, who will also act as executive producer. Graham Yost continues to be the showrunner. Once more included in the lengthy list of executive producers is Rebecca Ferguson
Who's in the Silo Season 2 Cast?
Though we believe it's safe to presume the main characters and actors will return, it's still unclear who will return because we're still waiting to see if any characters are on the chopping block before the season 1 finale.
As a result, it is expected that Rebecca Ferguson will reprise her role as Juliette, in addition to Common, Tim Robbins, and Avi Nash. Holston and Allison, played by David Oyelowo and Rashida Jones, passed away early in the season, but it's still possible that we'll see them again in a flashback.
The anticipated cast for Silo season 2 is as follows:
Rebecca Ferguson as Juliette Nichols
Rashida Jones as Allison Becker
Common as Robert Sims
Tim Robbins as Bernard Holland
Harriet Walter as Martha Walker
Avi Nash as Lukas Kyle
Here you can also check more series like this:
What Will Silo Season 2 Be About?
Even though season 2 may cover the events of the second novel in the series, Shift, certain questions about the characters' futures remain given that season 1 is still in progress.
Since the second book in the series is technically a prequel, this gives readers additional background on the events that brought down the outside world and the silo itself. Nevertheless, the novels contain some big alterations, so the writers may decide to take a different path for the second season.
We might see flashbacks from the prequel novel itself mixed in with the silo chronology from season 1 at some point. In the year 2049, after Donald Keene, a Democrat, has been elected to Congress, a shift takes place.
It depicts the construction of the silos themselves, which, despite being designed to hold humans in the case of nuclear explosions, are really shown to have been intended to store nuclear material. The narrative then delves into topics like nanoterrorism, revolt, and conspiracy.
We anticipate that a portion of the second season will occur outside of the silo and show the characters attempting to explore the outside world. They would also be positioning themselves for a third season if the continuation deepens the lore and world-building.
Silo Season 1 Ending Explained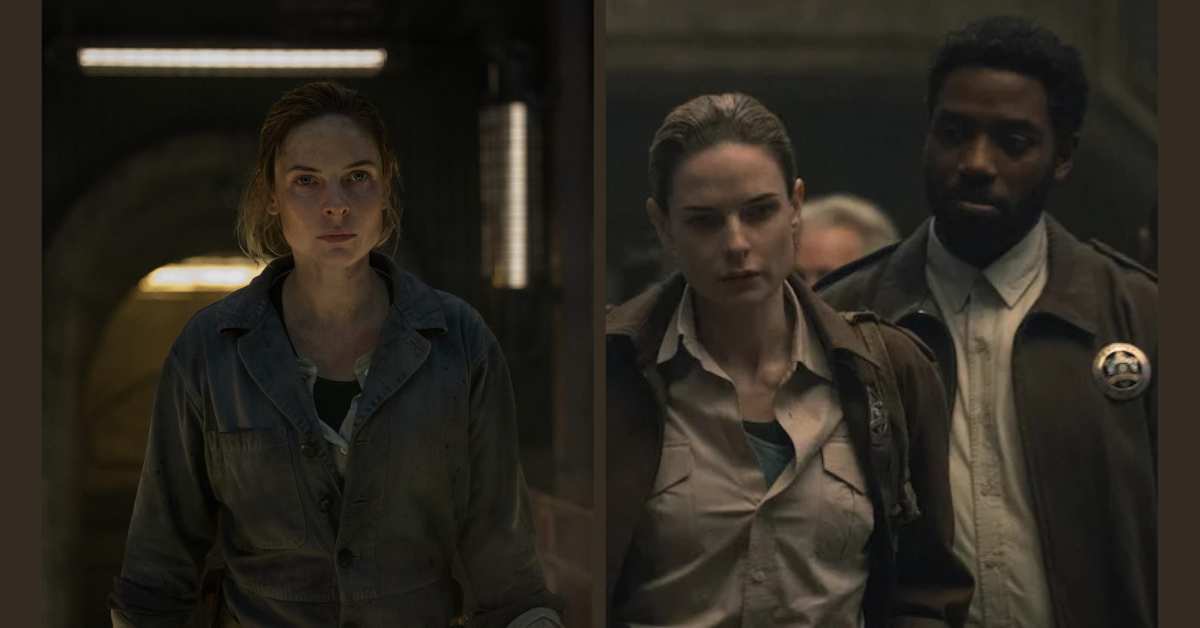 Here is a description of how Silo season 1 finishes, which includes several disclosures but also introduces new riddles to set the stage for season 2. In the season one finale of Silo, Juliette sneaks between levels by using the trash chute.
She even tries to play the Jane Carmody film on all Silo screens in a bid to reveal Silo's secrets to its inhabitants. She uses the chute, but Bernard notices and prevents her by getting the police to toss heavy debris down the hatch. As a result, Juliette is ultimately apprehended, and Bernard seizes and destroys George Wilkin's hard drive.
In the last minutes of Silo season 1, episode 10, Bernard makes a deal with Juliette: in exchange for her compliance, he will teach her everything he knows about Silo. He even shows her a video of George Wilkins' last moments to give her some measure of closure.
Lukas is taken to the mines in the last moments of Silo season 1 for failing to report Juliette when she earlier paid him a visit. In the meantime, Juliette says goodbye to her father and gets a mysterious note from Martha.
Before the opening titles of Silo season 1 begin to play, Juliette goes outside and discovers much more about the outside world than she had anticipated. The bleak exterior scenes serve as confirmation that the air is definitely poisonous.
It demonstrates that Holston and Allison did not pass away as a result of the Silo's officials filling their suits with hazardous gases solely to support their fabrication.
They perished as a result of the suits' deliberate use of subpar tape to allow poisonous vapors from the environment outside to enter. Holston and Allison made the error of thinking the VR simulation from their helmet is genuine, instead of believing that people cannot breathe the deadly air outside the Silo.
Fortunately for Juliette, she had a lot of knowledge about Silo's mysteries before she left. Nothing regarding what might have contaminated the outer world is revealed in Silo Season 1.
However, it appears likely that a human-caused catastrophe brought about the end of the world given how the show handles themes relating to human morals, corruption, and power play. Either a nuclear disaster or climate change rendered Silo's surroundings poisonous and unusable.