The Dallas Cowboys and AT&T Stadium mourn the loss of Phil Whitfield, a beloved character recognized for his extraordinary ability to open any door within the stadium. On July 26, at the age of 62, Phil Whitfield was discovered unresponsive in his Dallas home, leaving behind a legacy that would be remembered for the rest of his life. The cause of his death is still unknown.
AT&T Stadium mourned the loss of Phil Whitfield by sharing a tweet on its Twitter handle on July 28th-
"The loss of Phil Whitfield leaves us all heartbroken. We have such wonderful memories with him, just as so many others do. Few people have generated such widespread goodwill and respect like Phil did over the years. He was an amazing ambassador for the Cowboys and a great friend… pic.twitter.com/ZXuRj6XEnH

— AT&T Stadium (@ATTStadium) July 27, 2023
Phil Whitfield's Obituary: A Long and Loving Legacy
Phil Whitfield, born on July 29, 1960, in Dallas, began his career with the Dallas Cowboys as a security guard at the old Texas Stadium three decades ago. His passion and loyalty to the organization eventually won him the title of AT&T Stadium and Art Ambassador in 2009, a post he held until his death. We recall Phil Whitfield's outstanding contributions to the Dallas Cowboys community with heavy hearts as we mourn his passing. May his memories live on in our hearts forever.
An Unbreakable Bond With the Cowboys
Phil Whitfield's relationship with the Dallas Cowboys was more than just a job; it was an inseparable bond that defined his life. His devotion to the team was palpable, propelling every action and choice he made over his three-decade tenure with the organization. But his friendship with team owner Jerry Jones and his wife Gene truly distinguished him.
Take a look at the tweet that we have provided to you below that was officially shared by The Dallas Cowboys-
Forever grateful to Phil Whitfield and always in our hearts. We will miss you so very much. pic.twitter.com/Z4csuu7Xq1

— Dallas Cowboys Cheerleaders (@DCCheerleaders) July 27, 2023
Phil considered the Jones family more than simply his bosses; they were his family. His brother, Roosevelt Whitfield, confirmed this attitude, who observed firsthand Phil's tremendous love and affection for the team and how the Jones family reciprocated that sentiment.
Phil's friendship with the Jones family stretched beyond business. They shared successes and joys and stood together through struggles and triumphs. Their mutual regard and adoration fostered an atmosphere of warmth and camaraderie that permeated the organization, lovingly known as "Jerry World."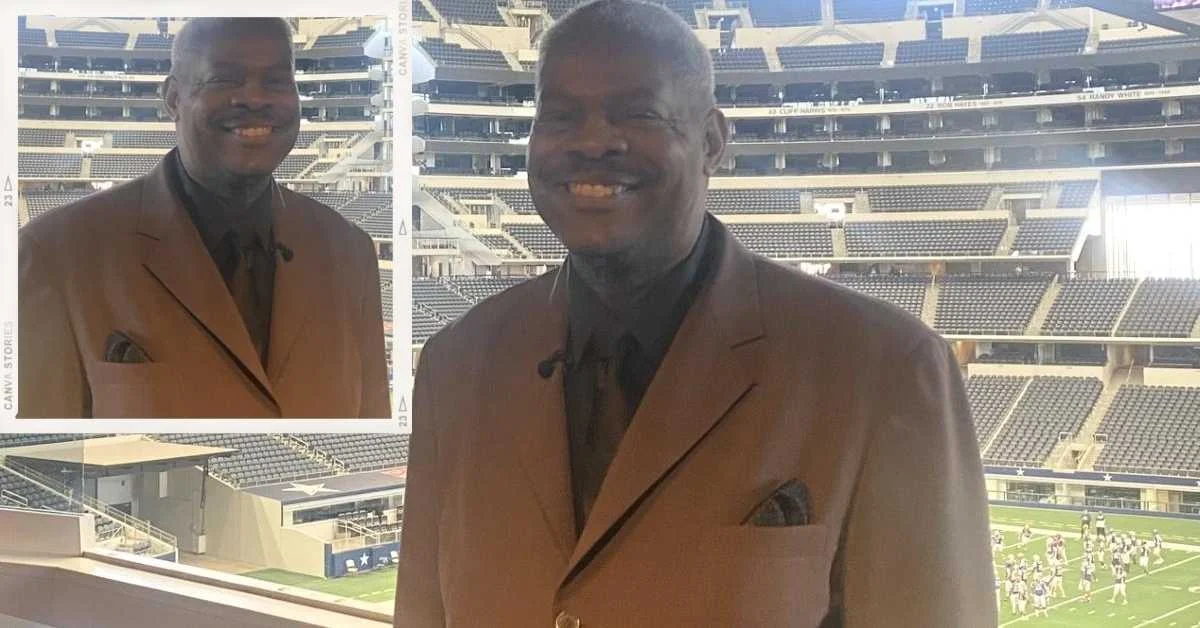 Phil became a vital component of the Cowboys' identity outside his work as a security guard at the old Texas Stadium. His journey led him to the position of AT&T Stadium and Art Ambassador, which he accepted with pleasure and joy. Phil's ability to open doors metaphorically represented his embodied welcome spirit and genuine concern for everyone he met.
Phil Whitfield's influence extended beyond the Cowboys' fan base. His love of art helped him become a well-known personality among art fans, as he used his position to promote and celebrate artistic expression within the stadium's walls.
As we commemorate Phil Whitfield and the legacy he leaves behind, we understand that his passion for the Dallas Cowboys and the Jones family went above and beyond the call of duty. He embodied the principles of devotion, loyalty, and love for one's work, inspiring anyone who could know him. Phil's spirit will live on in the hearts of those who shared his journey, and his memory will impact the spirit of the Dallas Cowboys for years to come.
If you are interested, you can also read about other latest news we have covered in the below posts:
A Passionate Life: An Art Appreciation Visionary
Aside from his efforts in security and management, Phil Whitfield was instrumental in promoting art at AT&T Stadium. He led public art tours, exhibiting stunning murals, paintings, and sculptures to the tens of thousands of fans who visit the stadium each year. Phil's enthusiasm for art fit in wonderfully with the Jones family's idea of building a stadium that catered to a broader audience than just sports fans.
Whitfield, a proud Dallas native, spent his formative years at Dallas ISD's Roosevelt High School. Throughout his life, he believed that the common thread that connected all artists was their enthusiasm.
A Final Farewell to Phil Whitfield
Details on Phil Whitfield's burial plans have yet to be determined, but his memory will live on in the hearts of Dallas Cowboys fans, art enthusiasts, and anybody who had the pleasure of knowing him.
Finally, Phil Whitfield's life and accomplishments for the Dallas Cowboys and AT&T Stadium will be remembered forever. His ability to open any physical and metaphor door represented the openness, friendliness, and camaraderie that defined "Jerry World."
Nick Harris shared a tweet on July 28 for Phil Whitfield. You can check the tweet below-
A statement from the Dallas Cowboys and Gene Jones on the passing of longtime #DallasCowboys staff member Phil Whitfield: pic.twitter.com/lqttNEuwTH

— Nick Harris (@NickHarrisDC) July 27, 2023
As we give this wonderful guy farewell, we take with us the valuable teachings of passion, dedication, and love for what we do in all facets of life. May his legacy inspire and touch many people's lives for many years. Funeral arrangements are still being finalized.