The famous American actress Julie Bowen, who is known for her parts in hit TV shows like "Modern Family," has always wowed fans with her talent and charm. Fans are interested in Julie's personal life because she is a skilled artist and gives back to the community.
Even though it may not be easy to find out who Julie is meeting, it is clear that she is dedicated to her work and to helping others. Julie Bowen's skill and grace continue to inspire and charm people, both on and off the screen.
Julie Bowen Dating
As of 2023, Julie Bowen is not dating anyone. It's important to note right away that Julie Bowen and her on-screen son Nolan Gould are not romantically involved. The actress joked about her close friendship with Gould, who reportedly lives close by, during an interview with Jimmy Kimmel.
After stating that she is a divorcee and a mother of three, Bowen talked about the hilarious side of dating Gould since they frequently draw unwelcome attention and criticism from the public.
She even drew analogies to The Brady Bunch, a vintage TV series in which Greg Brady, who played the son, dated Carol Brady, who played his mother, in real life. Even though it's obvious she was just making a joke, Bowen continued by joking that she was dating Gould in 2023.
With the exception of the occasional joke or anecdote, Julie Bowen seems to enjoy having a fun and hilarious relationship with her Modern Family co-stars.
Discover rumors and news about some more well-known celebrities:
Is Julie Bowen Married?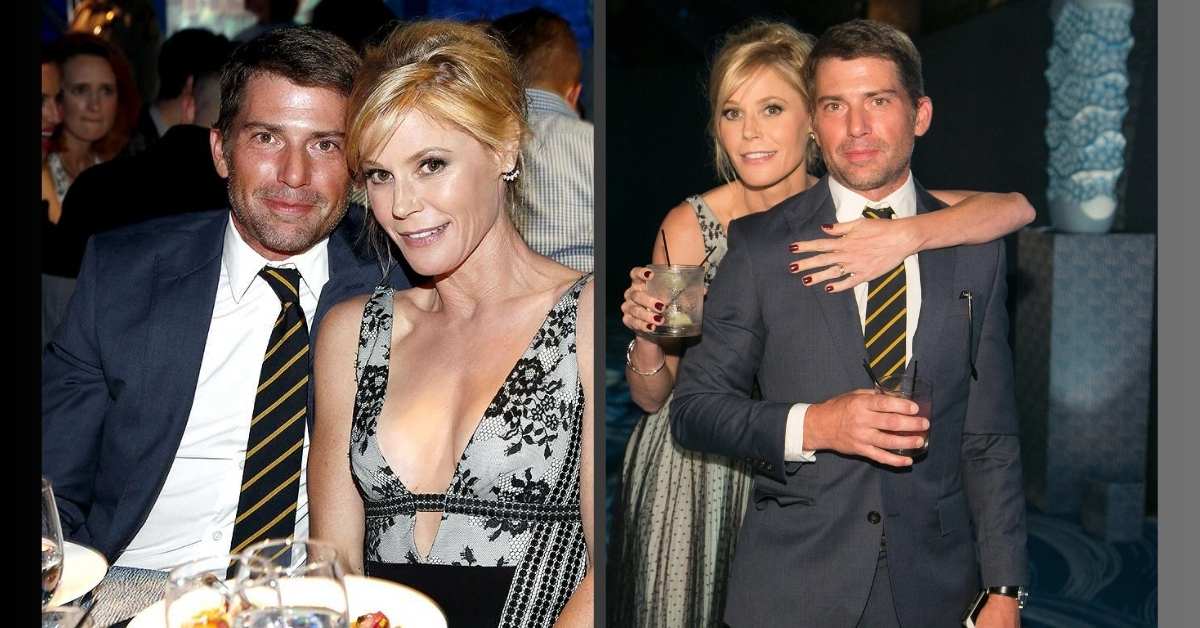 On September 9, 2004, Bowen wed Scott Phillips, a software developer and real estate investor. Scott Philips and Julie Bowen announced their separation in 2018. But even before the announcement, there were signs that their marriage might be in peril.
TMZ  shared a post on Twitter:
Julie Bowen Officially Files for Divorce from Husband, Scott Phillips https://t.co/HaPzOTEO99

— TMZ (@TMZ) February 7, 2018
The couple did not appear together on their anniversary and walked the red carpet separately at the 2016 Emmys. By purchasing tickets to her husband's tennis matches and cracking jokes about their marriage, Bowen attempted to conceal the issues.
The couple eventually filed for divorce in February 2018 despite their efforts to remain married for the benefit of their kids. On September 13 of that year, the divorce was officially finalized by the court.
Bowen received more than $13 million of their $25 million fortune, while Philips only received $12.3 million. Although their marriage was once happy, Bowen and Philips have since moved on and are now concentrating on their own lives and jobs.
Why Did Julie Bowen Divorce Scott Phillips?
In 2004, Julie Bowen wed Scott Phillips, a software developer and real estate investor. Oliver, the couple's first child, was born in 2007, and John and Gustav, their twin sons, were born in 2009.
Nevertheless, the couple chose to divorce in 2018 after over 13 years of marriage. When Bowen skipped her husband's company for the first time since she had attended the Emmys in 2015, the brace prompted separation speculations. Unfortunately, it was also their wedding anniversary that day.
At the time, the actress disclosed to People that Phillips was unable to attend the event due to his commitment to a tennis match. He always shows up and is very investigative. and I asked, "What do you want to do on our anniversary?'" because I had not been recognized as an individual.