The mystery surrounding Disenchantment Season 5 has heightened interest in the show's comeback. The animated fantasy sitcom from Netflix, created by Matt Groening, follows the narrative of a rebellious and drunken princess named Bean, her elf sidekick Elfo, and her personal demon named Luci.
Disenchantment Season 1 premiered on Netflix in August 2018. Season 2 debuted in September 2019, followed by Season 3 in January 2021 and Season 4 in February 2022.  To know details about the Disenchantment season 5 release date, cast, plot trailer, and episodes then you can scroll down the post.
When Will Disenchantment Season 5 be Released?
Disenchantment by Matt Groening is coming to an end. The fifth season of Netflix's adult animated fantasy comedy series will be its final. It will be released on September 1st. View the trailer by clicking here.
You must check the tweet we have provided to you below:
HEAR YE! HEAR YE! THE FINAL SEASON OF DISENCHANTMENT IS AMONG US!

Season 5 premieres on September 1st, only on Netflix.

Please enjoy our Final Teaser as we rally momentum for Bean's shocking conclusion! More to come soon… pic.twitter.com/aFBHWQ3Yab

— Disenchantment (@disenchantment) August 1, 2023
With Big Mouth also entering its final season, the anthology Love, Death & Robots, which has been renewed for Season 4, is the last remaining series from Netflix's original wave of adult animated comedies. On the streamer, there haven't been any significant breakouts in the genre lately, with a bevy of newcomers awaiting their fate.
Who Will Return in Disenchantment Season 5?
The main Disenchantment cast members are anticipated to return if Season 5 is produced, based on how Season 4 ended. Following is a list of potential Season 5 guest stars:
Abbi Jacobson as Princess Bean
Eric André as Luci the Demon
Nat Faxon as Eflo
John DiMaggio as King Zog
Sharon Horgan as Queen Dagmar
Meredith Hagner as Mora the Mermaid
Tress MacNeille as Queen Oona, Prince Derek, and The Ogre Queen
Richard Ayoade as Alva Gunderson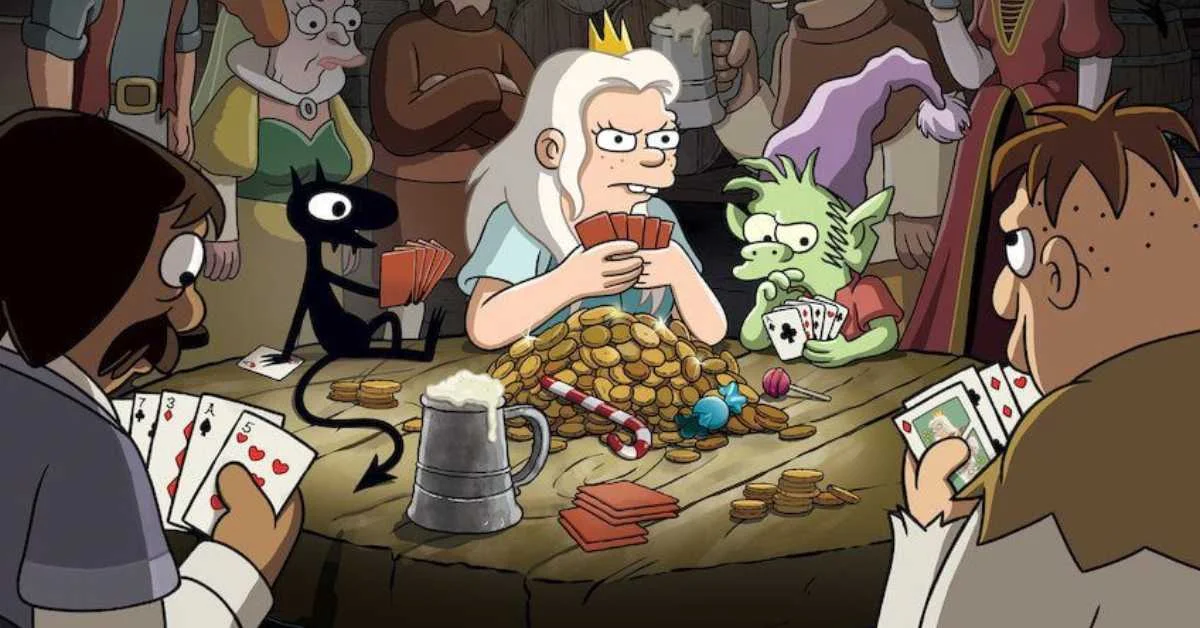 What Will Happen in Disenchantment Season 5?
Princess Bean defeated her evil dream doppelganger, Bad Bean, at the end of Season 4. Mora, Bean's love interest, rescued her after Queen Dagmar flung her into the water.
Have a look at the tweet we have provided to you below-
Hear ye! Hear ye! THE FINAL SEASON of Matt Groening's DISENCHANTMENT – featuring Bean's epic conclusion – premieres September 1st, only on Netflix. pic.twitter.com/lujSvMjzXv

— Netflix Geeked (@NetflixGeeked) August 1, 2023
Season 5 could delve more into Bean and Mora's love story while also dealing with the former's unexpected abilities. In addition, Queen Dagmar's final agenda may be disclosed once and for all.
Meanwhile, King Zog is on a mission to save Ursula, Freckles, Jasper, Derek, and Odval. Finally, the question of how the Elves, Trogs, and Sea Trogs might be brought to the forefront in Season 5 has been solved.
You can also take a look at the other upcoming tv shows' release dates we have provided below links:
How Many Episodes Will Disenchantment Season 5 Have?
Disenchantment has already shown 40 episodes on Netflix. Given that each season includes ten episodes, Season 5 might have the same number of episodes.
Interestingly, each season of Disenchantment comprises 20 episodes divided into two parts. Before its premiere, the show was awarded a 20-episode order as parts 1 and 2, followed by another 20-episode order as parts 3 and 4.
If Season 5 is successful, fans can anticipate a sixth season in the near future. Disenchantment co-creator Josh Weinstein told Skwigly in February 2021 that he and Matt envisioned Seasons 4 to 6 as "the end," emphasizing that it will put things together:
We keep finding stuff, stuff is coming up that sort of ties into the canon that we have. Part Three is really the middle and so like after, I'd say that part four through six is going to be the end and wrapping up and bringing things together into a close.
Stay in the loop with all the hottest movie and TV show releases! Follow us on Leedaily for the inside scoop on release dates and more.