"Ride with Norman Reedus" is back for an exciting sixth season, so get ready to hit the open road again! Join the charismatic and adventurous actor Norman Reedus as he sets out on an exciting trip to discover the world's hidden treasures and most beautiful places.
From winding coastal highways to rough off-the-beaten-path trails, each episode offers a unique mix of motorcycle culture, local food, and interesting encounters with other riders and famous guests. Put on your helmet and get ready for the best motorcycle adventure ever as Norman Reedus takes you on a ride you'll never forget.
Ride With Norman Reedus Season 6 Release Date
On Sunday, September 10th at 10/9c on AMC and AMC+, the sixth season of Ride with Norman Reedus will air immediately after the series premiere of The Walking Dead: Daryl Dixon, which also stars Reedus.
Norman Reedus Network shared a post on Twitter:
Season 6 of "Ride with Norman Reedus" premieres on September 10th on AMC! Featuring guests Keanu Reeves, Josh Holloway, Johnny Knoxville and more!#normanreedus #rideamc #ridewithnorman #ridewithnormanreedus #ridewithnormanreedusamc #keanureeves #joshholloway #johnnyknoxville pic.twitter.com/tM4zlbAOtV

— Norman Reedus Network | Fan Account (@reedusnetwork) July 24, 2023
Along with some very special guests, travel the world on spectacular road journeys with the adored Walking Dead actor and motorbike lover. In every episode, Reedus and a traveling companion—another actor, musician, or friend—explore the local culture and look for adventures. Keanu Reeves, Adri Law, Josh Holloway, and Johnny Knoxville are among the season's guests.
How to Watch Ride With Norman Reedus Season 6?
The home of Ride with Norman Reedus is AMC, which is typically bundled with a basic cable package. AMC is available through live TV streaming services like YouTube TV, Fubo TV, and Sling TV if you don't have cable.
The series is also available on AMC Plus, a stand-alone platform that you may access via an add-on channel on Prime Video, Apple TV Plus, or Roku.
You may also watch videos on your computer or mobile device via the streaming service. The chance to watch new episodes first is the main advantage of having an AMC Plus subscription.
Here you can also check more fascinating series like this:
Ride With Norman Reedus Season 5 Recap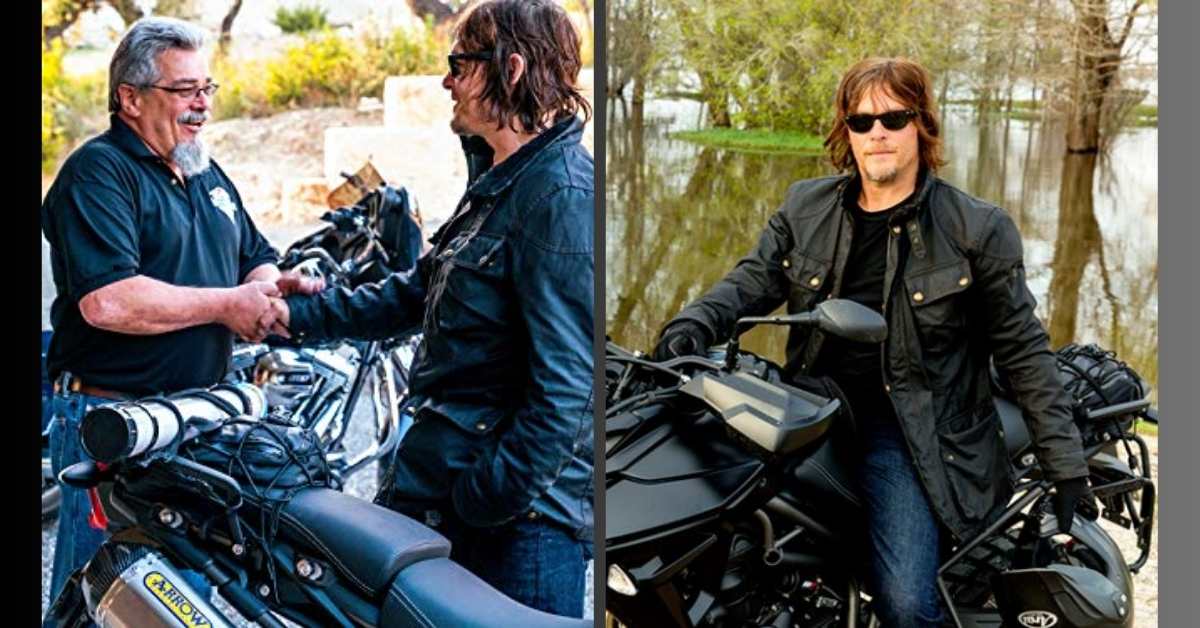 When her hearing fails, Kelly goes in search of a wild boar in the woods. When walkers come, she still fires the shot to end its suffering. As more of them start eating the pig, Kelly murders them. She runs through the woods in a frenzied manner till she trips and tumbles down a hill. Walking slowly behind her, a walker approaches.
Negan is seen washing his face in the river in another location as Brandon plays with a knife in front of him. Negan grins menacingly as he makes jokes. Alden informs Yumiko that they need to strengthen their defenses as Eugene has workers at Hilltop salvaging every square inch of the tree.
As Earl bemoans their failure to take action against the Whisperers, she responds that the time is not now. Brianna informs Yumiko that someone stole the fish crate from Oceanside, which only makes the situation worse.
She goes to Magna to advise her to watch the meal more carefully, but Magna merely turns up her music. Returning to Hilltop, Daryl, and Siddiq inform Ezekiel that they were unsuccessful in their search for Negan.
Siddiq agrees to aid Ezekiel at the hospital after he requests it once he begins to cough. In addition, the Hilltop warriors show up, and Connie worries about Kelly's location.
Back in the woods, a star-struck Brandon questions Negan about his exploits and whether or not Carl actually was slain. Negan frowns and declares, "I would never kill a kid." They later discover Whisperer tracks.
A walker attacks Negan before they have a chance to investigate. He stomps it into oblivion and rips off its head with the wire around its neck. He jokingly praises Brandon, who admits that he sneaked Lucille and his leather jacket out there with them.
Negan nods in agreement. In another location, Aaron sneakily observes Gamma dismember a walker and dubiously dump its guts into the sea. With Kelly, Daryl and the others head back to Hilltop.
Siddiq calls Dante on the radio, who informs him Rosita has a bug. He requests to talk with Carol before announcing that he will depart for Alexandria tonight. As Siddiq and Ezekiel switch positions, Dante grabs him. Carol starts to speak but Ezekiel interrupts her.
Magna is questioned by Yumiko about the cache. Magna reminds her that she murdered a person who had wronged her cousin. Yumiko responds, "I think you should find another place to sleep."
In a later conversation, Gamma admits to Alpha that "the man with the metal arm" had given her gauze to treat her wound. She is hushed by Alpha, who then removes her mask and tells her that the man might be helpful to her.
She responds, "You might just have to put on a new mask." Connie apologizes to Daryl at Hilltop for pressuring him to fabricate Kelly's story. Just before he rides off, she makes a family-like suggestion.
Negan draws walkers to him in the woods where he is now wearing his old clothing. He beats them with Lucille till Beta knocks him to the ground. You big ass freak, aren't you. We should proceed, he says.