Katie Moon, who was born on June 13, 1991, in Lakewood, Ohio, began her high school career as a diver at Olmsted Falls. She later discovered pole vaulting to be her sport of choice, turning professional in 2013.
Moon won both the Division 1 state running championship in 2008 and 2009 in a similar fashion. The American professional athlete won the 2022 World Athletics Championship and the gold medal at the 2020 Tokyo Olympics.
In addition, the gold medalist from the 2018 North American Central American and Caribbean Championship competed for the United States and took home silver at the 18th World Athletics Indoor Championship in 2022.
In addition, Nike has sponsored the professional pole vaulter since 2018. Many people are interested in finding out who Katie Moon's husband is. Learn all the information in the area below.
Who is Katie Moon's Husband, Hugo Moon?
Hugo Moon, Katie Moon's husband, has been the University of Tulsa's assistant coach and Recruiting Coordinator since October 2022.
Hugo attended Bedford School from 2000 to 2011, where he participated in sports such as rowing and hockey. Mr. Moon later earned a Bachelor of Philosophy and Religious Studies degree from the University of Birmingham in 2015.
He also earned a Master of Science in Sports and Fitness Administration from Washington State University. Hugo holds a Level 1 hockey coaching license as well as a Level 2 rowing coaching certification.
Katie and Hugo's live painting at their New Year's Eve wedding. Have a look at the post we have provided to you below:
View this post on Instagram
Moon began his coaching career as the Senior Women's Rowing Head Coach at the University of Warwick, where he worked for 11 months.
Hugo came to Washington State University as the Club Women's Rowing Head Coach in 2016 after serving as a graduate assistant at Canford School in the United Kingdom for a year.
From 2019 until 2022, the Olympian's husband also served as Head Coach and Rowing Director at Gainesville Area Rowing Inc.
You can also read about the husbands of other celebrities in the following posts:
When Did Katie Moon and Hugo First Meet? Marriage and Children
Katie Moon and her husband Hugo met in 2018 while living in Pullman, Washington, on the dating app Tinder. Katie was training for the pole vault competition at Washington State University at the time, while Hugo was working on his master's degree while also coaching the club rowing squad.
After three years of dating, the couple got engaged in November 2021 in Cleveland, Ohio. Katie Moon, an American Olympian, married her husband, Hugo Moon, on New Year's Eve 2022 at the Double Tree by Hilton.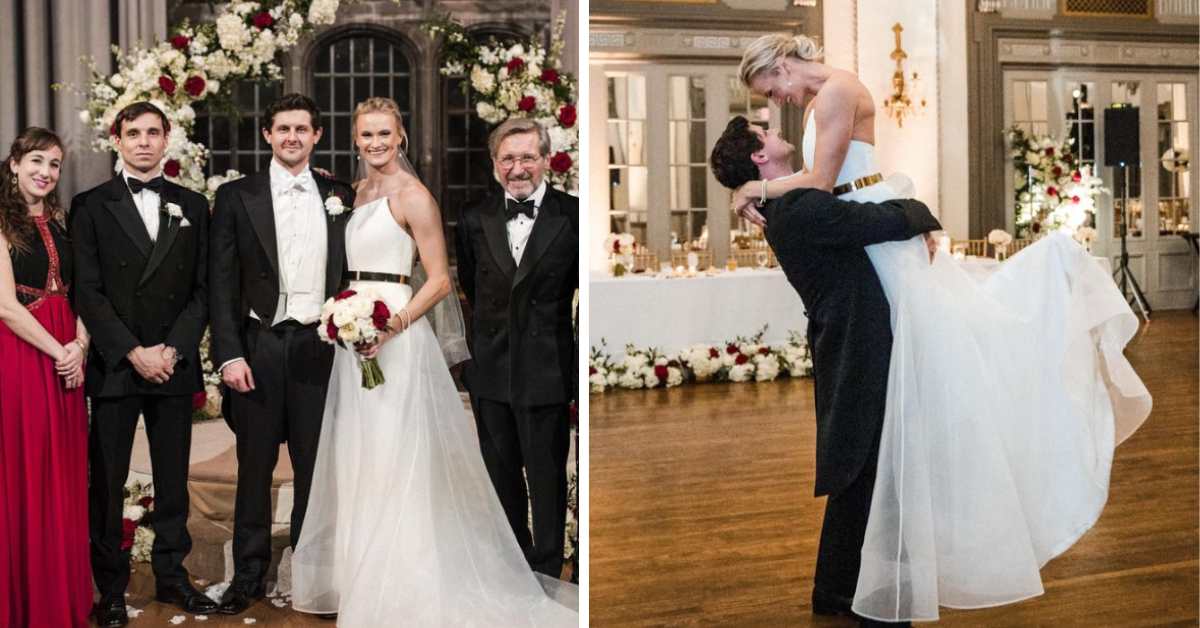 "This year will be VERY hard to beat. I love you the most Hugo Moon, and I can't wait to be your stage 5 clinger for the rest of our lives." Katie posted a photo of her engagement ring on Instagram.
Katie, the pole vaulter, and her husband, Hugo Moon, do not have any children. They do have a cute pet doggie. Furthermore, the pair is frequently spotted together on vacation, most recently on their honeymoon in the Maldives.
This is all we know about the sweet couple at this time. if you want to know more details, you can join us on our Twitter account.