Joe Burrow is a football player who plays as a quarterback for the Cincinnati Bengals. He started playing in the NFL in 2020 after being drafted by the Bengals as the first pick.
Before that, he played college football for Ohio State but really made a name for himself when he transferred to Louisiana State University (LSU) in 2019 and led LSU to victory. In his first NFL season, he faced a setback because of a knee injury and had to spend time on the injured reserve.
However, he made a strong comeback in 2021, winning the NFL Comeback Player of the Year award and becoming the NFL Completion Leader.
He even made his debut in the Super Bowl in 2022. Joe Burrow has had quite a journey in football, from college success to NFL challenges and ultimately achieving recognition in the NFL.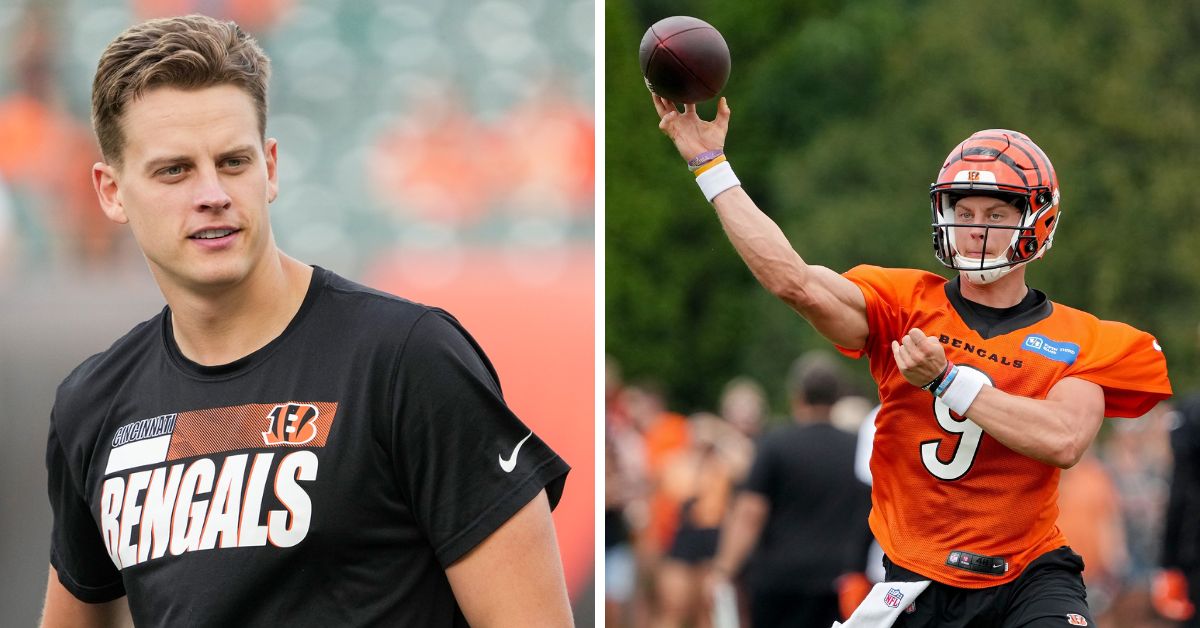 Joe Burrow's Early Life and Background
Joe Burrow comes from a family with a strong sports legacy. His family has a history of athletic achievements. One of his grandmothers set a high school basketball record in Mississippi in the 1940s with an 82-point game. His paternal grandfather played basketball at Mississippi State.
Joe was born to parents Robin and James Lee Burrow on December 10, 1996, in Ames, Iowa. His father, known as Jimmy Burrow, was a college football coach at the time.
Joe has an uncle and two older brothers who also played football on defense. His dad, Jimmy Burrow, not only played as an all-star defensive back in the Canadian Football League and the National Football League but also later became a retired college football coach.
In 2002, when Joe was a child, his family attended the Rose Bowl for the first time due to his father's role as an assistant coach for the University of Nebraska in Lincoln. They moved to North Dakota in 2003 when his father became the defensive coordinator at North Dakota State University in Fargo.
After spending two years in Fargo, they moved to Athens, where his father became the defensive coordinator at Ohio University. These moves and his dad's coaching affiliations shaped Joe's early years.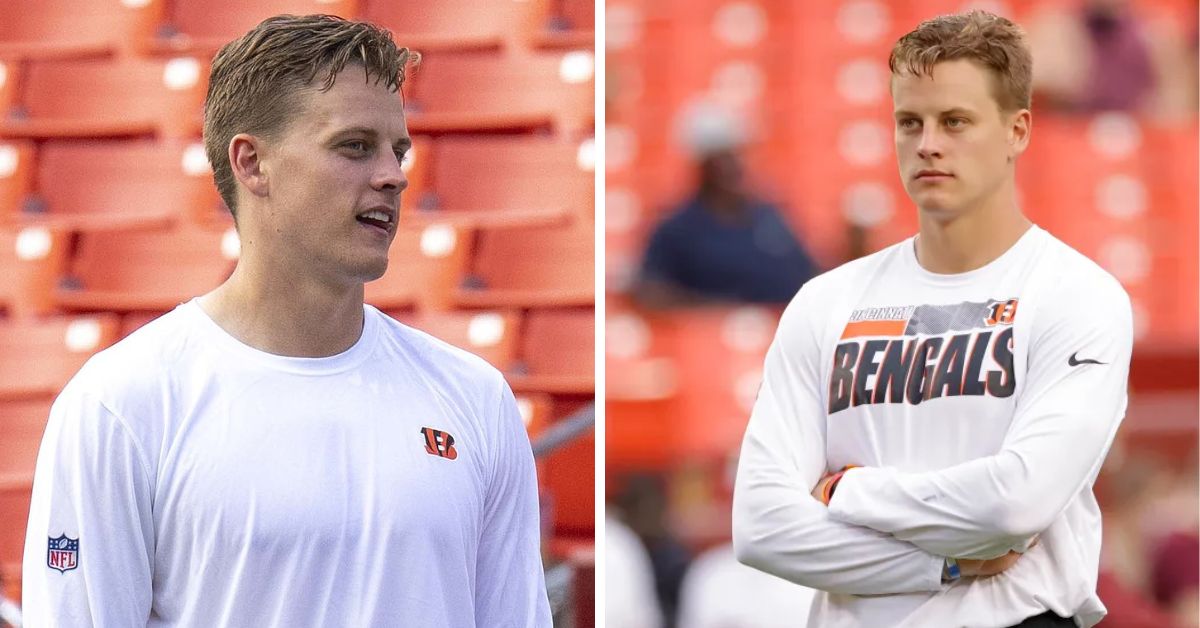 Joe attended Athens High School from 2011 to 2014. It was here that he began to excel in football, leading his school to three consecutive playoff appearances and the first seven playoff victories in the school's history.
During high school, he threw for 11,416 yards with 157 passing touchdowns and rushed for 2,067 yards with 27 rushing touchdowns.
He earned recognition by receiving the state's Mr. Football Award and the Gatorade Player of the Year award as a senior in 2014. He also displayed his basketball skills and was named first-team all-state at point guard in his senior year.
Burrow was highly regarded as a football recruit, earning a four-star rating, and was the eighth-ranked dual-threat quarterback in the class of 2015.
He committed to Ohio State to play football in May 2014. In December 2019, the Athens City School District school board decided to rename the school's football stadium in his honor.
Playing for LSU, Burrow achieved significant milestones. He set the SEC single-season touchdown record during the SEC Championship Game, throwing four touchdowns in LSU's 37–10 win over Georgia.
This victory secured LSU's spot in the College Football Playoff. Burrow also holds the record for the most touchdowns in a single season in NCAA Division I Football Bowl Subdivision (FBS) history.
In his senior year opener against Georgia Southern, Burrow threw for 278 yards and five touchdowns in a 55–3 win. He was named SEC Co-Offensive Player of the Week.
Following a remarkable season with over 5,600 passing yards and 60 touchdowns, Burrow received the prestigious Heisman Trophy and Maxwell Award.
He also won several other awards during his college football career, including the Walter Camp Award, Johnny Unitas Golden Arm Award, Davey O'Brien Award, Lombardi Award, and Manning Award.
Check out some other new content we've published:
Joe Burrow's NFL Journey
Joe Burrow began his NFL career with the Cincinnati Bengals. He was the only rookie quarterback to start in the opening week of the season after the draft.
In his second game against the Cleveland Browns, he threw his first career passing touchdown, a 23-yard pass to C. J. Uzomah. Despite the Bengals losing that game, Burrow attempted 61 passes, completing 37 of them for 316 yards and three touchdowns, setting an NFL record for rookie quarterbacks.
Two weeks later, Burrow earned his first career win by defeating the Jacksonville Jaguars. He also became the first rookie quarterback to throw for 300 or more yards in three consecutive games.
Joe Burrow's Instagram Post:
View this post on Instagram
However, in the 11th week of the season, Burrow suffered a severe knee injury, tearing his ACL and MCL in his left knee while throwing a pass against the Washington Football Team. After undergoing rehabilitation, Burrow made a strong comeback in the 2021 season, starting from the first week and helping the Bengals secure a 2-1 win.
One of his remarkable performances in 2021 was against the Baltimore Ravens in the 16th week of the season when he threw for 525 yards, the fourth-most passing yards in a single NFL game in history.
He also broke Boomer Esiason's franchise record for the most passing yards in a game. Burrow's contributions led the Bengals to their first playoff appearance since 2015 and a spot in Super Bowl LVI.
In the 2022 season, Joe Burrow continued to play for the Cincinnati Bengals. In the second week of the season, he threw for 481 yards against the Atlanta Falcons and was named AFC Offensive Player of the Week. On December 21, 2022, he was selected to the Pro Bowl for the first time in his career.
Joe Burrow Team
Cincinnati Bengals (2020-Present)
In his first season with the Cincinnati Bengals, Burrow achieved numerous milestones, including becoming the first rookie quarterback to throw for 300 or more yards in three consecutive games.
Despite his season being cut short by injury, he made a significant impact, such as being the first rookie in NFL history with at least 400 passing yards, three passing touchdowns, and a rushing touchdown in a single game. He also completed more passes (221) than any other player in NFL history during their first eight games.
In his second season, Burrow led the Bengals to victory against the Kansas City Chiefs, securing the club's first playoff berth since 2015. His performance in the playoffs ended the Bengals' playoff win drought, and they achieved their first victory in a playoff game on the road since the 1990 season.
Burrow played a crucial role in the Bengals' historic win against the Chiefs in the AFC Championship Game, leading them to their first Super Bowl appearance in 34 years.
BREAKING: The Cincinnati Bengals have signed QB Joe Burrow to a 5-year, $275 million extension that includes $219.01 million guaranteed and makes him the highest-paid player in NFL history. #Bengals #Burrow pic.twitter.com/z6p6YrMROc

— Chase Barnes (@ChaseBarnes26) September 8, 2023
Joe Burrow's Net Worth
Joe Burrow has a net worth of $10 million, primarily earned from his NFL career. He has a unique approach to managing his earnings, choosing to save all his NFL income and relying on endorsement deals for his expenses.
Joe Burrow's NFL Contract
In his rookie contract with the Cincinnati Bengals, Joe Burrow signed a four-year deal with the option for a fifth year. The total value of this contract is $36,190,137, with the entire amount fully guaranteed at signing. He received a signing bonus of $23,880,100, and his average annual salary is $9,047,543.
Follow us on Twitter for more updates on Joe Burrow and other sports stars.