Fans are eagerly waiting for the release of "HellDivers 2," which is the sequel to the popular shared twin-stick shooter game "HellDivers." The first "Helldivers" game was made by Arrowhead Game Studios and was known for its intense gameplay, difficult tasks, and strategic teamwork. In this opening, we'll dive into the exciting world of "HellDivers 2" and talk about when it will come out.
As players work together to protect Super Earth, they can expect more space fights, epic encounters with aliens, and even better teamwork. Since the first game did so well, fans have high hopes for the second one and are counting down the days until they can join the fight again.
Helldivers 2 Release Date
Thanks to today's State of Play, we finally get a better look and a release date for Helldivers 2 after a brief tease earlier this year. On February 8, 2024, it will be released for the PS5 and PC.
HELLDIVERS 2™ shared a post on Twitter:
ICYMI: At the #StateofPlay we revealed HELLDIVERS 2 is launching February 8, 2024! Pre-orders start on September 22.

More details and our latest gameplay video here: https://t.co/92CWS5w8Et
Join us on Discord: https://t.co/PLoytWjYsa pic.twitter.com/YG4kPgNW1Y

— HELLDIVERS 2™ (@helldivers2) September 15, 2023
Given that it was initially scheduled to be released at the end of this year, this represents a slight delay. Pre-orders for both the Standard Edition and the Super Citizen Edition will start on September 22.
The new gameplay footage provided a sneak peek of some of the cooperative gaming aspects as players battled a huge bug-like creature known as the Bile Titan.
Players will be able to work with up to three people to "explore unique planets and complete objectives together, and upgrade your equipment through the deep progression system of Helldivers 2," according to a PlayStation blog post that Arrowhead Game Studios issued alongside the trailer.
As the follow-up to the top-down shooter Helldivers, Helldivers 2, it was first confirmed in May that it will be released for PC and PS5. The original game received a 9/10 rating from IGN, which also praised it for being "brutal, focused, and mechanically rich" despite not being the prettiest game available for the PS4, PS3, or Vita.
Here you can also check our recent articles:
Helldivers Gameplay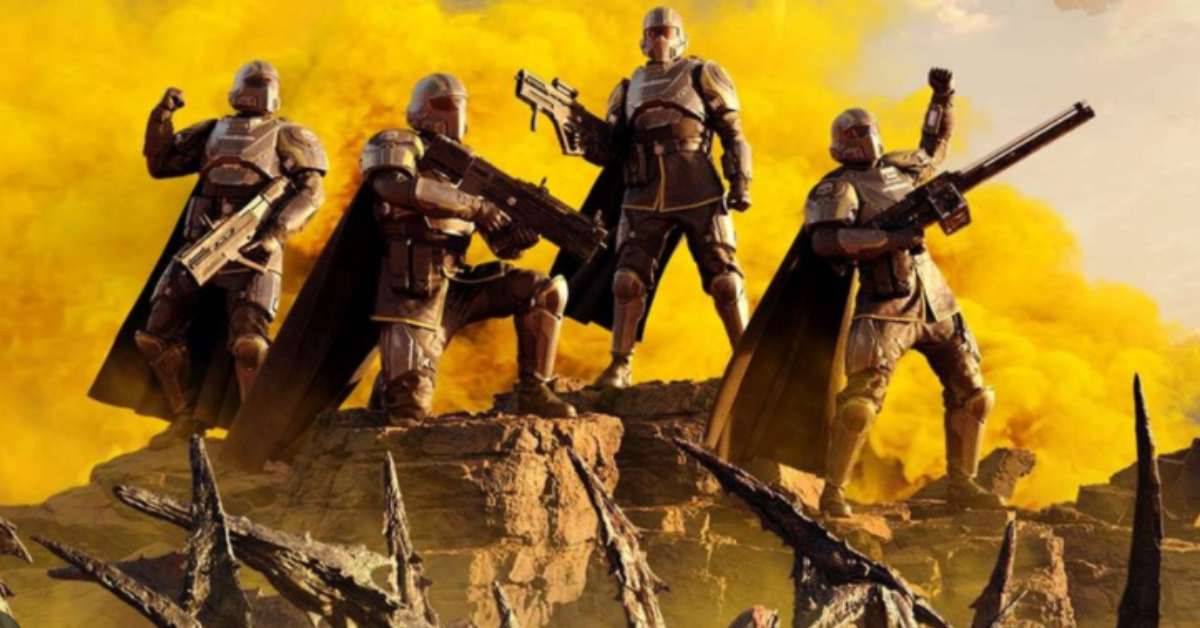 Helldiver players must coordinate their tactics amid chaotic combat to fulfil goals and prevent friendly-fire fatalities. The player must defend Super Earth from three enemy species. On procedurally-generated missions, players must complete goals.
At the start of each mission, players can choose their loadouts and deployment positions and use the game's stratagem feature to add alternatives to suit the map or their play style.
The player may choose stratagems that increase firepower, mobility, or support, such as calling in an airstrike on certain areas of the battlefield. The game has one difficulty, however, players can choose a hard or easy planet for missions. This altered with development.
Each mission requires fighting or sneaking through enemy-controlled areas to achieve goals and escape via drop ship. Some aims can be failed without losing. Due to the enemy's limitless reinforcements and the lack of in-game rewards for defeating foes, avoiding direct battle is usually best.
The game retains genre mechanics like Fog of War and a map that displays visible adversaries. Attackers patrol their zone, preventing players from completing tasks. If hostile units touch the player(s), they will sound an alarm, triggering waves of enemy reinforcements.
Avoiding enemy patrols can prevent alarms, and destroying all units aware of the player or fleeing can cancel them. After completing or failing all mission objectives, the player must call a dropship and flee with their surviving forces. This takes 90 seconds and draws enemy attention to the landing zone, causing severe fighting. Entering the dropship finishes the mission.
Multiplayer
In line with Magicka, another game from Arrowhead Game Studios, friendly fire is an always-on feature that cannot be turned off. This includes the players' own weaponry as well as other, indirect sources like placed turrets and air support.
Allies can be destroyed through supply drops or vehicle deployments as well. This necessitates the players carefully planning their activities during the game's numerous chaotic combat scenes, or taking proactive steps to reduce these dangers, such as upgrading turrets to stop shooting when player units enter the line of fire or selecting weapons that fire over teammates.
However, there are practical advantages to multiplayer because allies can heal or supply ammunition while also aiding a downed unit's recovery. Some heavy weapons have a backpack that lets a second player assist with reloading, and the group can share some resources.
Even in online play, it is possible to allow arbitrary players to join a mission that is already underway; however, this functionality can be disabled if preferred.