In February 2020, Netflix will premiere the first season of "Love Is Blind." Two years later, the show has evolved into a reality TV hit, spawning actual couples – but who is still together in 2022, Season Four included?
Seasons one and two focused on groups of singles looking for love, while Season three introduces a new group of five couples. They had to connect with potential suitors via pods in order to find it, and then get engaged without knowing what their spouse looked like.
So far, 17 couples have left the pods engaged over the course of three seasons. However, not every pair made it to the grand finale unscathed. Some couples opt to divorce on their wedding day, in front of their friends and family, while others divorce after the cameras stop filming.
Some viewers are skeptical of the show's concept and poor success rate, questioning whether it can truly assist single people in finding love.
Despite the criticism, the show has resulted in long-lasting relationships, including a surprise couple from Season Two.
With the premiere of Season Four of "Love Is Blind" having aired, take a look at all of the contestants who have been engaged on "Love Is Blind."
Season 1 Couples
Lauren Speed-Hamilton and Cameron Hamilton
The Hamiltons are one of the most well-known couples from "Love Is Blind." Despite Lauren's reservations throughout the season, her bond with Cameron was evident. They closed the season by saying "I do."
Relationship status: They are still married. In their "After the Altar" special, they talked about being madly in love, and they brag about their relationship on Instagram.
View this post on Instagram
Amber Pike and Matt Barnett
Amber and Barnett's season got off to a difficult start. In the pods, Barnett flirted with contestant Jessica Batten, and the couple later had difficult conversations about their finances. In Season One, they worked through their issues and married.
Relationship status: They are still together, but they were still involved in drama during the "After the Altar" special.
Jessica Batten and Mark Cuevas
Jessica and Mark were engaged despite Jessica's emotions for Barnett. The two had problems, with their 10-year age difference frequently coming up in conversation (Jessica, who was a decade older than Mark, thought they were at different stages). Jessica called it quits with Mark on their wedding day.
Relationship status: They broke up. Jessica and Mark are both in new relationships that are going well. Jessica previously confirmed her engagement to Benjamin McGrath. According to People, the couple will marry in September 2022.
View this post on Instagram
Jessica revealed that the newlyweds are expecting their first child together in January 2023. Meanwhile, Mark and his wife Aubrey Cuevas had two sons. According to US Weekly, the couple married on September 4.
Season 2 Couples
Natalie Lee and Shayne Jansen
One of the couples that appeared to be certain to end the season as husband and wife were Shayne and Natalie. But Natalie disclosed that she and Shayne had a quarrel the night before their wedding.
Relationship status: They parted ways. Natalie informed him that she could not marry him and that they needed to resolve their difficulties at the altar. Outside the venue, Natalie was accosted by Shayne, who then left the scene.
Natalie acknowledged that the two were no longer together on the "After the Altar" special because she could not take Shayne's purported lying about his friendship with Shaina.
Salvador Perez and Mallory Zapata
Throughout the entire season, Sal and Mallory had doubts about the sustainability of their union. After meeting the pair, Mallory's sister expressed doubt and decided not to attend the wedding.
Relationship status: They broke ways. Sal said he couldn't wed Mallory after they exchanged vows. They left the door open for a prospective reconciliation, but by the time the reunion was taped, they had already broken up. Sal asked his new girlfriend to join the cast for Natalie's birthday celebration during "After the Altar," and she accepted.
Jarrette Jones and Iyanna McNeely
Iyanna and Jarrette's relationship was rocky to start. Mallory initially turned down Jarrette's marriage proposal. Then he proposed to Iyanna, and she answered "Yes." They became closer as the season went on, but Iyanna frequently questioned whether Jarrette would consider her as a backup plan.
Relationship status: They separated ways. Iyanna and Jarrette shared a joint statement on Instagram in August announcing they were divorcing. They stated, "While we have love for each other, our lives are going in different directions, and that's okay. Coming to this decision was far from easy and we will always wish each other the absolute best."
Season 3 Couples
Alexa Alfia and Brennon Lemieux
During their initial talk, Alexa and Brennon were fixated on one another. They became friends because of their similar senses of humor and shared family values.
Brennon and Alexa were both interested in hearing about each other's cultural and religious backgrounds even if they do not share the same religion. Brennon and Alexa's first encounter ended with a lengthy embrace after Alexa declared she would marry him.
Relationship status: They're still a unit. No episodes featured Alexa and Brennon disagreeing, and it appeared like both of them were happy with their relationship. He made a promise to her during his vows that their love would be "never-ending."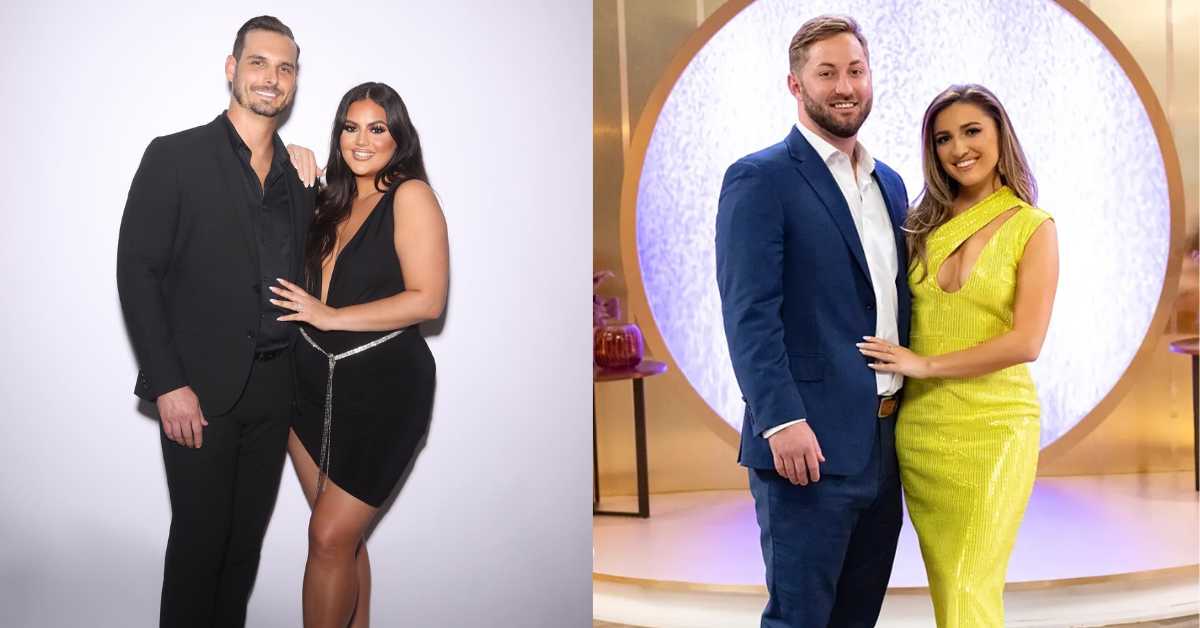 Colleen Reed and Matt Bolton
In Season Three, when fans first encountered Colleen, she was growing close to Brennon and Cole. Brennon, however, admitted to Colleen that he had no plans to marry her. Following her admission that she rarely has "deep" chats with her significant others, Colleen and Cole parted ways.
Until Colleen chose to give Matt another chance, she sobbed and believed the experiment was finished. Matt talked about the value of marriage and how his first wife's affair left him distraught. After a brief period of courtship, Reed excitedly decided to marry him.
Relationship status: They're still together. After watching Colleen walk down the aisle, Matt promised his buddies that he would decide for sure.
When he saw her in her wedding attire, he broke down in tears and declared his love for her. Colleen claimed that she had been looking for a best friend and that she believed Matt to be the one. She said, "Matty, I do," when asked if she wanted to wed Matt. "No matter what I will be there for you. I love you so much."
We also have some other articles about Love Is Blind couples. You can check these articles below:
Season 4 Couples
Tiffany Pennywell and Brett Brown
Tiffany was introduced as a self-assured woman in her mid-thirties who was looking for love in the Season Four opener. In the pods, she immediately bonded with Brett, a stylish design director. Before an unexpected and amusing catastrophe, the two developed a close bond and appeared to be on the verge of getting engaged.
Tiffany passed out in the midst of an emotional chat as the first episode came to a close. While Brett was declaring his love for her, she fell asleep, making him question their relationship.
She apologized to Brown after confusing and hurting him with her silence on the other side of the wall. She described what had happened at their subsequent meeting, and the two made amends. Before embarking on a romantic trip to Mexico, the couple became the first in Season Four to become engaged and get to know one another.
Relationship status: They're still together. Brett and Tiffany gladly exchanged vows at the altar and are now relishing married life. They moved in together in Portland when the filming was finished.
The pair revealed at the reunion that Brett's photos of Tiffany from the show are now on display in their home. When they went on their "final date," he presented his future wife the images.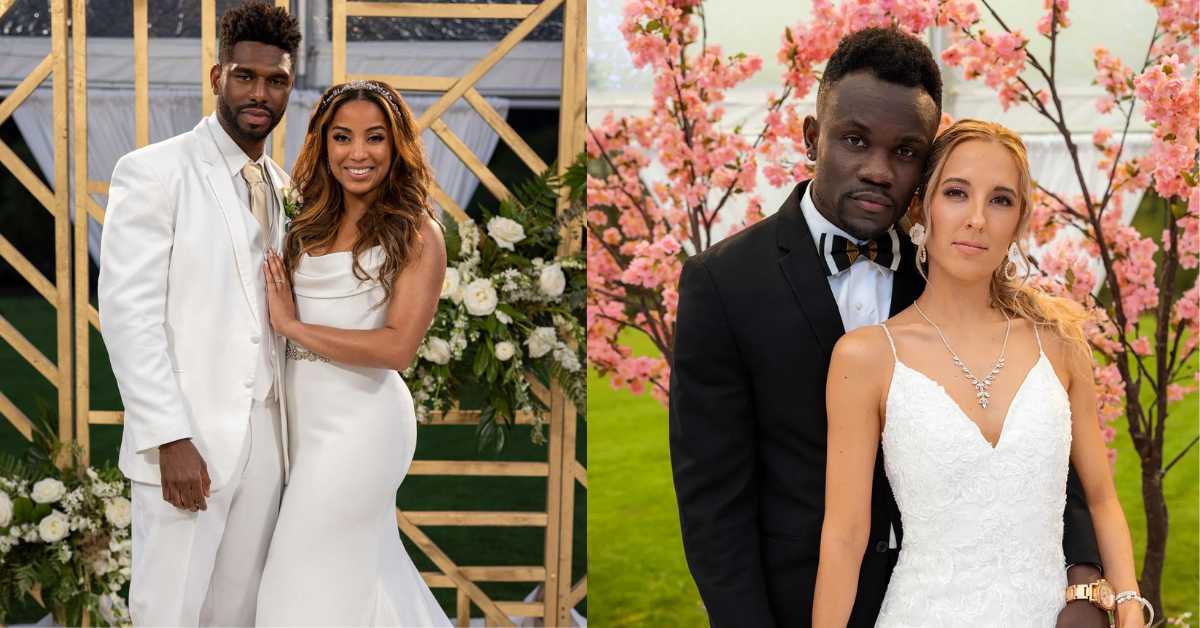 Chelsea Griffin and Kwame Appiah
Kwame spoke with Chelsea, a lively pediatric speech-language pathologist, as he got to know Micah. Kwame appeared a little hurt when Micah broke things off, but he made the decision to give Chelsea his full attention. Chelsea was in love with an original song he wrote for her called "Real Love" before she consented to marry him. After they first met, Chelsea was gushing about how much she liked her fiance.
Chelsea noticed Kwame and Micah's protracted and slightly uncomfortable talk during a pool party in Mexico. When Chelsea and Kwame spoke, she admonished him firmly that she should come before Micah. He told Chelsea that he was certain of his choice to ask her to marry him. She urged him to put their relationship first rather than his connection to Micah in the past.
Relationship status: They're still together. When they both decided to say "I do," they surprised most of their followers. Despite the fact that they frequently had trouble coming to an amicable arrangement, they came to the realization that they wanted to spend the rest of their lives together. During their reception, they made fun of each other and raised a glass to "forever."
Zack Goytowski and Bliss Poureetezadi
In Seattle, Zack and Bliss met up again to talk about their breakup. He acknowledged making a mistake in the beginning and expressed a desire to attempt dating once more. Bliss concurred, and the two resolved to take things day by day in their relationship.
He sought to impress her by preparing a fancy steak dinner as they got to know one another better. However, he unintentionally damaged the steak, forcing the two of them to improvise. The duo was gently dancing around his kitchen by night's end.
Zack and Bliss recapped their brief separation as they boarded a yacht in Episode Eight. Then Zack got down on one knee and proposed to her. They kissed after she replied "yes". He got engaged to two ladies in less than three weeks, they joked. The couple was especially concerned about the reaction of their family. It feels stupid that I knew before you did. Bliss chuckled as she said to her fiancé, "I feel so stupid.
Relationship status: Their relationship is still going strong. Love seems to be an endless state of happiness. Zack revealed at their wedding that he had known Bliss was the one for him from the time he bid her farewell. After they split up, he remembered feeling lonely and depressed because of how much he had grown to love her.
The couple made it clear they were still happily in love when they arrived at the reunion wearing identical purple clothes. Bliss disclosed that her father is funding the couple's impending honeymoon vacation to Panama.