Football fans and fantasy football aficionados alike have recently turned their attention to Cooper Kupp, the outstanding wide receiver for the Los Angeles Rams. His injury status has sparked rumors and debates about how it might affect how well the Rams perform.
Many people were concerned about the severity and length of Kupp's absence from the field when he sustained an injury during a game despite being well-known for his exceptional skills and constant contributions to the team. Fans are eagerly awaiting information on when they might anticipate seeing this brilliant receiver back in action as more updates on his condition become available.
Cooper Kupp Injury
Due to a persistent hamstring ailment that has bothered him since last season, Cooper Kupp is still sidelined for the Rams. The top wide receiver couldn't even return if he wanted to because he was put on injured reserve at the beginning of the season. As a result, he will be out until at least Week 4, which means he won't play when they meet the Indianapolis Colts on Sunday.
Week 1 injuries we're monitoring…

QB:
+ Joe Burrow (calf)

RB:
+ ???

WR:
+ Cooper Kupp (hamstring)
+ Jerry Jeudy (hamstring)
+ Christian Watson (hamstring)
+ Marquise Brown (hamstring)
+ Terry McLaurin (toe)
+ JSN (wrist)

TE:
+ Travis Kelce (knee)
+ Mark Andrews (quad) pic.twitter.com/8JtB0uzgWD

— Scott Barrett (@ScottBarrettDFB) September 6, 2023
Kupp met a specialist to learn more about his issues with his hamstring ailment after the most recent update on his condition came out earlier in September. Sean McVay recently mentioned that there is a chance that Kupp could return by Week 5 following his time on the injured reserve, despite his refusal to provide a recovery timeline.
While Kupp's return is still a few weeks away, it seems like he is headed in the right direction. Coach Sean McVay told the reporters on Friday that he is hopeful that Kupp will return as soon as possible in Week 5, but he cautioned against getting too excited.
McVay expressed optimism about the situation."I want to be careful to say, but the reason that we put him on IR was so that you know if it's going to be those four weeks that he's mandated to be able to miss and then we can take him off of the IR and be available for that fifth week. That was the reason that we made that decision that we did last week because you don't know what's going to really come up."
Kupp has only played two complete seasons out of six so far in his career, which has been plagued by injuries. The good news is that he is an excellent manager of the rehabilitation process. Kupp was described by McVay as a "resilient guy" and commended for his reaction to the circumstance.
The Rams' other receivers have had to step up with Kupp out of the lineup. In the first game of the season, two such receivers—freshman Puka Nacua and second-round pick Tutu Atwell—responded with 119 yards each. On Sunday, Kupp had a significant impact from the sidelines as the two young receivers excelled.
"It's one thing when we're saying it, it's another thing when Cooper is explaining it… He's Coach Kupp right now and I think one of the coolest things that he's doing is he's finding ways to make (a) tremendous impact on this team even though he is not able to be out on the field," McVay said.
If he continues to heal properly, Kupp will return to the field sooner rather than later. This is probably all he wants.
Here you can also check our recent articles:
Which Players Are on IR in Week 4?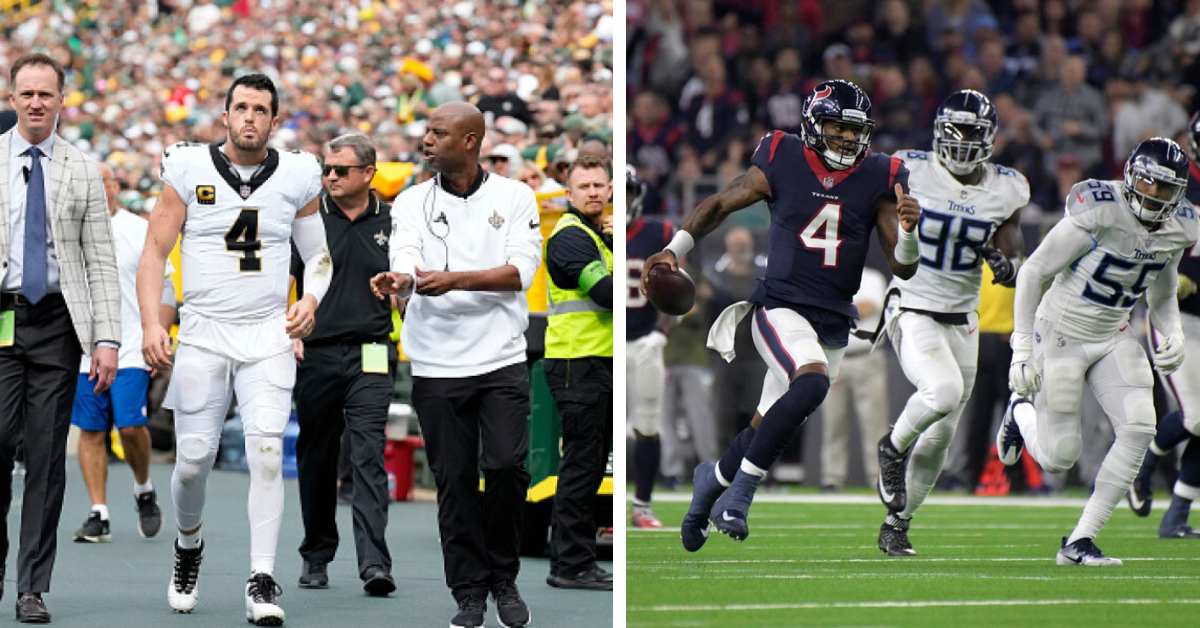 Aaron Rodgers, QB, New York Jets
Many believed the Jets' season was finished when Aaron Rodgers suffered a torn Achilles after just a few snaps. However, there is some optimism because Rodgers had a novel procedure to heal his Achilles, which might speed up his recuperation. He might be available for the playoffs, according to sources; the Jets simply need to get there first.
Chase Edmonds, RB, Tampa Bay Buccaneers
Chase Edmonds' MCL was hurt in Week 2, and the Bucs put him on injured reserve. Edmonds will now be out for a minimum of four weeks. The Buccaneers will continue to rely on Rachaad White to handle the load, but future managers have to keep an eye on rookie Sean Tucker.
Cooper Kupp, WR, Los Angeles Rams
Many have been pleasantly impressed by the Los Angeles Rams' ability to maintain the offense without Cooper Kupp. After suffering a relapse from a hamstring injury sustained during the preseason, Kupp was placed on injured reserve. He is qualified to return the following week.
Although head coach Sean McVay has stated he is confident about Kupp's return in Week 5, the Rams could easily give him more time to recover given that Puka Nacua and Tutu Atwell are handling the weight. Managers will be looking for Nacua to step into Robert Woods' shoes when Kupp eventually returns.
Diontae Johnson, WR, Pittsburgh Steelers
After suffering a hamstring injury in Week 1, Steelers WR Diontae Johnson was placed on injured reserve. With Pittsburgh having a bye in Week 6, the Steelers defense has been dominant, Kenny Pickett is advancing, and Johnson's return in Week 7 seems very likely. The largest target hog will still be George Pickens, but Pat Freiermuth's usage should rise. He got a touchdown and 41 yards in Week 3.
Kyler Murray, QB, Arizona Cardinals
There seems to be greater motivation for Kyler Murray to come off injured reserve now that the Arizona Cardinals have shocked Dallas this week. Since Arizona is gradually dropping out of the Caleb Williams lottery, Murray might attempt to return sooner than his final necessary week on the PUP if we see the Cardinals pull off another victory.