PopularMMOs, a well-known YouTuber who has already been in legal issues because of a pitch intrusion incident, has been detained once more. The American YouTuber, 34, is most known for his vlogs and Minecraft videos. Patrick Thomas Julianelle is the man's real name.
The PopularMMOs channel, which featured Pat and his ex-wife Jen in the past, has over 17.2 million subscribers and is one of the most popular on social media.
PopularMMOs Arrested Again: Is He Now Behind Jail?
Regarding a pitch invasion incident that occurred during the Jacksonville Jaguars game at TIAA Bank Field (November 6, 2022), PopularMMOs and two other men were detained.
The three men who allegedly raced onto the field and recorded the stunt—Patrick Julianelle, 34; Michael Richmond, 24; and Ethan Davies, 25—appeared in court. The judge said, "That was a really stupid thing y'all did yesterday," at their first court appearance.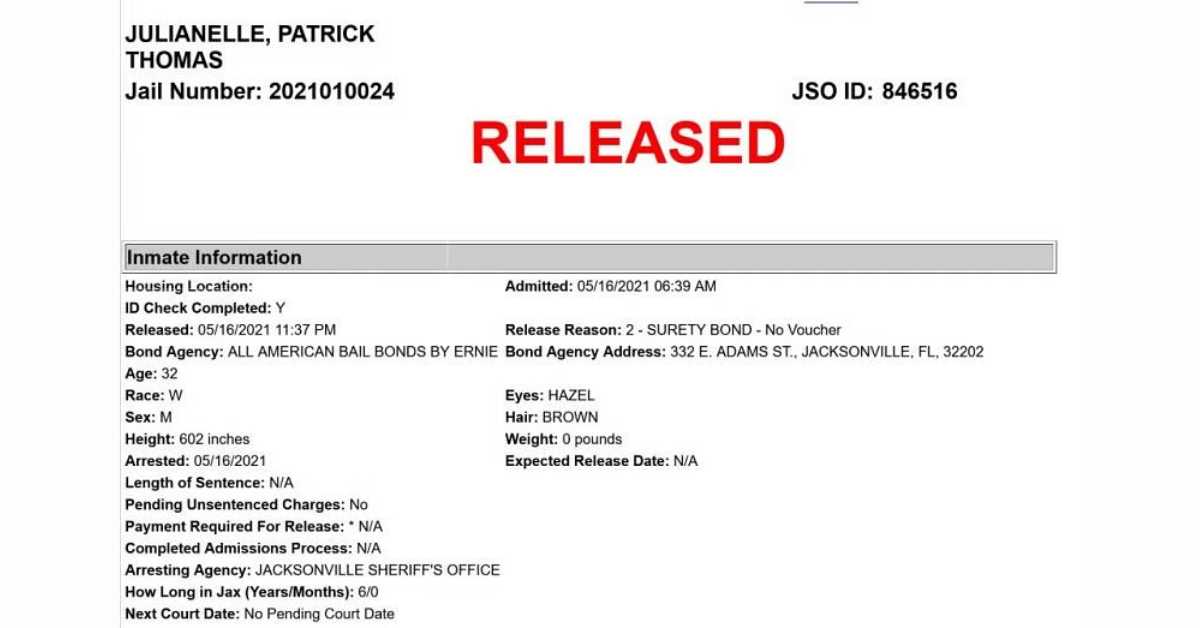 Criminal conspiracy and breach of peace charges were brought against Patrick and Michael, who recorded the entire incident. Ethan, who fled, was accused of causing criminal damage and disturbing the peace. Michael is also charged with narcotics offenses.
According to the Sheriff's report, Ethan entered the field with a football while the game was still in progress and kept running, bringing it to a full halt. The game experienced a delay of 1 minute and 42 seconds as a result of his intrusion.
Staff from ASM Global rushed onto the pitch and helped Ethan to the ground. Also taken were their cell phones.
PopularMMOs Previous Arrests: What Charges Against Him?
PopluarMMOs, a YouTuber, has previously been detained and charged twice. Online records from Duval County, Florida show that Pat was detained on a domestic assault charge last year. He was arrested by the Jacksonville Sheriff's Office at 11:15 p.m. on May 16, 2021.
According to a police report from Heavy.com, Pat and Liz were detained because they provided "opposing stories."
Pat claimed on Twitter that he was the target of "false accusations." He said, "Don't believe everything you hear. I will need to address the false accusations soon."
CLAP BACK: Patrick Julianelle aka PopularMMOS responds to court documents posted yesterday to Instagram alleging he had been arrested. Pat says "Don't believe everything you hear. I will need to address the false accusations soon." pic.twitter.com/vnhzyc5vR5

— Def Noodles (@defnoodles) May 19, 2021
He mockingly praised Eleni, his former girlfriend, for finding out his address and bothering him and Liz. He wrote, "You are a terrible person." Pat was ultimately freed after posting a $2,503 bond. Pet's status as of May 19, 2021, was "out of custody."
His ex-wife, Jen, liked a tweet on May 18, 2021, that said Pat enjoys abusing women, which only served to make matters worse. She later answered, claiming that Pat had never touched her in their 10 years of dating and that she only loved it by chance. Similar to this, Pat was detained once more for assault with a deadly weapon on June 20, 2022.
If you want to know which other celebrities have been arrested, please see the following posts:
Additional Information on PopularMMOs: Bio and History
American YouTuber Patrick Thomas "Pat" Julianelle, well known online as PopularMMOs, is from the country. He posts videos of games like Fortnite, Roblox, and Minecraft. Also, he publishes vlogs.
In Kris Madas' YouTuber Intro Challenge, Pat was one of the 32 YouTubers who received special attention. He was given the Kids' Choice Award for Favorite in 2020.
His Minecraft series, including The Challenge Games and Epic Proportions, are his most popular works. Pat collaborated on roleplays, challenges, and amusing comments alongside GamingWithJen, who was a prominent character in almost all videos.
After their breakup in 2019, Pat took over the station and introduced Elizabeth "Liz" Heranek to his viewers. If you want to know what happened to your favorite celebrity, you can follow our Twitter account and view the most recent information.