The biggest season seven news right now is really gloomy, which makes it feel extremely awkward to begin a Rick and Morty post on a serious note.
Following allegations of domestic abuse, Adult Swim fired Justin Roiland, the co-creator of Rick and Morty and the voice actor for both of the show's titular characters, in January.
Adult Swim senior VP of communications Marie Moore released a statement saying, "Adult Swim has ended its association with Justin Roiland."
— Rick and Morty (@RickandMorty) January 24, 2023
In response to the accusations, Roiland's lawyer T Edward Welbourn stated:
To be clear, not only is Justin innocent but we also have every expectation that this matter is on course to be dismissed once the district attorney's office has completed its methodical review of the evidence.
Beginning with season seven, the roles played by Roiland will be recast. The program continues in the meantime, and we have no doubt that the massive staff behind it will ensure that season seven maintains the excellent caliber of the series.
For more details you can find the other articles that we have listed below:
To learn everything you need to know about Rick and Morty season 7 on Adult Swim and Channel 4, stay tuned.
When Will Rick and Morty Season 7 Be Premiere?
The wait is almost over, guys. Season seven of Rick and Morty will return to television on October 15. The news was released on Sept. 25 by the official Rick and Morty account on X /Twitter.
This is not a hologram. Rick and Morty Season 7 premieres October 15th @ 11pm #rickandmorty pic.twitter.com/qDYKYRtub5

— Rick and Morty (@RickandMorty) September 25, 2023
It previewed the continuation of the Rick v. Rick Prime tale and ended with a bearded Rick Sanchez stating, "Hunting him destroyed me, Morty, but now we're gonna do it together."
"You and me, it's gonna take over your life, Morty. Rick and Morty season seven, hunting my nemesis. You and me, Morty!"
Take what you will from that. Co-creator Dan Harmon recently told The Wrap that regular installments will now be released annually, which astonished him considering the tremendous delays this community has been accustomed to.
"This is the strangest thing I've ever said about the show and it still feels unreal to say it, but we'll be doing a season a year now," Harmon added.
"I still don't understand how that's possible. But that's why it never happened on my watch. [Showrunner] Scott [Marder] is able to keep us on a schedule that mostly involves being so ahead of schedule that we can actually release things in a timely manner."
Rick and Morty Season 7 Cast: Who Will Return for Season 7?
Even when doppelgangers are introduced into the equation, the core Smith family unit never changes, so you can anticipate all of the following cast members to return for Rick and Morty season seven:
Chris Parnell as Jerry Smith
 Spencer Grammer as Summer Smith
Sarah Chalke as Beth Smith and Space Beth
The new voice actor for Rick and Morty has not yet been announced as of this writing, however, executive producer Steve Levy and Cartoon Network CEO Michael Ouweleen recently discussed the search for a new voice actor.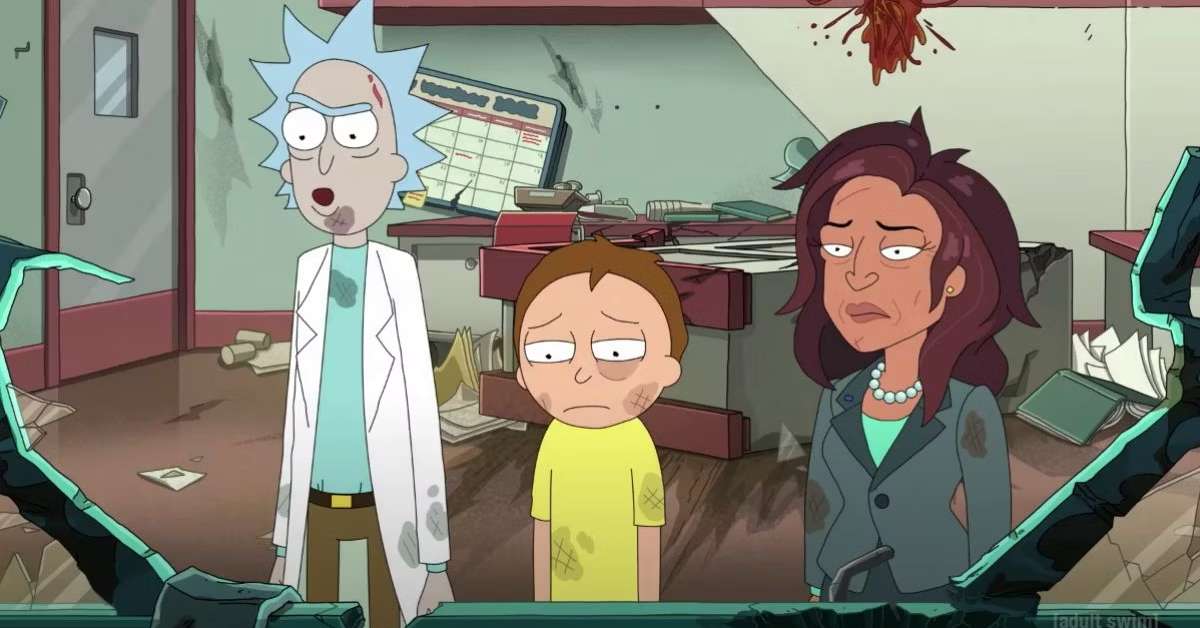 When Rick and Morty do make a comeback, the duo assured fans that they don't believe "anyone will bat an eyelid hearing the new voices" during an appearance at France's Annecy International Festival.
The writing quality has never been better, and all the screenwriters have remained, according to Levy (via Toonado). Nobody will likely object after hearing the new voices, in my opinion.
Due to Rick's recent personality changes and Susan Sarandon's comeback as everyone's favorite psychiatrist in the most recent season, we anticipate that Dr. Wong will return in season seven as well.
What Will Happen in Rick and Morty Season 7?
In a diatribe to Morty at the conclusion of the season six finale, "Rickitional Mortpoon's Rickmas Mortcation," Rick himself hinted at what will happen next:
"Rick and Morty season seven. Hunting my nemesis. Maybe trying to stay healthy while doing it, juggling plates – not every episode, Morty, it could be all happening in the background. Who knows?"
This implies that "Weird Rick," the villain who killed our Rick's Diane, would return as season seven's main antagonist. But after that? Now that season six has acceded to fan demands for more continuity, anticipate seeing more canon linkages.
In season six, Pissmaster and some incestuous love between Beth and Space Beth were introduced, just when you thought Rick and Morty couldn't get any squackery. So how is the squad going to top it in season seven?
In an endless multiverse, anything is conceivable, and Rick and Morty isn't exactly a show that hesitates to push the envelope. Therefore, season seven's interdimensional border is its boundary.
Check out these other posts about some upcoming movie and series release date:
Is There Any Rick and Morty Season 7 Trailer?
We can't jump into the future and bring you a new season seven video until Rick and Morty defies its 'no time travel' rule. You may see the updated release date teaser stated previously in this article by clicking here.
It's Rick v. Rick Prime – Season 7 premiere date drops next week #rickandmorty pic.twitter.com/G1jSO189nj

— Rick and Morty (@RickandMorty) August 15, 2023
Instead, you'll have to wait until later in autumn 2023, when new promos are expected to appear. Rick and Morty season 4 premieres on Adult Swim in the United States and on E4 and Channel 4 streaming in the United Kingdom.