Star Wars: Ahsoka's eight-episode run on Disney+ has come to an end, but if there's one lesson to be learned from the conclusion, it's that his tale is far from over. We already knew that Ahsoka, The Mandalorian, and Boba Fett from The Book of Boba Fett author Dave Filoni's upcoming live-action Star Wars film. But there's a high chance Ahsoka will have a Season 2 based on how the conclusion unfolds.
Let's explore the several loose ends from the Season 1 finale in more detail and see how the show lays the groundwork for both Filoni's film and likely Season 2 while we wait to find out what happens next for Rosario Dawson's Ahsoka and her companions.
What Happened in the Ahsoka Climax?
After defeating Morgan Elsbeth (Diana Lee Inosanto) and a group of zombie Night Troopers brought back to life by the Great Mothers, Ahsoka, Sabine, and Huyang (David Tenant) were left seemingly stranded on Peridea, but Sabine was able to use her newly honed Force abilities to get Ezra onto Thrawn's Star Destroyer before it launched into hyperspace.
When the ship returned to his home galaxy, Ezra was able to sneak out and find Hera Syndulla (Mary Elizabeth Winstead). We can only presume that the two will be on a mission to gather New Republic forces to halt Thrawn, whom we last saw en route to the Nightsisters' home planet of Dathomir, as well as to find a method to save his comrades, given that Ezra is aware of the situation.
Ahsoka, Sabine, and Huyang reunited with the local Noti on Peridea in order to disperse to a new hiding place. The three didn't appear to be making any efforts to leave the planet, but the episode's climactic scene revealed that none other than Ahsoka's former teacher Anakin Skywalker (Hayden Christensen) was keeping watch over them, and the conclusion concluded on a hopeful note.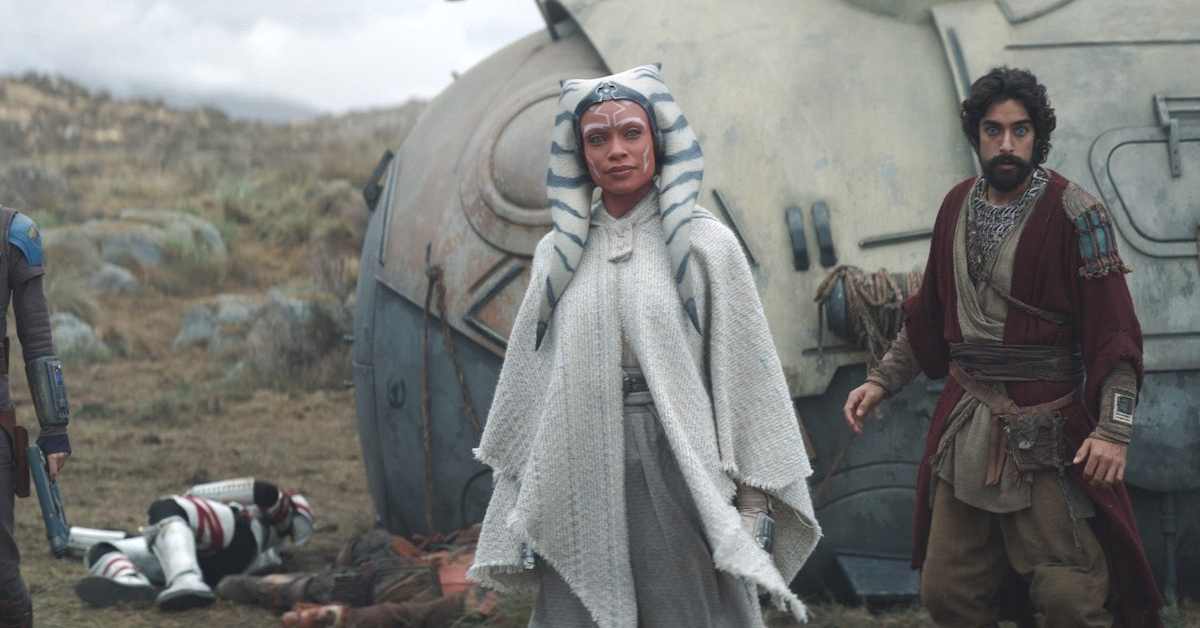 Ahsoka informed Sabine that "Ezra is where he needs to be, and so are we. It's time to move on."
There are also unanswered mysteries regarding what happened to mercenaries Baylan Skoll (the late Ray Stevenson) and his trainee Shin Hati (Ivanna Sakhno), who were also stranded on Peridea. The greater power that Baylan sensed and sought on the planet has not yet been made clear, despite the fact that Shin was shown joining up with a gang of thieves.
The power appears to have something to do with the Mortis Gods, ancient beings also known as the Ones, based on Baylan's final appearance. Baylan was pictured perched atop a large statue of the Father, who stands in for the balance of the Force, while the Son and Daughter sculptures stand in for the evil side and the light side of the Force, respectively.
Unfortunately, Baylan's story may need to be developed in a different way than what was first intended because Stevenson unexpectedly passed away weeks before Ahsoka's debut.
For more details, you can read the articles below:
What Happens Next in Ahsoka's Story?
If Ahsoka will return for a second season, Lucasfilm has not yet made a statement about it. Showrunner Dave Filoni, who oversaw The Clone Wars and Rebels as well as other animated Star Wars programs, is presently working on a new Star Wars film that is rumored to focus on Ahsoka and The Mandalorian.
Filoni only said that the movie will concentrate on a significant turning point for the galaxy when asked whether the film will be a "culmination" of those shows' connecting storylines—a narrative arc that currently appears to revolve around the fight to defeat Thrawn.
He told Empire, "To me, a theatrical experience has to have a big idea—a monumental moment in the time period that changes what's happening. You're looking for those moments that define an era, and that's what the films really should be about—whether it's characters coming together, or a defining moment."
We are incredibly thankful for the interest you have shown in reading our website. If you're looking for information on upcoming seasons, make Leedaily.com your go-to source.