There are times when the most unexpected couples win our hearts in the world of celebrity romance. And lately, the NFL has found itself in the middle of one such whirlwind with pop sensation Taylor Swift and Kansas City Chiefs' tight end, Travis Kelce.
The rumor mill has been buzzing with speculation about their relationship, and it seems the NFL has decided to embrace the hype, making them a focal point of their social media presence. But is it all too much? In this blog post, we dive deep into the Travis Kelce and Taylor Swift PDA saga, exploring why it's making waves in the NFL and whether the league might be overdoing it.
Taylor Swift and Travis Kelce: A Match Made in NFL Heaven
When two worlds collide, sparks can fly, and that's exactly what happened when Taylor Swift, 33, started attending Travis Kelce's games. The NFL, not one to miss a pop culture moment, began featuring the "Anti-Hero" singer on their social media platforms. They even went as far as changing their Instagram bio to proudly state, "The @Chiefs are now 2-0 with @TaylorSwift13 in attendance." Clearly, the league saw something special in this union.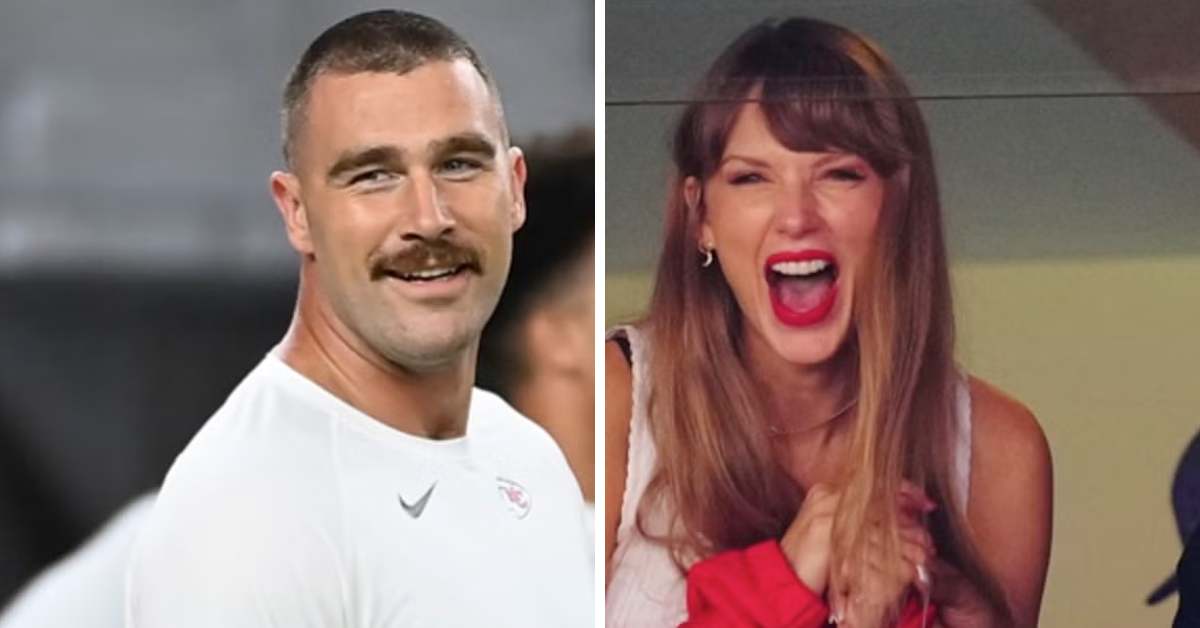 Also Check – Taylor Swift and Travis Kelce Dating – Have They Made It Official?
NFL's Defense: A Cultural Intersection
Amid the controversy and the whispers of whether the NFL was going too far with its celebrity coverage, the league stood firm. In a statement, they explained their decision, stating that they frequently adapt their bios and profile imagery based on what's happening both in and around their games and culturally.
The Travis Kelce and Taylor Swift buzz, they argue, represents an exciting intersection of sport and entertainment, drawing in a surge of positivity around the sport. While the majority of their content remains centered on the game, players, and various initiatives, this moment was too enticing to pass up.
Kelce's Take: Fun but Overdone?
Travis Kelce himself acknowledged the increased attention during an episode of his podcast, "New Heights with Jason and Travis Kelce Presented by Wave Sports + Entertainment." Jason Kelce, his brother and a center for the Philadelphia Eagles, questioned whether the NFL was "overdoing it" with its celebrity coverage, specifically in relation to Taylor Swift.
Travis admitted that while it's fun to show who's in the stands, the NFL might be going a tad overboard. He suggested that the NFL may be unfamiliar with handling celebrity attendees, in stark contrast to basketball, where celebrities are briefly shown, with the primary focus returning to the game. The essence of Travis's argument is that people attend NFL games to watch the sport, not to see constant shots of celebrities.
Taylor Swift, known for being relatively private about her personal life, attended the Chiefs' game to support her rumored beau. She was joined by an array of notable figures, including Sophie Turner, Blake Lively, Ryan Reynolds, Hugh Jackman, Sabrina Carpenter, and Antoni Porowski, as well as Brittany Mahomes, the wife of Chiefs quarterback Patrick Mahomes. The NFL seemed determined to capture every moment of this star-studded spectacle.
Also Look at – What's Taylor Swift's Literature Course All About? Check Here!
Behind the Scenes: A PDA-Filled Afterparty
The Travis Kelce and Taylor Swift romance didn't stop at the game. After the Chiefs' victory over the New York Jets, the couple was spotted having a PDA-filled afterparty. Taylor was seen with her arm wrapped around Travis, and they seemed to be thoroughly enjoying each other's company.
According to reports, Travis rented out a restaurant for his family, friends, and teammates after the game. Taylor arrived, and the two were seen snacking, having cocktails, and dancing together. The night went on until 2 a.m., making it a memorable celebration.
Sports and celebrity culture typically clash, but Travis Kelce and Taylor Swift's courtship has taken center stage. While the NFL's endorsement of this celebrity love tale has drawn criticism, it has generated buzz. Travis Kelce and Taylor Swift's romance is a riveting chapter in the NFL's continuous saga as they create headlines on and off the field. Whether it's a score or an incomplete pass, this celebrity relationship is memorable.