Among the most successful college football coaches in history is the head coach of Alabama. During his coaching tenure, Saban has won seven national titles with two different schools: six with Alabama and one with LSU. In light of all of his accomplishments, let's look at Nick Saban's estimated net worth for 2023.
Nick Saban's Net Worth in 2023
Nick Saban's net worth in 2023 is estimated to be over $70 million. It's no surprise Saban recently purchased a $17.5 million property on Jupiter Island, Florida.
Nick Saban was born in Fairmont, West Virginia. He attended Monongah High School. He went on to attend Kent State University, where he obtained a bachelor's degree in business. He also played defensive back for the football team while doing so. Saban went on to acquire his master's degree in sports management shortly after receiving his bachelor's degree.
Below are our most recent articles about other celebrities' net worth:
Nick Saban's First Position as an Assistant Coach
Saban had originally planned to work in automobile sales before being appointed as a member of the Golden Flashes' coaching team by then-head coach Don James. Saban would remain in the football coaching business after that.
Saban would work as an assistant coach for numerous college football institutions after working as a graduate assistant for Kent State. Syracuse, West Virginia, Ohio State, Navy, and Michigan State are among others on the list. It wouldn't be long before Saban was called up to the NFL as one of the Houston Oilers' assistant coaches.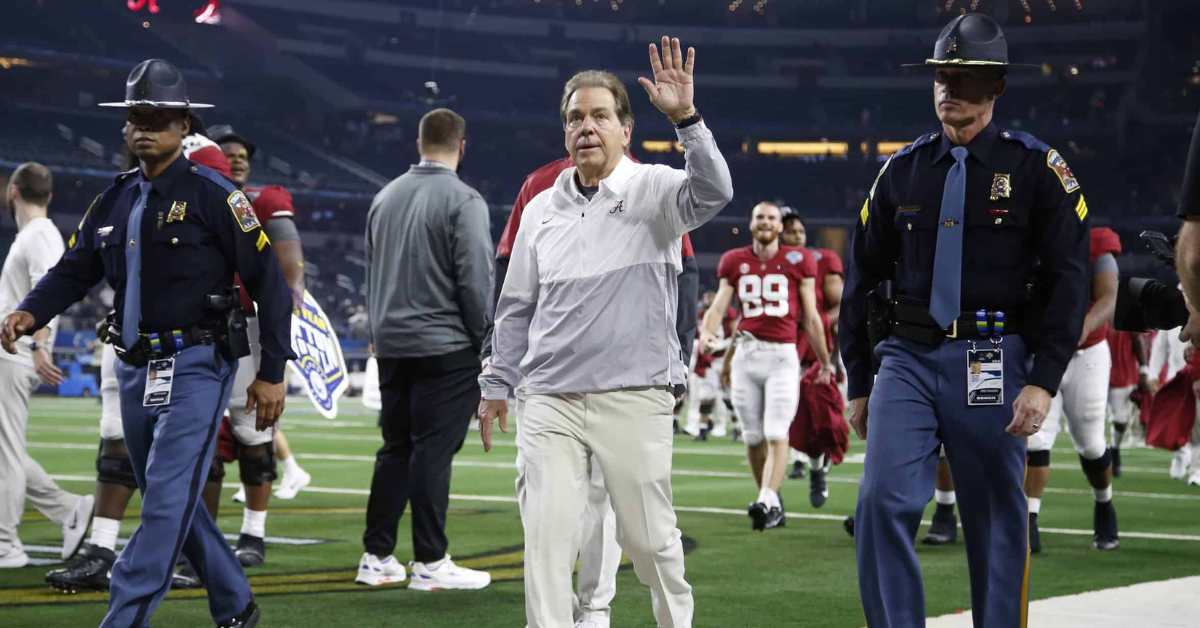 Nick Saban's First Head Coaching Position
But in 1990, Saban made the decision to go back to coaching college football. After Toledo hired him, Saban made his head coaching debut at a collegiate level. He signed a three-year contract there. But after just one season, Saban would eventually join the Cleveland Browns as a defensive coordinator, despite leading the Rockets to a respectable 9-2 record.
Even without completing the three-year contract, Saban was able to collect $95,000 for his one and only season. After seeing the team's heyday, Saban's dream of playing professionally was to join the Browns, but he would later say that his years as a player were the worst of his life. This would lead to Saban taking up college football coaching again.
Nick Saban Has Been Appointed to Coach Michigan State and LSU
Then, in 1995, Michigan State hired Saban. He received $697,330 a year from MSU. Under Saban's leadership, the team won 34 games in his five seasons as head coach, including a 9-2 campaign in 1999.
Saban signed a five-year contract worth $1.2 million per year with LSU as the Spartans were on their way to the Citrus Bowl. The Spartans would go on to win the 2000 Citrus Bowl even after Saban left.
Saban achieved even more coaching success at LSU. He led the club to two SEC titles and a national title at the end of the 2003 campaign. Over the course of five seasons, Saban led the squad to a respectable 48-16 record.
The Miami Dolphins Have Signed Nick Saban as Their Head Coach
In 2005, Saban returned to the NFL as a head coach. He agreed to terms with the Dolphins on a five-year contract worth $5 million per year.
Initially, it appeared that Saban was on the verge of transferring his collegiate coaching success to the NFL level. His first season with the Dolphins saw him lead the team to a 9-7 record, just missing out on the playoffs. However, a poor 6-10 season the following year forced him to return to college.
Below are our most recent articles about other celebrities' net worth:
Alabama's New Coach Will Be Nick Saban
Saban was named Alabama's new head coach in 2007. He signed a lucrative eight-year, $32 million contract to coach the Crimson Tide. Although his first season with Alabama was relatively hard, as they finished 7-6, Saban's coaching would do wonders for the Crimson Tide.
Alabama wins the National Championship! pic.twitter.com/pZhhpr9Bw0

— The Sporting News (@sportingnews) January 12, 2021
Alabama has won six national championships and eight SEC championships under Saban. Saban has an 189-27 coaching record in 15 seasons (five wins have been annulled). As a result, Saban has a strong argument to be the winningest coach in Crimson Tide history, with a winning percentage of.875.
Nick Saban's Income at Alabama
Given Saban's success, Alabama has gone to great lengths to keep him. Saban signed a generous contract extension through 2022 in 2014, which paid him $6.5 million per year with a $400,000 completion bonus and performance bonuses.
Saban agreed to another long-term contract extension through 2029, earning him an average of $10.6 million per season. In 2022, he was ranked third on the list of the highest-paid college football coaches.
Although his NFL coaching record isn't very impressive, Saban has left his stamp on the collegiate football world. Saban has a 280-69-1 record as a head coach at the collegiate level in 27 seasons, after accounting for the five voided wins.
He has already won 10 SEC championships and seven national crowns. In addition, as a football coach, he has made a lot of money from his coaching jobs in the NFL and at the university level, as well as endorsements. Saban is well-known for his Aflac advertisements.