With a cast of A-list actors playing important members of the British royal family, the much-awaited sixth season of "The Crown" promises to enthrall viewers. Anticipate seasoned performers to take on iconic parts that reflect the changing dynamics inside the royal household as the story moves into the current day.
The outstanding drama is compellingly continued with an ensemble cast that has been carefully chosen to tackle the nuances of the royal tale. Discover more about the new and returning cast members of "The Crown" Season 6 by continuing to read.
The Crown Season 6 Cast
"The Crown" will return for its final season featuring a number of new cast members as well as some well-known characters. The 1990s and the aughts are covered by Season 6 of "The Crown," which also includes the period leading up to and following the sad death of Princess Diana.
Elizabeth Debicki as Diana, Princess of Wales
Returning to the role of the late Diana, Princess of Wales, Elizabeth Debicki depicts her in the last years before her untimely passing in 1997. In Season 5, Debicki portrayed the "People's Princess," a role for which she was nominated for an Emmy and a Golden Globe.
She has previously starred in two Guardians of the Galaxy films, "The Man from U.N.C.L.E." and "Tenet," directed by Christopher Nolan, as well as the BBC mystery series "The Night Manager."
Khalid Abdalla as Dodi Fayed
Reuniting with Princess Diana after a divorce, Khalid Abdalla will play Dodi Fayed, the son of Egyptian millionaire Mohammed Al-Fayed who develops a highly publicized and eventually deadly connection with her. Season 6 will delve into the background of Fayed and Diana, who perished in a horrific vehicle accident in Paris in 1997.
Adballa made guest appearances in several television shows and films, including Assassin's Creed, Mission Impossible 5, "The Kite Runner," and Marvel's "Moon Night."
Here you can also check more information about this series:
Meg Bellamy as Kate Middleton
In Season 6, Meg Bellamy debuted on-screen as Kate Middleton, Prince William's girlfriend. This is the Berkshire native's first acting job on a professional stage. After uploading an audition tape in response to an open casting call for "The Crown" posted on social media, Bellamy reportedly received an offer for the part, according to Hello.
Her only listed credit on IMDb is for a 2021 short film called "The Prince of Savile Row," however the Telegraph notes that she had previously employed as a performer at Windsor's Legoland.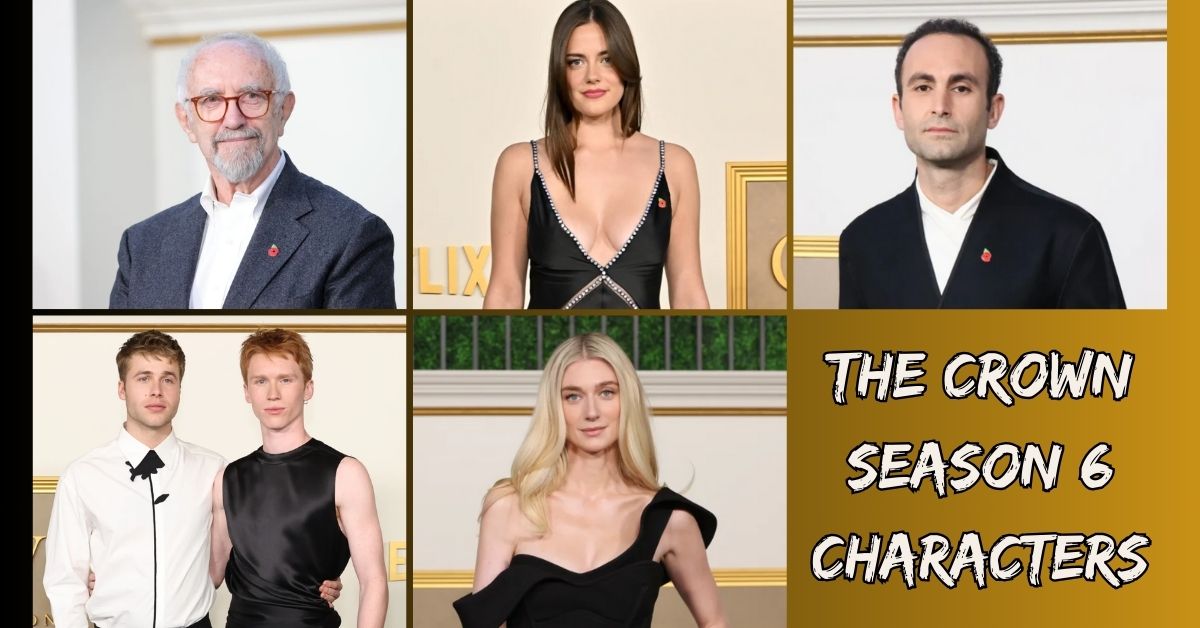 Ed McVey as Prince William and Luther Ford as Prince Harry
Ed McVey is a newbie that you might be familiar with from pictures Netflix published in April that gave fans their first glimpse at Prince William and Kate Middleton, the Duke and Duchess of Cambridge.
The Hollywood Reporter claims that McVey, who recently graduated from drama school and has professional experience on the London stage, will make his TV debut in the role of Prince William. Early in the season, Rufus Kampa will play the young prince.
After appearing as the "spare" in early episodes of Season 6, Fflyn Edwards will play an older version of Prince Harry in Luther Ford, an ambitious British filmmaker.
After working behind the camera, Ford will also make his on-screen debut. Last month, he told Hero magazine that he attended an open casting call "on a bit of whim" and ended up landing the role of Prince Harry.
Jonathan Pryce as the Duke of Edinburgh, Prince Phillip
Jonathan Pryce is back to play Prince Philip, the late Duke of Edinburgh. Pryce is a well-known actor who was nominated for a Golden Globe for his portrayal of Prince Philip in Season 5 of "The Crown."
His well-known performances include costarring with Madonna as Juan Perón in the 1996 film "Evita," as well as playing the High Sparrow in "Game of Thrones" and Pope Francis in "The Two Popes," for which he received an Oscar nomination in 2020.