On Wednesday, a federal judge in Texas ruled that executive order by Governor Greg Abbott which bans mask rules in schools defies the Americans with Disabilities Act, establishing the stage for school districts in the state to decide if they need to levy mask mandates.
Judge Lee Yeakel Supersedes Abbott's July Order
In a 29-page ruling, Lee Yeakel, the Judge of U.S. District had mentioned that the ADA, a federal law enforced back in the year 1990, surpasses July command by Abbott which resulted in the restriction of wearing masks in schools.
Astroworld Staff Told to Report Potential Fatalities as 'Smurfs'
Yeakel said "The spread of COVID-19 poses an even greater risk for children with special health needs.
Children with certain underlying conditions who contract COVID-19 are more likely to experience severe acute biological effects and to require admission to a hospital and the hospital's intensive-care unit."
Adding further "This includes children with conditions including, Down syndrome, organ transplants, lung conditions, heart conditions, and weakened immune systems."
It was further mentioned by Yeakel that, "The evidence presented by Plaintiffs establishes that Plaintiffs are being denied the benefits of in-person learning on an equal basis as their peers without disabilities."
The Ruling Also Restricts Texas Attorney General Ken Paxton
Seoul Will Be the First City Government to Join the Metaverse
The decision by Yeakel also blocks Ken Paxton, who is Texas Attorney General, from putting into enforcement the order by the governor, and for violating the ruling, it will result in imposing a penalty of an amount of up to $1,000 for any entity that challenges a mask rule.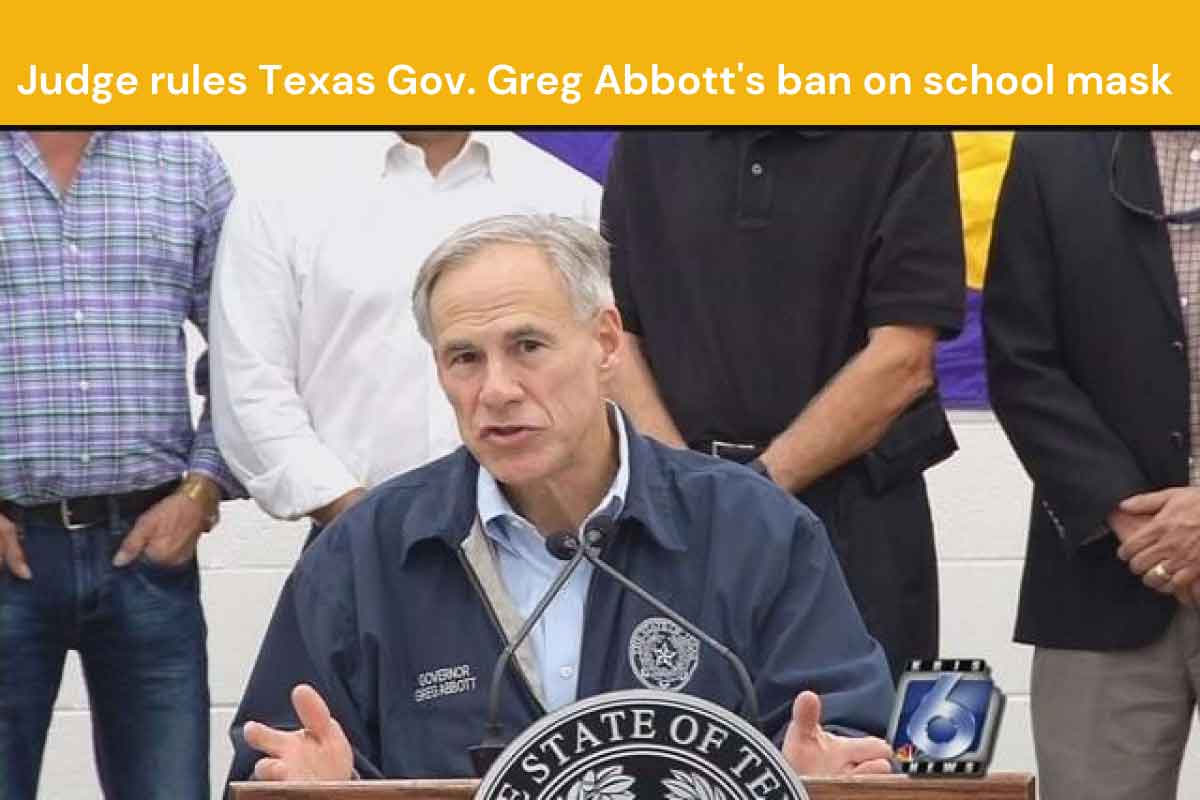 There was no response from Paxton's office immediately to an appeal for remark.
In August, the case was filed by families of students with disabilities and an advocacy group named Disability Rights Texas. The lawsuit stated that the ban by Abbott refuses students with preliminary conditions a uniform approach for a secure place for education.
In a statement, Kym Davis Rogers, an attorney for the group said "Governor Abbott's executive order clearly violates federal law, and Attorney General Paxton's enforcement of the order against school districts is now stopped."
Russia Sends Bombers to Fly Over Belarus, Blames Eu for Migrant Catastrophe
Continuing further "As the court found, Texas is not above federal law, and state officials cannot prevent school districts from providing accommodations to students who are especially vulnerable to the risks of COVID-19.
We are thankful that school districts can now take the steps necessary to protect these students. No student should be forced to choose between forfeiting their education or risking their health, and now they won't have to."
This ruling on Wednesday has come since states led by GOP like Iowa and Florida have restricted mask rules in the schools.
More Than 210,000 Students Tested Positive for Covid-19
In Texas, a large part of public schools has already started holding face-to-face classes in August. According to state data, nearly 210,000 students have tested positive for coronavirus.
In late September, a statement of interest had been filed by the Department of Justice in the Texas lawsuit, stating that Abbott's executive order can result in adversely affecting the students with disabilities.
The Justice Department wrote "The serious adverse consequences on students with certain disabilities is readily foreseeable," adding further "Some parents of children at heightened COVID-19 risk will likely keep their children at home—even though the children could safely attend school if mask protocols could be put in place."