Violent Night Rental Price and Streaming: Over the years, there has never been a shortage of performers vying to play Santa, including Paul Giamatti, Ed Anser, Kurt Russell, Tim Allen, and even Billy Bob Thorton, who, dare we say, gave us a completely different perspective on Father Christmas?
Violent Night surprises viewers and defies expectations, only this time it's the honest Santa Claus rather than a mall employee. David Harbour plays a part in the 2022 holiday action comedy; viewers are probably most familiar with him as Jim Hopper from the Stranger Things Netflix sensation.
The film's odd plot and unconventional director, Tommy Wirkola, are guaranteed to please viewers. It's not a family-friendly film, though. Violent Night rental is now available to viewers; it was initially launched in cinemas on Friday, December 2nd, 2022, but it has now arrived and is ready to enjoy on a comfortable night at home.
Violent Night Rental Price and Streaming
The only place you can view Violent Night right now is on Amazon Video, where you can rent or buy it. The cost to rent is $19.99, while the price to buy is $24.99. Although it may appear pricey, this is effectively a home premiere, so the cost will gradually decrease. Violent Night is currently not streamable on the UK platform but is available on Amazon in the US.
Do check out more articles here:
Alternatively, you can look up local showtimes and tickets on Fandango. It is still playing in many theatres. If you're interested but don't know the story behind Violent Night, it's about a down-and-out Santa who struggles with his waning holiday spirit on Christmas Eve.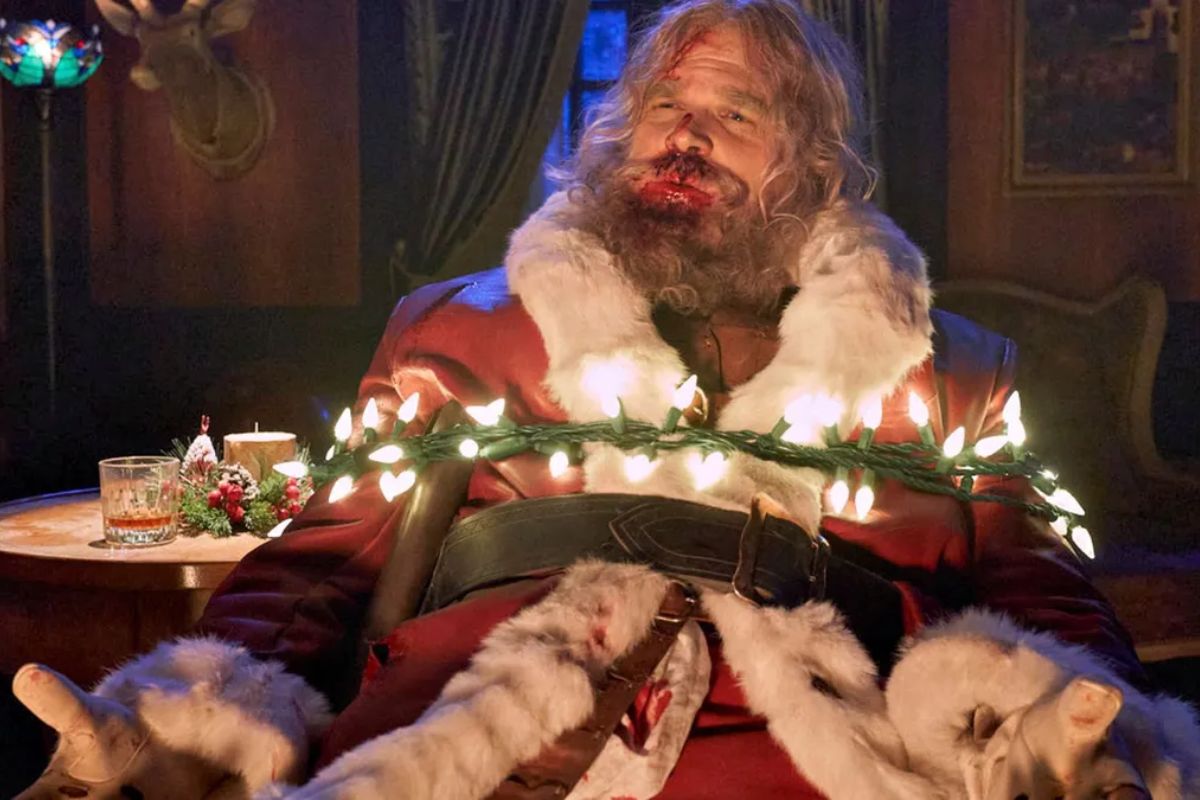 The infamous Mr. Scrooge and his men are looking for a significant sum of money stashed in the family mansion's safe while an affluent family is being held hostage. However, Santa decides to salvage the day after speaking with the family's daughter Trudy over a walkie-talkie. Let the mayhem and destruction begin.
He is an Iconic Character
ScreenRant recently questioned David about how he handled the pressure of portraying the legendary character of Father Christmas:
"Responsibility… That's a very good question, actually. I take my work very seriously! I love this guy. He is an iconic character. And if you really want to go into it, one of the things I was fascinated by is, 'Who the hell is this red dude in a suit who comes down the chimney and gives us presents and makes a list of nice and naughty people?'"
He continued: "… I think one of the explorations of the movie is, 'Who was this guy?' In our culture, he is this saccharine version of himself. But who is he really on the inside, and what is he missing from Christmas?"
Violent Night Cast
Below, you can see the Violent Night main cast and supporting cast members along with the roles they played:
David Harbour as Santa Claus
John Leguizamo as Jimmy "Ebenezer Scrooge" Martinez
Alex Hassell as Jason Lightstone
Alexis Louder as Linda Lightstone
Edi Patterson as Alva Lightstone
Cam Gigandet as Morgan Steel
Leah Brady as Trudy Lightstone
Beverly D'Angelo as Gertrude Lightstone
Brendan Fletcher as "Krampus"
André Eriksen as "Gingerbread"
Alexander Elliot as Bertrude "Bert" Lightstone
Mike Dopud as Commander Thorp
Mitra Suri as "Candy Cane"
Stephanie Sy as "Sugarplum"
Can Aydin as "Frosty"
Cha-Lee Yoon as Techie
Phong Giang as "Tinsel"
Erik Athavale as Richard
Check Out the 'Violent Night' Trailer
You can see the trailer below:
How to Watch Violent Night?
Violent Night is available for home viewing on digital platforms like Amazon, Apple TV, and Vudu. The movie can be purchased in up to 4K quality for $25 or rented for $20. If you choose to rent the film, you will have 30 days to begin watching it and 48 hours to finish it after you start it. If you purchase the film, you can watch it whenever you want without any limitations.
Secure your spot on Santa's #NiceList and grab your tickets for #ViolentNight – only in theaters December 2. https://t.co/OIgE2oZqzu pic.twitter.com/pFJtWyMLMv

— Violent Night (@ViolentNight) November 16, 2022
There are apps for digital stores on most smart TVs, mobile devices, and streaming players from major brands. Before making a purchase, you should check each business's website to ensure your preferred device is supported.
When Will the 'Violent Night' Stream on Peacock?
As a Universal Studios production, "Violent Night" is anticipated to arrive on Peacock before any other subscription services. Even though a precise release date hasn't been set, we expect it will occur about 45 days following its theatrical debut, which is the window many other Universal films have followed.
If so, "Violent Night" should air on Peacock sometime around January 16, 2023. When the film is available for streaming, only Peacock Premium ($5/month) and Peacock Premium Plus ($10/month) subscribers can watch it.
Closing
You can watch "Violent Night" at home through digital retailers like Amazon, Apple TV, and Vudu. The movie costs $20 to rent or $25 to buy in up to 4K quality. If you opt for a rental, you'll have 30 days to start watching the movie and 48 hours to finish it after you hit play. Please stay connected with us on Lee Daily.com for more articles and recent news.