Don Lewis, the missing ex-husband of Tiger King actress Carole Baskin, was supposedly found alive, and news of the find is only now getting viral.
According to Carole Baskin, her spouse is indeed still alive. Don Lewis, the missing ex-husband of Tiger King actress, was purportedly discovered alive in Costa Rica, but the news is just now becoming viral, more than a year after it was made.
The New York Post writes that Baskin, 61, disclosed that her ex, pronounced legally dead in 2002 after going missing a few years earlier, is alive and well during an appearance with ITV's This Morning in November 2021. The claimed revelation, according to Baskin, was not made public until the sequel series premiered in November 2021, she told The Post.
In an email to The Post, Baskin pointed to her Big Cats Rescue site, saying, "I was not aware of it until 'TK2' aired." In the released video, the owner of Big Cat Rescue said that the Department of Homeland Security had contacted her ex-husband.
According to a letter from Homeland Security that was produced as a result of Tiger King 2, "One of the fascinating things that came out of Tiger King 2 is that they produced a letter from Homeland Security and it says that a special agent in charge with the FBI at Homeland Security reached out to the sheriff's Detective George [Jorge] Fernandez, which means this had to have happened after 2002 because Homeland Security wasn't even around until 2002," Baskin told the outlet at the time.
Baskin's Statement Regarding All This-
She added, "They said my husband, Don Lewis, is alive and well in Costa Rica."
"And yet all this drama has been made about me having something to do with his disappearance when Homeland Security has known where he is."
Do check out more related articles here:
Lewis vanished in 1997 at 59; he would be 84 years old now if he were still alive. The Department of Homeland Security, the FBI, and Baskin have all been contacted by Post for more comments. Lewis hasn't released any statements in the media denying reports that he's passed away.
ITV quoted Baskin as saying, "I don't know how it is that Homeland Security says he's alive and well in Costa Rica, but I'm glad to hear it."
"I didn't think he was capable of supporting himself. He took about a million dollars down to Costa Rica; I had agreed to let him do that to prove to himself that he could make a living."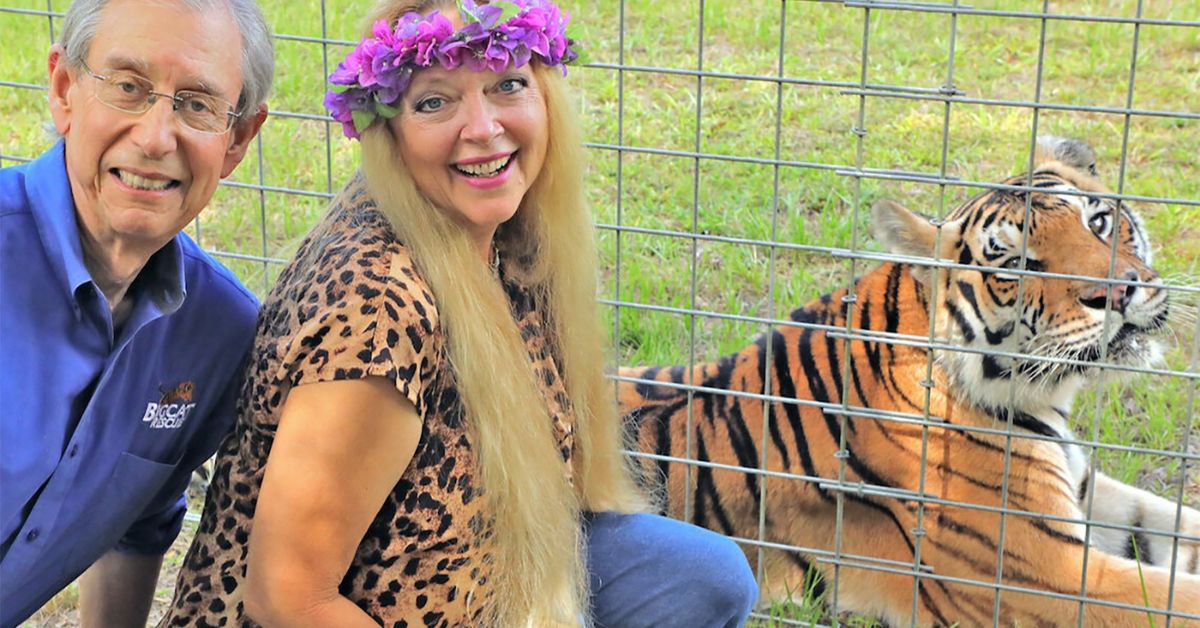 In a blog post published in November 2021 on her Big Cats Rescue website, Baskin and her husband-to-be Howard questioned why DHS allegedly gave Netflix his locations for season 2, which she did not take part in.
"Also noteworthy is the document they display from Homeland Security, which was not formed as an agency until 2002, five years after Don Lewis' disappearance, saying they had information that Don Lewis was alive in Costa Rica," they wrote at the time. "Why is this just appearing?"
Netflix has been contacted by Post for comment. Baskin's Big Cat Rescue blog post addressed unproven fan theories and assertions that she had killed him and included photos of the supposed DHS documents from the show's second season.
And they added, "And for everyone who still wants to believe that Carole killed Don, then please explain to us why you think armchair detectives or you are better informed than the Special Agent in Charge at the FBI in this Homeland Security Document which says 'Don Lewis is currently alive and well in Costa Rica."
"This was reported to Jorge Fernandez of the Hillsborough County Sheriff's Office by the SAC at the FBI, according to this letter. While they have purposely redacted the SAC's name and date, there wasn't a Homeland Security until November 2002, 5 years after Don Lewis left home in Tampa, FL."
And despite the news being over a year old, it is only now gaining attention due to currently trending social media messages. Someone posted on Twitter, "Was I the only one that didn't know they found Carole Baskin's husband living his best life in Costa Rica?!"
Another person wrote, "Hold on, I'm seeing people saying that Carole Baskin's husband was found ALIVE???"
Baskin reported that her ex-husband unexpectedly vanished in 1997 in the first season of the popular Netflix docuseries, which debuted at the height of the coronavirus outbreak in 2020. The couple was married at the time of his disappearance, and she reportedly said she never heard from him again, according to CBS News. She later remarried, getting hitched to Howard Baskin in 2004.
Many people assumed that Baskin was involved in her ex's disappearance after she revealed her story on the show that followed the struggles of imprisoned big-cat keeper Joseph Maldonado-Passage, also known as Joe Exotic the Tiger King.
Some even started spreading bizarre conspiracy theories, such as the baseless notion that she was complicit in a scheme to murder for hire. Exotic said that she had given her ex to the tigers at Big Cat Rescue while she was incarcerated for 21 years for hiring an assassin to kill Baskin. Baskin became a member of a "secret" support group for celebrities going through similar experiences since she was traumatized by it all.
The fresh allegations were refuted in a statement released Wednesday by the attorney for Baskin's bitter rival, Exotic. "During the filming of Tiger King, painstaking efforts were made to find Don Lewis. They all failed. He is not alive," lawyer John M. Phillips posted on Facebook.
"The 2021 report by Carole Baskin was the further unsupported allegation. It's being republished as if it has integrity. It doesn't. The story of the Tiger King is filled with lies, setup, and misdirection. We still await a hearing for Joe's freedom. The lies and setup are spelled out in his Motion for New Trial. Read it. The work is done."
Lewis' family also believed Baskin was responsible for his disappearance. They even paid for a TV ad during her 2020 premiere on Dancing on the US version of With The Stars to solicit information from viewers. "Do you know who did this or if Carole Baskin was involved?" Exotic's lawyer Phillips said during the commercial.
Baskin, though, has categorically refuted the allegations.
"I believe their actions are just a publicity stunt," the owner of Big Cat Rescue said in an email to CNN after the commercial was aired, "but if it helps us find Don, then that will be a huge relief."
Baskin, who did not appear in Tiger King Season 2, has expressed her disgust with the Netflix narrative that claims she was involved in Lewis' abduction.
"I told them to lose my number," Baskin told Page Six in May 2021, six months before the show was released. "Fool me once, shame on you, fool me twice, shame on me."
"Season 2, as expected and indicated in the Trailer, continues to do everything they can to falsely convince the viewer that Carole was involved in Don Lewis's disappearance," the Baskins told the Los Angeles Times in a statement in 2021. Additionally, they said the second season sparked a fresh "surge" of online critics who were hostile toward the animal rights advocate.
Do check out more related articles here:
"Consistent with their prior lack of ethics, the producers continued with the technique they used in Season 1 of having accusatory statements about Carole followed by images or video of her chosen to reinforce and magnify the accusations intentionally," their statement continued.
"The result, predictably, has been a new surge of social media hate directed at Carole the day of the release."
Following the second season's trailer publication in November 2021, Baskin became so enraged with Netflix that she and Royal Goode Productions launched a lawsuit against them. She claimed in the case that the events shown in her sequences in the trailer were inaccurate. She requested that the judge stop using any video of her in the upcoming season and have her removed from any promotional materials, including teasers and trailers.
Stay tuned with us on Leedaily.com for more latest updates and recent news.